Satisfy your craving for potato chips in a MUCH healthier way. These addictive crispy baked sweet potato chips are impossible to stop eating… until suddenly they're all gone!
I had two ultimate goals for this recipe:
1. I wanted them to be crispy, not soggy
2. I wanted to make them baked, not fried
Trying to achieve that perfect crispiness while still keeping the sweet potato chips healthy and baked, I went through about five or six trials, varying the oven time and temperature with each trial. Just like with my Crispy Sweet Potato Fries, getting to the perfect taste and texture for these chips took a little work at first but was so worth it in the end!
The first batch was crispy all right… they were so burnt you couldn't even try one! The second batch never got crispy, and I realized it was probably a combination of slicing them too thick and not baking long enough since I'd been worried about burning them again. Baking is my favorite form of science; if the first trial doesn't come out to your satisfaction, you simply decide which variables to change and what to leave as the controls. (Dear science teachers everywhere: please add more baking experiments to your lesson plans. Fewer worksheets… more food!)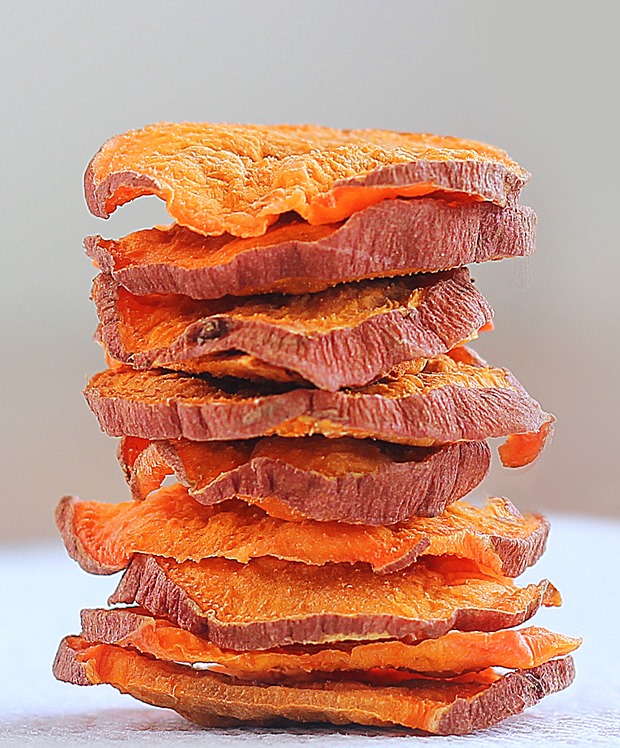 The final version of these chips was so perfectly crispy it made me think about turning my computer on and posting the recipe immediately. But I was kind of busy stuffing my face with crispy baked sweet potato chips as fast as I could put them in my mouth!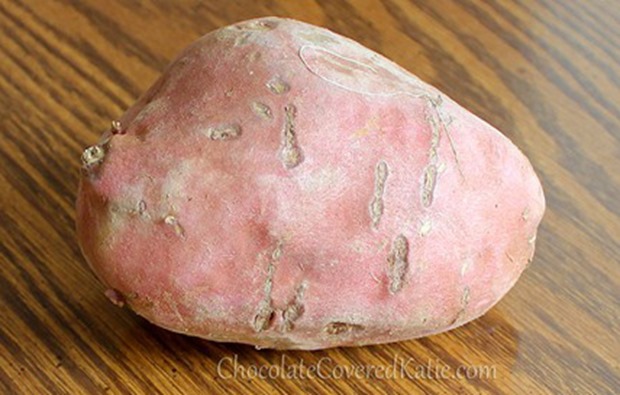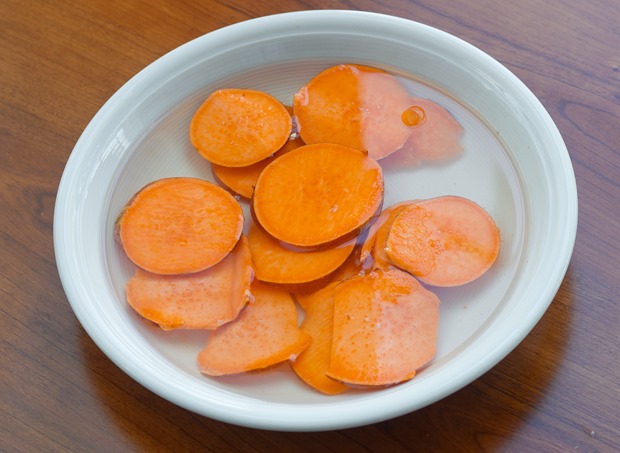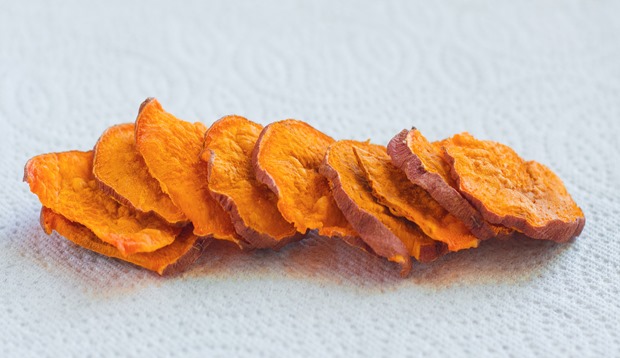 STEP 1: Peel the sweet potato if desired, then thinly and evenly slice the potato – Make the slices as even as possible, which will ensure that some of the slices don't burn before others are finished baking.
STEP 2: Toss with the seasonings in a large bowl. (See full recipe below.)
STEP 3: Position in a single layer on a wire baking rack placed over a cookie tray. Bake 40 minutes at 300 F, then open the oven and remove chips that are already starting to crisp up. Continue baking the rest of the chips until they begin to curl and crisp up.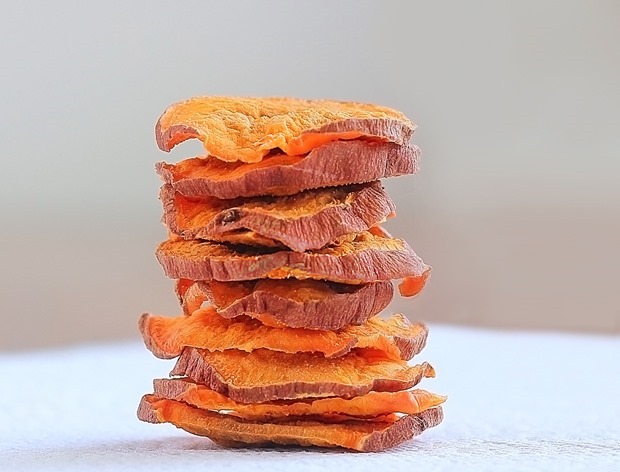 (I chose to leave the fiber-rich skin on the organic sweet potato, but you can easily choose to remove it before slicing if you'd prefer.)
Crispy Baked Sweet Potato Chips
Crispy Baked Sweet Potato Chips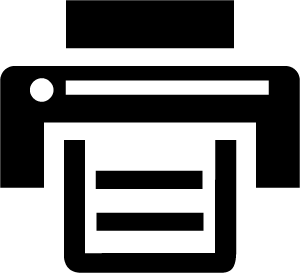 Print This Recipe
[mrp_rating_result show_count="false" show_rich_snippets="false"]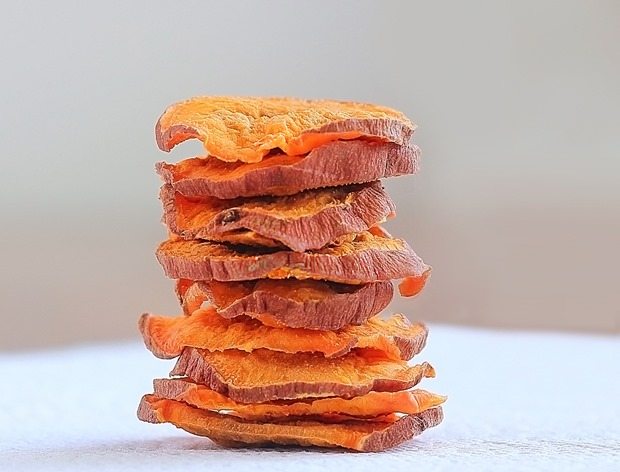 Ingredients
1 large yam or sweet potato
2 tsp oil OR oil spray (for fat-free potato chips)
1/4 tsp salt
optional sprinkle garlic powder, onion powder, rosemary, cayenne, or any other spices you wish
Instructions
(Note: These can also be made in the microwave if you'd prefer, although the texture will not be nearly as crispy.) Heat the oven to 300 F, and line a baking sheet with parchment paper. Place a wire cooling tray over the baking sheet. Peel the sweet potato if desired, then slice the sweet potato as thinly as possible, using a mandolin if you have one. Try to cut the chips as evenly as possible so that they all take around the same time to bake without some burning while others are not yet crispy. If you have time, soak in water (10 min) to remove some of the starch, which helps them get crispier. Pat dry, place in a large bowl, and toss with the oil or spray. Then toss with the spices. Arrange the slices on a single layer on the cooling tray, then place on the middle rack in your oven. Bake 40 minutes. Open the oven and remove any chips that are already starting to get crispy. Continue baking the rest of the chips up to 20 minutes longer, being sure to keep an eye on them once they start to curl up. Once they start to look browned and a little crispy, remove and let cool. They also crisp up even more after sitting a few minutes. **As with all recipes, climate and varying oven temperatures can have an effect on results, and this seems to be even more true with recipes that you want to get crispy. But even if yours don't ever crisp up, they will still taste fantastic! I ate the undercooked batch almost as quickly as I ate the crispy ones. Because… sweet potatoes.
HUG A FAT PHOTOSHOOT: