These secretly healthy chocolate dirt pudding cups will take you straight back to childhood!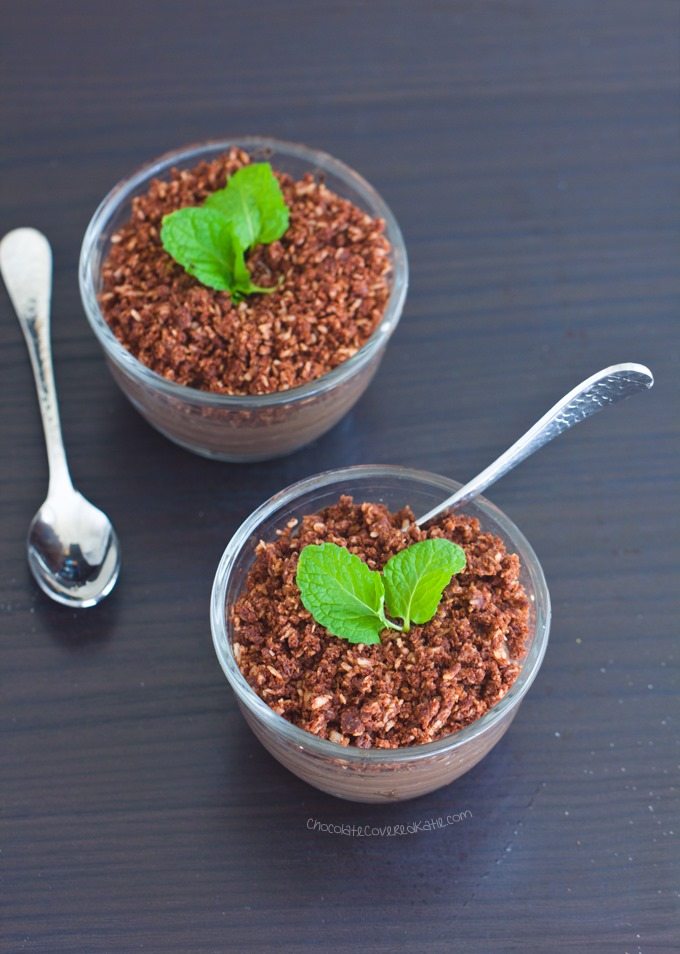 If you grew up in the 90s, you probably recognized this kid-friendly snack right away!
A thick layer of creamy chocolate pudding is topped with chocolate crumbles in the classic dessert that resembles cups filled with dirt and mud. The idea of eating chocolate dirt might not sound like the most fantastic thing in the world, but of course there's not really dirt in the recipe! I remember being served chocolate dirt cups often at birthday parties growing up. Sometimes the dirt crumbles were made of cookies, sometimes brownies, and sometimes Oreos…
Oh, and sometimes there were gummy worms! You can add gummy worms to this recipe too. Just make sure to look for gelatin-free brands if you want to keep the pudding cups vegan.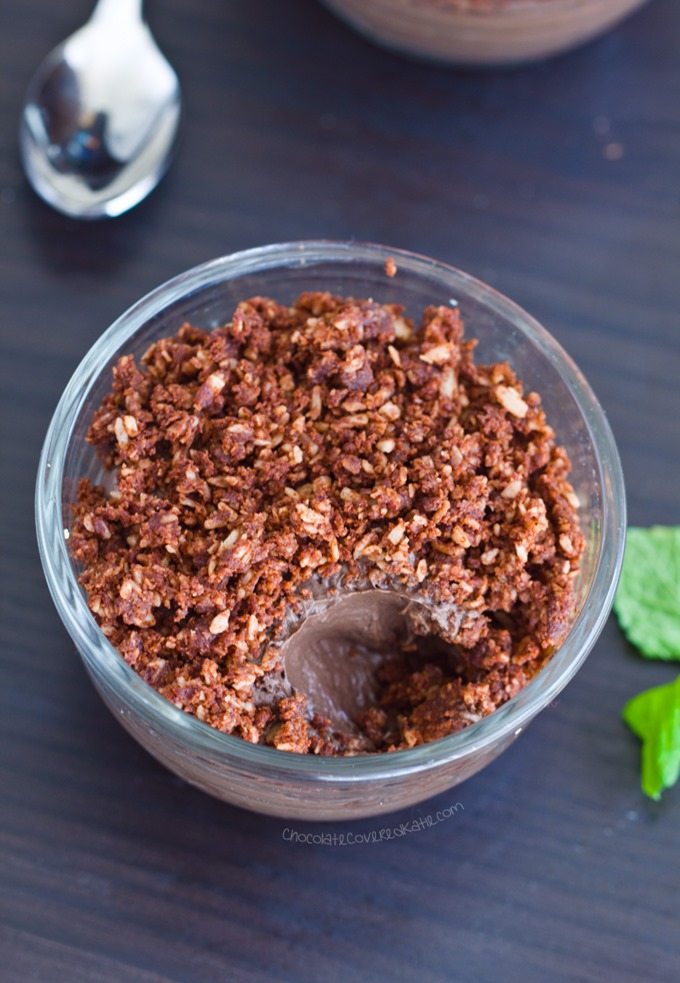 Since I had an abundance of fresh mint, I chose to go with a more-grown-up version this time. No offense to gummy worms.
I also added a little peppermint extract, but you can skip it if you'd prefer plain chocolate pudding cups.
For the chocolate dirt, I chose a raw option here. You can also opt to use crumbles of your favorite chocolate brownie recipe, chocolate cookie recipe, or even my Healthy Oreos.

Clean Eating Chocolate Dirt Pudding Cups
Adapted from Healthy Chocolate Pudding
Clean Eating Chocolate Dirt Pudding Cups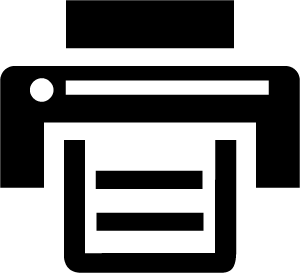 Print This Recipe
[mrp_rating_result show_count="false" show_rich_snippets="false"]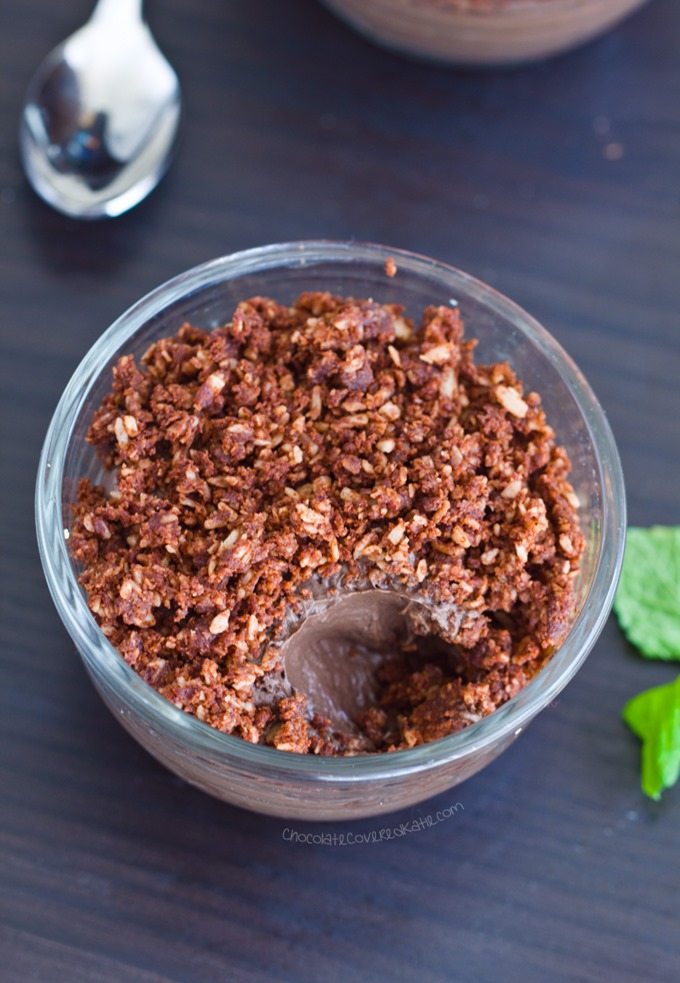 Ingredients
2 cups canned coconut milk or milk of choice
heaping 1/8 tsp salt
1/4 cup Dutch cocoa powder
1/4 cup sugar OR 1/8 tsp uncut stevia
1/2 cup milk of choice + 3 tbsp non-gmo cornstarch (Readers have had success with arrowroot)
optional 3.5 oz chocolate chips
3/4 tsp pure vanilla extract
optional pure peppermint extract
1/2 cup walnuts
1 cup pitted dates
1/4 cup unsweetened cocoa powder
scant 1/8 tsp salt
1/2 tsp pure vanilla extract
optional vegan gummy worms
Instructions
*Nut-Free Version: Instead of the "dirt" ingredients listed, just use your favorite crumbled-up cookies.
Heat 2 cups milk of choice in a saucepan with the heaping 1/8 tsp salt, Dutch cocoa, and sugar or stevia. Meanwhile, whisk the cornstarch and remaining milk in a small bowl until no lumps remain. Once the saucepan mixture is warm, whisk in the cornstarch mixture and bring to a boil. Boil 2 minutes, stirring constantly. Then lower to simmer 1 minute. Turn off heat, and stir in chocolate chips and 3/4 tsp vanilla extract until chocolate melts. For mint pudding, you can add a little pure peppermint extract. Make sure it says pure, and start with 1/8 tsp. You can always add more. Refrigerate to thicken – it gets thicker as it sits. Feel free to experiment with arrowroot or non-Dutch cocoa; I haven't tried either variation.
To make the dirt: Combine all remaining ingredients in a food processor until fine crumbles form. Sprinkle over the pudding. You can smush leftover crumbles into balls or bars if desired.
Link Of The Day: