I've been single for two years.
Sure, I've gone on dates, and even a blind date.
But it's been quite a while since my last serious relationship. I kinda like being single! (Not that I want to be single forever, but it's fun for now.) My roommate is single at the moment, too, and so we were each others' date for Valentine's Day—for breakfast, at least.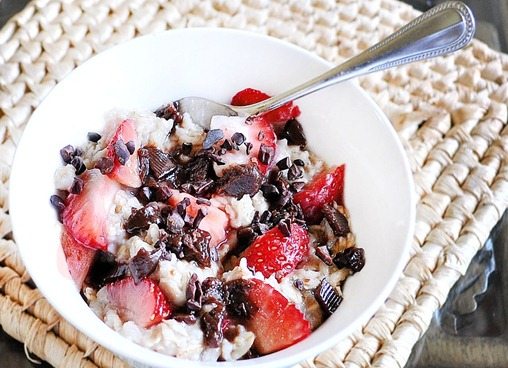 I made us each a bowl of this: Hot Fudge Oatmeal.
It was a very low-key Valentine's Day. Emily cleaned around the house, and I did blog work (including dealing with a giant tech-issue headache. Running this blog takes a lot more work than it might seem!) I also tested a few recipe experiments. The best one of the day was peanut butter maple fudge. Yummmmm…
Later, I incorporated the leftover strawberries into my lunch: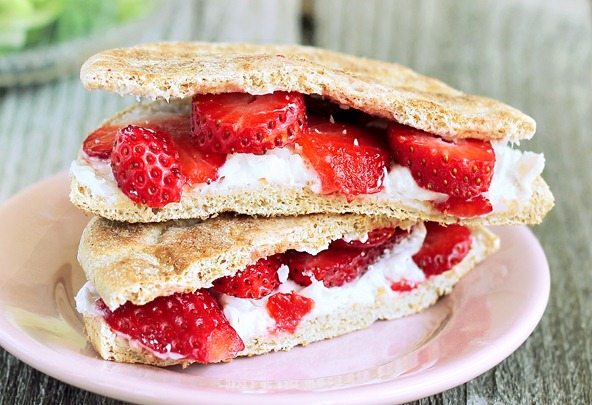 Double-Decker Coconut Berry Sandwich
(Really more of a concept than a recipe.)
Fresh strawberries, sliced
Soft coconut butter or Homemade Coconut Butter
Bread of choice
optional: jam, chocolate chips, etc.
To assemble the sandwich: Spread a layer of coconut butter on one or both slices of the bread (or pita, sandwich thin, etc. Optional: layer on some jam and/or chocolate chips. (You can also opt for a sprinkle of sugar or stevia if you have an extreme sweet tooth and want more of a cake-like sandwich.) Slice the strawberries on top and close up your sandwich. Eat!
For this particular sandwich, I used a Mrs. Bairds whole-grain grillin thin. They're vegan, and they're really good! (I'd originally bought the package so I could have a bun for my Amy's Bistro burger at a party last week.)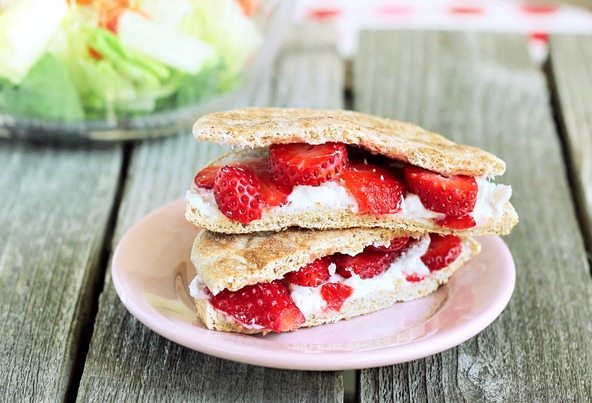 That's my giant salad in the background, with a boring (but delicious) olive-oil vinaigrette. Not the prettiest background choice for a photoshoot, but when I am hungry I don't want to bother with a photoshoot. I just want to eat! (It's one of the reasons I rarely post about my savory meals. Who wants to stop and take photos while your dinner gets cold?)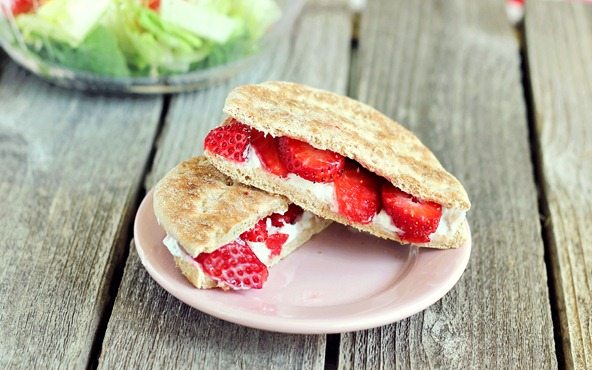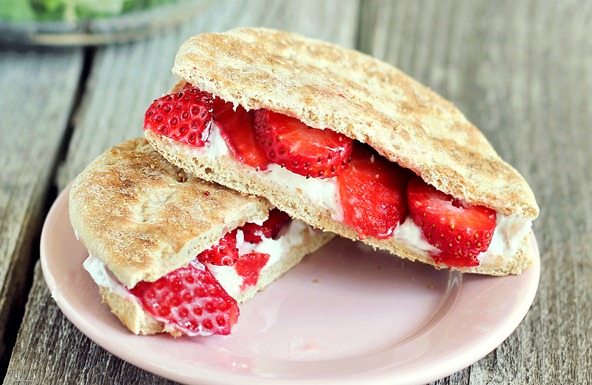 Question of the Day:
Would you rather be single or in a relationship?
Being single is definitely easier, but I don't want to be single forever… I've set such high standards that sometimes I worry I will be! The things you have to work for are the most rewarding, and I guess it depends on the other person in the relationship. I've had some really fun, meaningful relationships and one that was not-so-great from the very beginning. (It was a high school fling, though, so maybe it shouldn't even count!)
My favorite Valentine's Day was when my boyfriend surprised me.
But this year, my single friends and I had a "girls-only" night, and that was pretty fun too. I made a chocolate truffle pie for the night… the recipe will be in tomorrow's post!