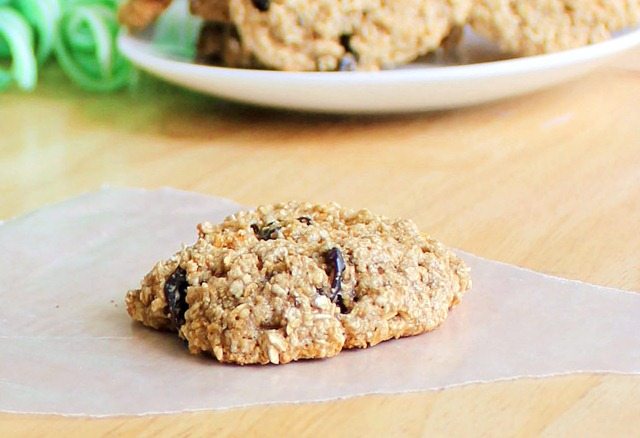 Food Network Challenge!
Last weekend, a group of us met up for an informal soccer game at my friend Matt's house. Afterwards, as everyone sat around with a beer, one of my friends jokingly asked, "Where's dessert, Katie? You always bring dessert."
It's true. I'm constantly pawning off food on friends, because I like to get as many opinions as possible before deciding if a recipe is worthy of sharing on the website. Somehow the joking ended with me standing in Matt's impoverished kitchen, wondering what the heck I could possibly make with so few ingredients. It felt like an episode of Chopped!
When I saw raisins, my first thought was: No-Bake Chocolate Peanut Butter Cookies.
But Matt's cabinets were not only lacking in the peanut butter department, they also hosted absolutely no chocolate! None. Not one chip, not one bar, nothing. I wanted to run away, right then and there. (A person without chocolate should never be trusted!) Instead, I put on a brave face and took stock of the available ingredients. I had to improvise a little, such as using water in place of almond milk. Still, the cookies were a gigantic success, with everyone agreeing the recipe was blog-worthy.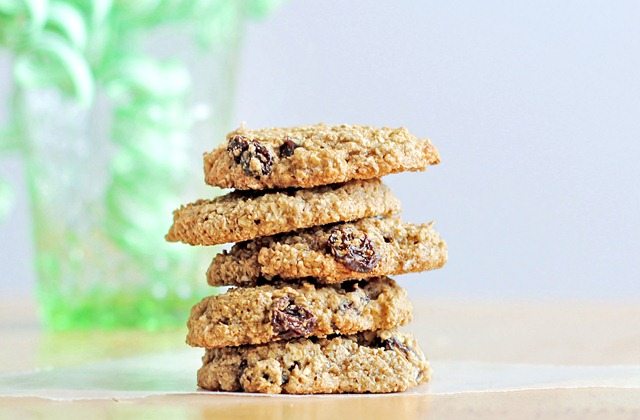 Flourless Oatmeal Raisin Cookies
(gluten-free)
3/4 cup rolled oats
1/4 tsp baking soda
1/8 tsp salt
2 tbsp brown sugar (If you prefer, click for: Sugar-Free Oatmeal Cookies.)
1 tbsp plus 2 tsp white sugar or evaporated cane juice
2 tbsp raisins
1 tbsp oil or pre-melted margarine
1-2 tbsp milk of choice (start with 1)
Blend first 5 ingredients together in a food processor or blender. (I used a Magic Bullet.) Mix with other ingredients, form into cookie shapes, and place on a greased cookie sheet. Cook 6 minutes at 375 F. This recipe makes a small batch; if I remember correctly, it yields around 11 cookies. I made a much bigger batch for the group by tripling all of the ingredients.
View Fourless Oatmeal Raisin Cookies Nutrition Facts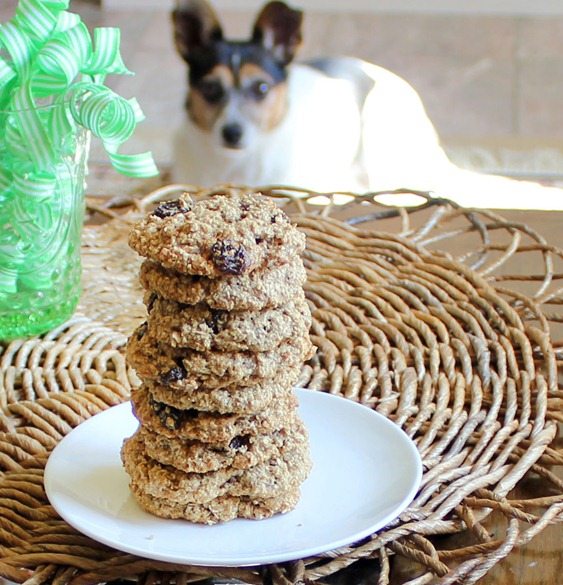 When I brought the remaining cookies home for a photoshoot, someone kept watching me…
Waiting to pounce!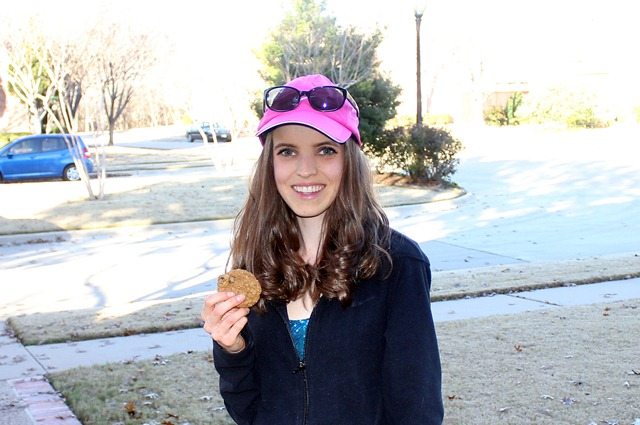 Want a cookie??
Do you ever watch the Food Network?
Oddly enough, I actually don't like watching cooking shows. Maybe it's because my job revolves around food, but in my free time I want to do things that have absolutely nothing to do with food!
Well, except I do often like to look at this website.
But that's mostly because I enjoy the photography and artistic aspects of the photos. (I guess it can also be argued this isn't really my free time; I'm observing others to try and improve my own photography skills.)