A giant chocolate-chip cookie.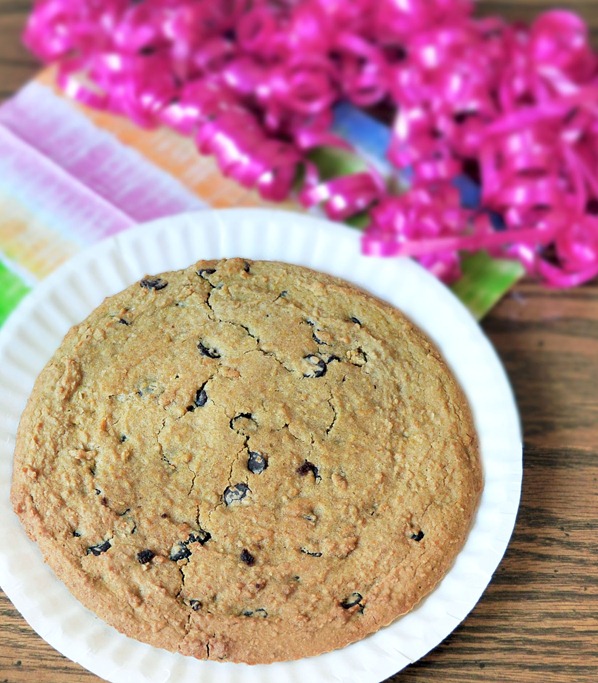 Can you think of anything better?
Right now, I can't. But give me a second…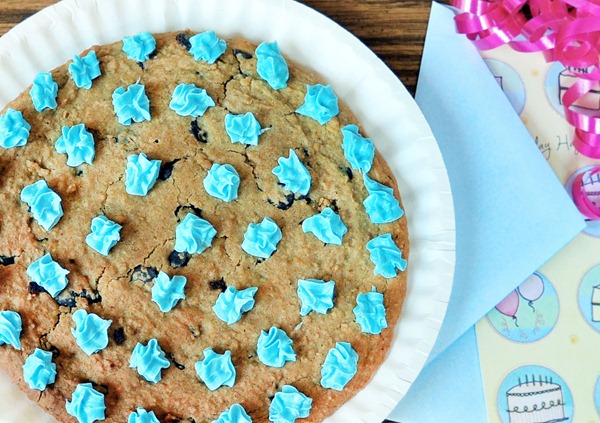 Nope. Still cant.
Presenting a healthier version of the famous Great American Cookie Cake. This one is whole-grain, gluten-free, and high in fiber. But don't let those adjectives scare you away; the recipe has the stamp of approval from:
A bunch of college guys
Some very-picky preteen girls
An entire kindergarten class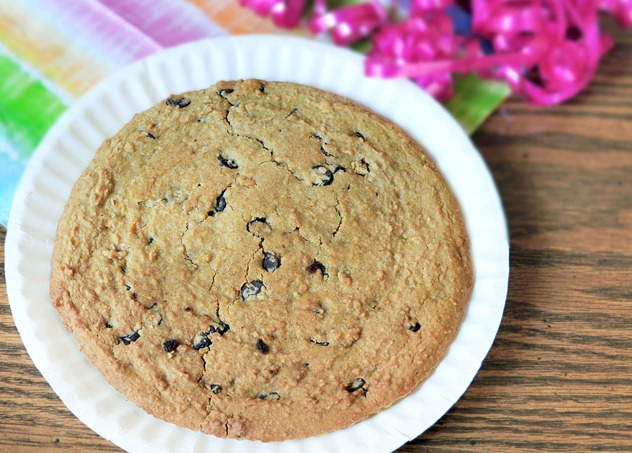 Giant Chocolate-Chip Cookie Cake
Inspired by the Deep Dish Cookie Pie
1/2 cup quick oats
2 tbsp unsweetened applesauce
1 can white beans or garbanzos (drained and rinsed) (250g)
1.5 tbsp oil (vegetable or coconut or canola)
1 tsp pure vanilla extract
1/4 tsp baking soda
1 tsp baking powder
1/4 tsp salt
3/4 cup brown sugar (You can try adding less, if you're used to healthy desserts. Also, white sugar will work if you don't have brown, but brown is recommended for the best taste. I can't personally vouch for the results, but some commenters have reported success with xylitol, if you want it sugar-free.)
1/2 cup chocolate chips
Blend everything except the chips very well in a food processor (not a blender). Mix in chips, and pour into a greased or oiled pan. Cook at 350 F for around 20 minutes. Let stand at least 10 minutes before removing from the pan.
Or try the following recipe in a round pan for a PB & J Cookie Cake.
I'm also wondering if this would work with cinnamon and raisins, as an oatmeal-raisin cookie cake. But since this is a chocolate blog, I think next up will have to be: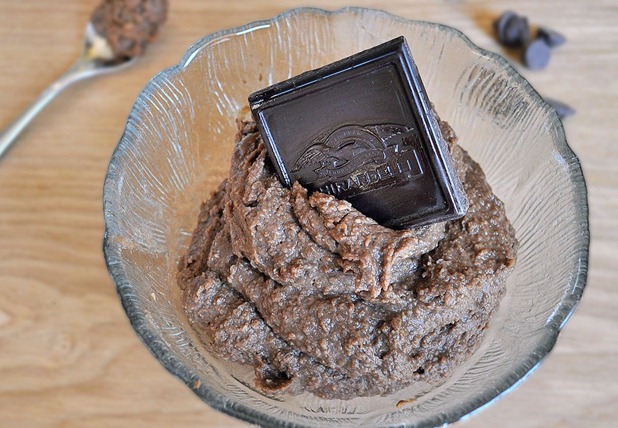 A chocolate cookie, based off the Chocolate Brownie Batter Dip.
Question of the Day:
Have you ever had a cookie cake?
Great American cookie cakes were the thing when I was in middle school. (Well, those and Ugg boots with skirts.) Every single birthday party, school function, and social gathering… there'd be that ubiquitous cookie cake, sitting on the table amidst the chips and dip.
I remember my friend and I once got the "brilliant" idea of trying to take a Betty Crocker cookie mix and turn it into one giant homemade cookie cake. Sadly for us, our cookie didn't make it. The poor thing burnt to a crisp on the outside and was simultaneously a gooey, messy mush in the middle.
Of course we ate it anyway!
Fun Party Idea: Set out a bunch of different icings and sprinkles, and let kids decorate their own slice. 🙂