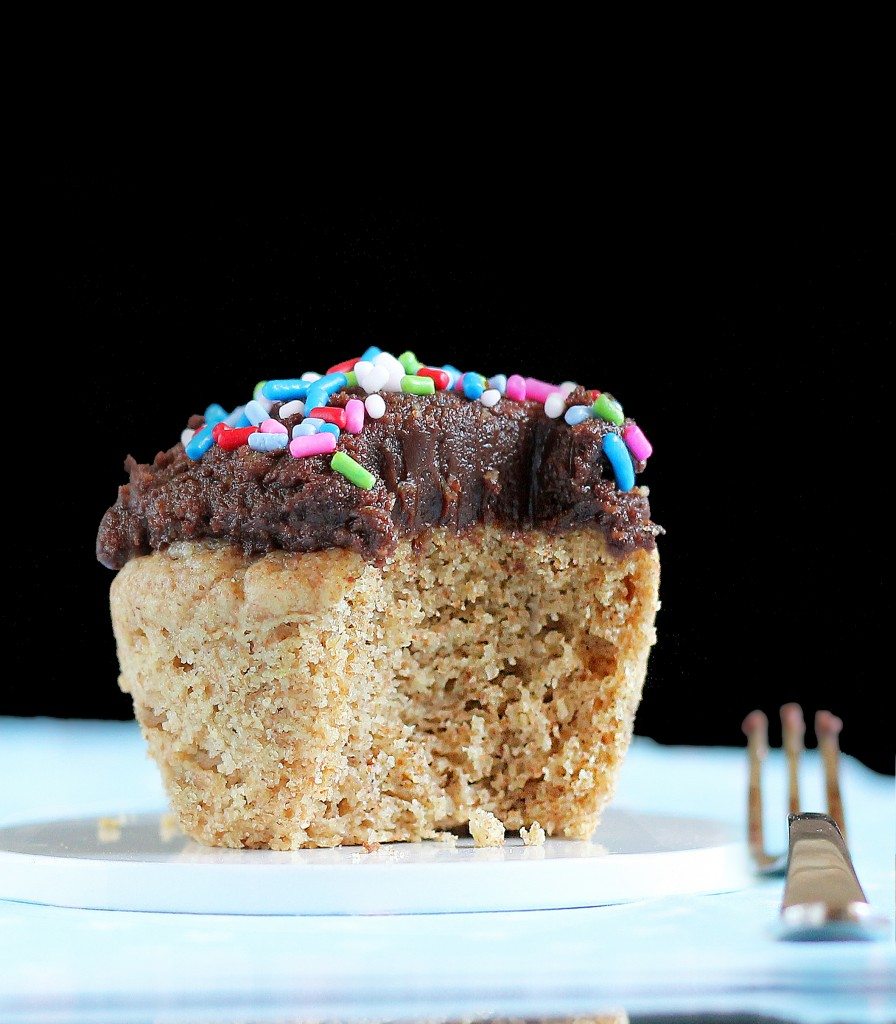 Above, a single lady with Reeses Pieces Chocolate Frosting.
Single Lady Cupcake
(makes a single serving cupcake)
3 tbsp flour (30g) (See directions for flour notes)
heaping 1/16th tsp salt
1 tbsp applesauce, oil, pre-melted margarine (such as Earth Balance or Smart Balance Light), or a combination
1 tbsp plus 1 tsp liquid (milk of choice or water)
1/4 tsp vanilla extract
1/4 tsp baking powder
Sweetener (I hate giving specific amounts, since tastebuds are so different. For normal tastebuds, 1 to 1 and 1/2 tbsp of sugar, or 1 to 1 1/2 packets of stevia should be about right. If you use liquid sweetener, cut back a tiny bit on the other liquid.)
Directions: Preheat the oven to 330 degrees. Mix the ingredients and pour into an oiled (or sprayed) muffin pan. Smooth top of batter. Cook for 12-15ish minutes. Alternatively, you can cook in the microwave, in a greased mug or ramekin. (Microwave times will vary, depending on the flour you use and the strength of your microwave.
Notes on flour: If you use whole-wheat pastry or spelt flour for cupcakes, you'll get a denser (more muffin-like) cake. Still delicious! White flour and Bob's gluten-free also work. I wouldn't recommend plain whole-wheat flour. (Also, be warned if you've never done fat-free baking: subbing all the oil in a recipe for applesauce will give you a gummier result. Once again, still delicious, but much denser than your traditional cupcake with oil.)
Nutrition Info:
Calories: 110
Fat: 0.5 g
Protein: 4 g
Carbohydrates: 23 g
Fiber: 4 g
ww points (new system): 3
(Add 100 calories if you use the tbsp of oil as opposed to the applesauce version.)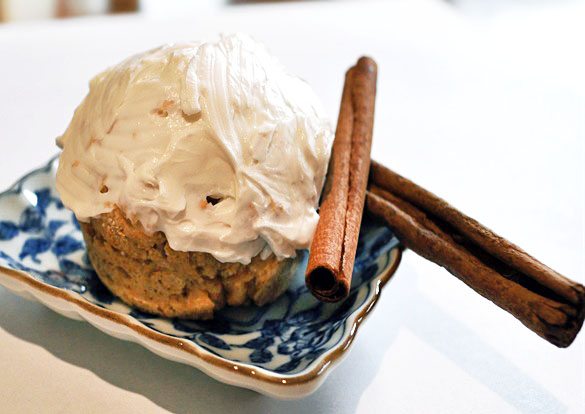 Above, with cinnamon and my Healthy Cream Cheese Frosting.
So basically, the cupcake became a Cinnamon Roll Cupcake. I have many more ideas for future cupcakes. It's really fun dealing with one at a time. They're so quick to make that you can measure ingredients in separate bowls and add different mix-ins to each bowl. One chocolate-chip cupcake, one pumpkin, one carrot cake… you get the idea.