The easiest way to make popcorn: No stovetop, no pots and pans, no fancy popcorn machine required… all you need is a microwave and a paper bag!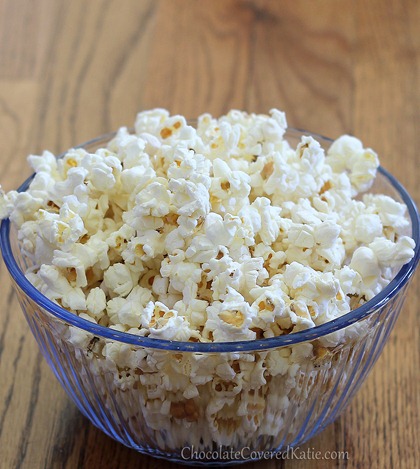 Paper Bag Popcorn Method:
Step One: Measure 1/4 cup popcorn kernels into a lunchbox-sized paper bag.
Step Two: Loosely fold just the very top of the bag over so the kernels don't spill out.
Step Three: Microwave until there are more than 3 seconds between popping sounds. (In my 1000-watt microwave, this took 2 minutes and 10 seconds.)
Step Four: Carefully remove bag and enjoy!
Note: If you want flavored popcorn, toss the kernels in 1 tsp oil, scant 1/8 tsp salt, and desired seasonings—such as cinnamon or garlic powder—before popping.