For the entire recipe: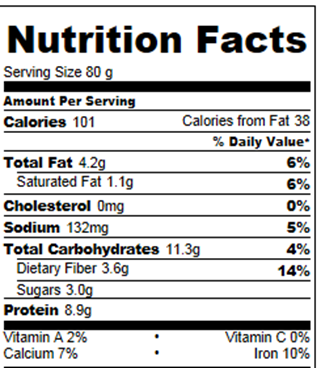 WW Points (new system): 3 points for the entire cake
Nutrition information does include the 1 tsp of sugar, and it is for the lower-fat version. (I figured most of the people interested in nutrition facts are probably those of you who will make that substitution.) If you use the recommended oil in this recipe, nutritional info will be as follows: 160 calories, 11 grams fat, 5 ww points, and all other numbers will be the same as on the above label.
Substitution Notes:
For the PB2: I looked everywhere for peanut flour and came up short. But if you can find it, you can use that instead of the pb2. Just increase salt to 1/8 tsp, and you might want to add 1 tsp extra sweetener as well. Cook the same amount of time. If peanut flour works, I wouldn't see why almond flour wouldn't, but I haven't tried it so I can't say for sure. If you try almond flour, please report back!
For the xylitol or sugar: You can probably sub a liquid sweetener (such as agave or pure maple syrup) for the other sweeteners called for (although I haven't tried it). If you do this, I'd recommend decreasing the amount of milk in the recipe accordingly.
For the original recipe: Chocolate PB Mug Cake.