Yesterday, I had the busiest morning known to man.
After a long run and a short breakfast, I went down to help at a food pantry (sorting cans and boxes) for three hours. Come lunchtime, my appetite was raging!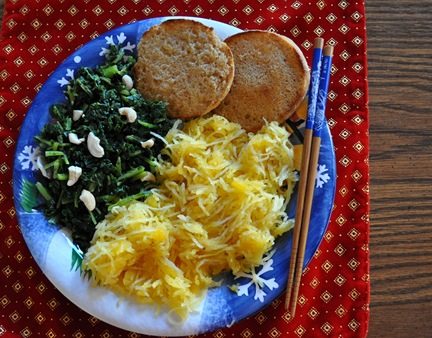 I quickly threw together some Ginger-Cashew Kale.
Then I toasted up a Rudi's spelt English muffin with sbl and made a simple spaghetti squash side dish. Put everything on a cute Christmas plate and ate it all up.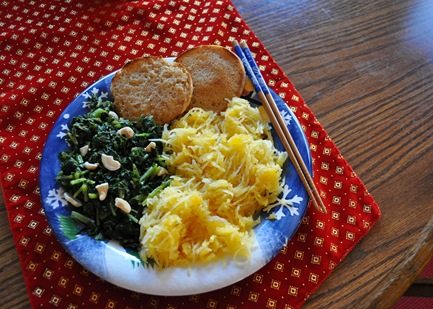 Ohmigosh Spaghetti Squash!
(Serves 1)
150 grams (about 1 an 1/2 cups) baked spaghetti squash
1 tsp good Dijon mustard (I love Whole Foods brand)
1 1/2 or 2 tablespoons mayo of choice, such as nayonaise (fat-free or regular) or Veganaise
garlic salt to taste
a little over 1/8 cup water
(Optional: Sometimes I like to mix corn and/or chopped brussels sprouts and nutritional yeast into the squash)
Mix all the ingredients (except the squash and optional ingredients) in a cup.  Then pour over the squash and stir.  Add optional ingredients if you wish.  Eat cold.
This morning's been pretty busy too. I just now found out that it's National Chocolate-Covered Anything Day. Seriously, how did I not already know this? I am a disgrace to the chocolate-covered world!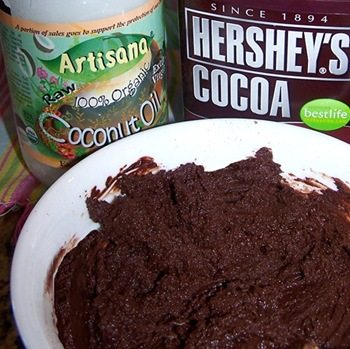 I'm celebrating with this recipe: Hot Chocolate Butter!
Question of the Day:
How do you plan to celebrate Chocolate-Covered Day?