Per 15g serving:
Calories: 50
Fat: 3.5 g
Carbs: 3.5 g
Protein: 1 g
Fiber: 1 g
ww points (new system): 1 point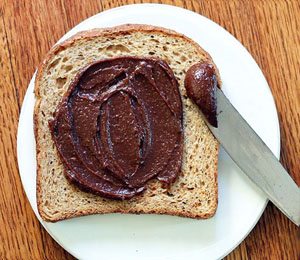 Info is based on using my recipe for Healthy Nutella.
The above information is also based on 13 small squares of 15g each, but feel free to eat bigger squares if you wish. I really like eating a GIANT piece… like a rich slice of Nutella fudge cake!
Substitution Notes:
For the coconut butter: Some people say you can substitute coconut oil, but I have not tried this and therefore can't guarantee good results. I don't have any other ideas for coconut butter substitutions. Also, please make sure you're using something similar to Artisana Coconut Butter, not the new Earth Balance coconut spread.
Or you can always make Homemade Coconut Butter.
For the banana: You can omit the banana and simply use a little extra coconut butter.
For the chocolate-hazelnut spread: If you don't want to make your own healthy Nutella, or if you can't find raw hazelnuts (which I buy in the bulk bins at my grocery store), feel free to sub Justin's chocolate-hazelnut spread or something similar. Obviously you can also sub a different nut butter… it just won't be Nutella!
All other substitutions: Please feel free to experiment with variations, but I've personally only tried this recipe as written and therefore can't vouch for the results of any changes you might make. I also can't tell you if a particular substitution will work, because I haven't tried.
And now that I've written a novel… hopefully I've anticipated all substitution questions you might have had!