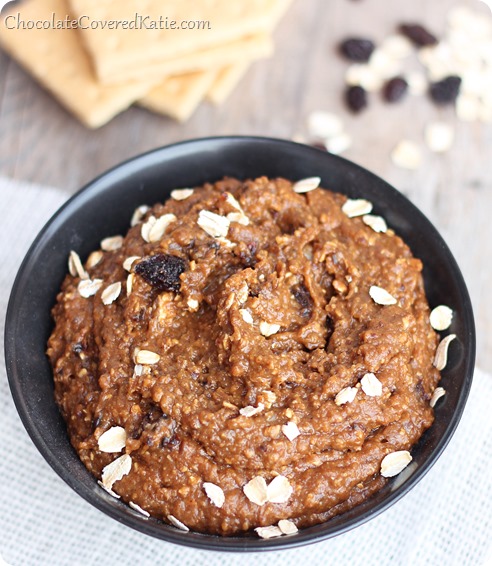 My mornings used to look like this:
Drag myself out of bed before sunrise, grab a quick snack while lacing up my sneakers, then rush out the door—rain or sun or snow—to run 7 or 8 miles.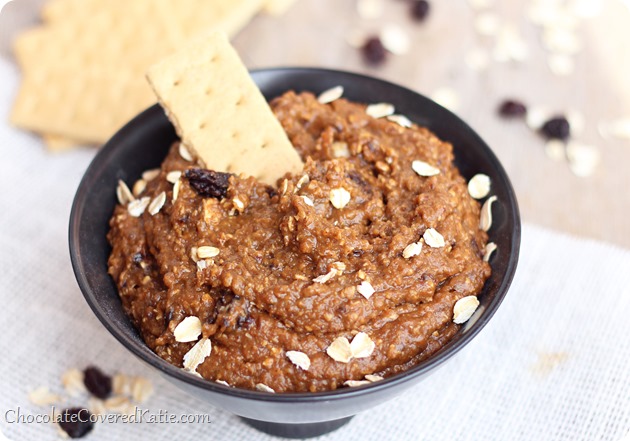 My mornings now look like this:
Wake up and lazily contemplate getting out of bed for a while before actually moving. Eat a big breakfast. Stay in the kitchen to start the day's baking experiments while still in my pajamas. Honestly, I thought I was going to really miss it when I made the decision to give up running… but that's not the case at all!
For instance, yesterday morning's first baking experiment involved oatmeal and raisins and brown sugar and cinnamon, leading me to ponder: Run 8 miles through the Texas heat, or sit on my couch eating oatmeal raisin cookie dough?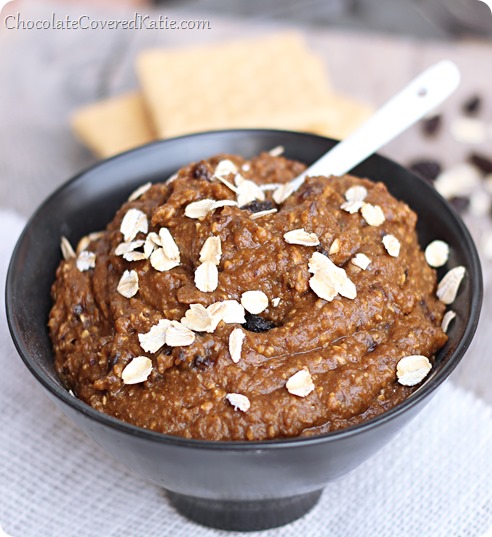 If only all questions were so easy to answer.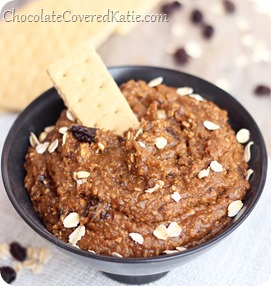 Oatmeal Raisin Cookie Dough Dip
Adapted from the original: Cookie Dough Dip
1 can chickpeas or white beans, drained and rinsed very well (250g after draining)
level 1/4 tsp plus 1/8 tsp salt
1/4 cup rolled oats (20g)
2/3 cup brown sugar or coconut brown sugar (150g)
2 tsp cinnamon
1/4 tsp baking soda
3 tbsp oil (30g) or 1/4 cup nut butter of choice
2 tbsp applesauce
1 tbsp pure vanilla extract
1/2 cup raisins (78g)
1/2 cup more rolled oats (40g)
Combine first 10 ingredients in a food processor and process very well, until it is completely smooth like cookie dough. (Some commenters had success with a blender, but I did not. Try at your own risk and know the result will be better in a high-quality food processor such as a Cuisinart.) Add the last two ingredients, and blend again—either a little for a chewier dip, or until completely smooth again for a creamier dip. Serve with apple slices, graham crackers, pretzels, fruit skewers, bananas, cookies, use to top pancakes, or whatever else you wish. Note: The raisins give extra texture and sweetness. If you need to omit them, you will have to experiment. For recipe troubleshooting on this or any recipe, see the Recipe FAQ page at the top of the blog.
Click for: Oatmeal Cookie Dough Dip Calories & Nutrition Facts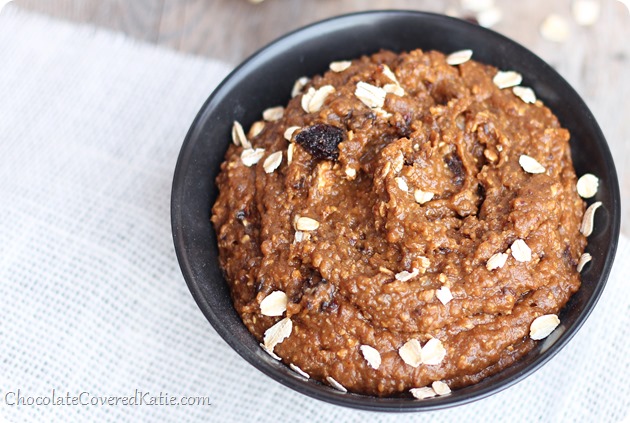 Link of the Day: