Side note:
Yes, I've gone back to the old blog header.
This change isn't permanent. Currently I'm working with a web designer the most patient person in the world to completely overhaul the site's layout, making it much more user-friendly (including a print option for the recipes). Hopefully it will all be completed soon. New year, new blog?
Now back to your regularly-scheduled cookies…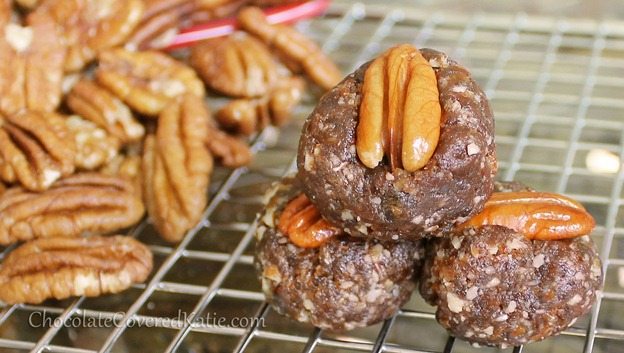 Pecan pie cookies you can make in minutes.
Delicious and good for you at the same time. If you've ever had a pecan pie Larabar, that's exactly what these pecan pie energy bites taste like.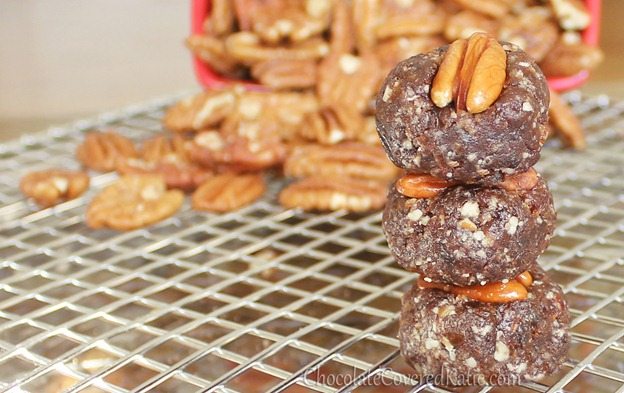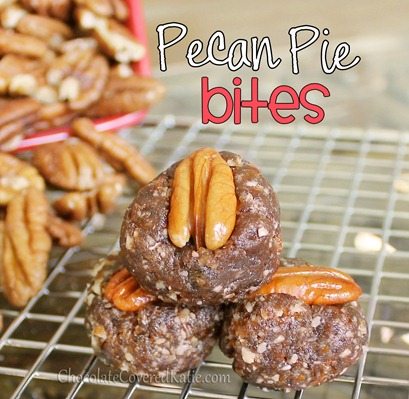 Pecan Pie Babies
(raw and gluten-free)
1/2 cup raw pecans (For all substitutions on this recipe, see nutrition link below) (52g)
packed 1 cup pitted dates (I use Sunmaid, found in regular grocery stores near the raisins, as they are softer and stickier than the ones found in natural food stores.) (160g)
1/8 tsp salt
1/4 tsp pure vanilla extract
optional: chocolate chips (or mini chips, or a piece of your favorite chocolate bar)
Combine all ingredients in a food processor until it makes a crumbly dough. (You can add the optional chocolate chips either before or after blending.) Pour crumbles into a bag and smush into one big ball. Remove from bag and form little balls. Or you can make bars or cookie-cuttered shapes if you prefer. This can also be made in a Magic Bullet: halve the recipe for best blending in a bullet.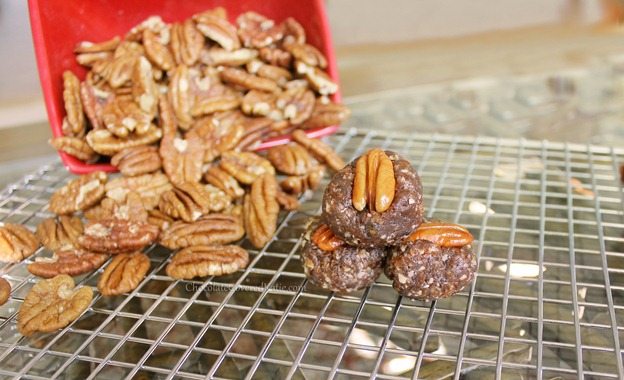 Question of the Day:
Christmas is coming up too quickly, and I have quite a few cookie recipes left to post, meaning some of them will have to wait until next year.
If you have a preference, please let me know which ones you'd most like to see:
Flourless Sugar Cookie Cut-Outs
Mint-Chocolate Chip Cookies
Chocolate Quinoa Cookies
Cookies in a Jar
Cake Batter Macaroons
Link of the Day: