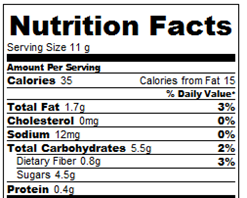 WW Points (new system): 1 point
Yield depends on size you roll. Nutrition information is based on 23 balls.
Substitution Notes:
I've only tried this recipe as written, so I really can't tell you if a certain substitution (like using raisins for the dates) will work. However, if you want to sub a different raw nut for the pecans (such as cashews, walnuts, or almonds), that should be fine.
I've posted similar recipes in the past that call for different nuts. For all flavors, see the following post: Homemade Larabar Flavors.
(On the above-linked page, the Samoas Fudge Babies and the Girl-Scout Cookie Larabars are nut-free.)