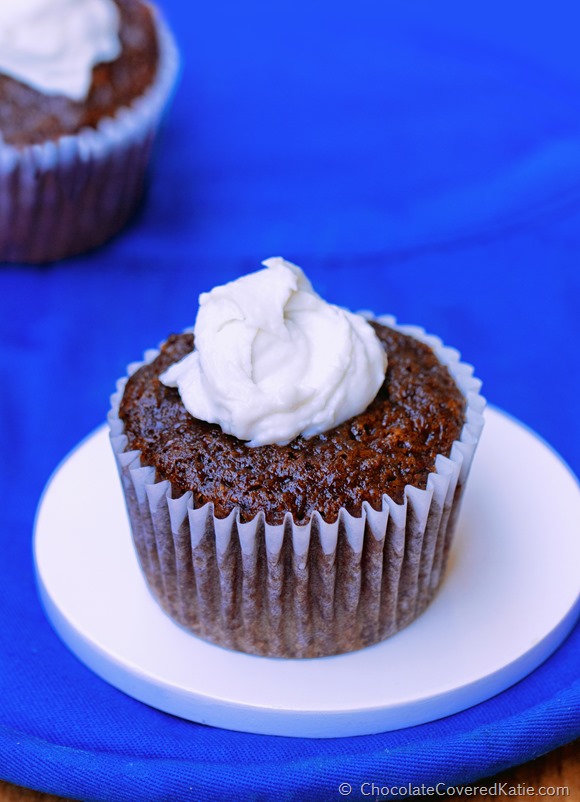 Rich chocolate cupcakes.
Sweet peppermint cream filling.
It's almost like eating a York peppermint patty in the form of a cake!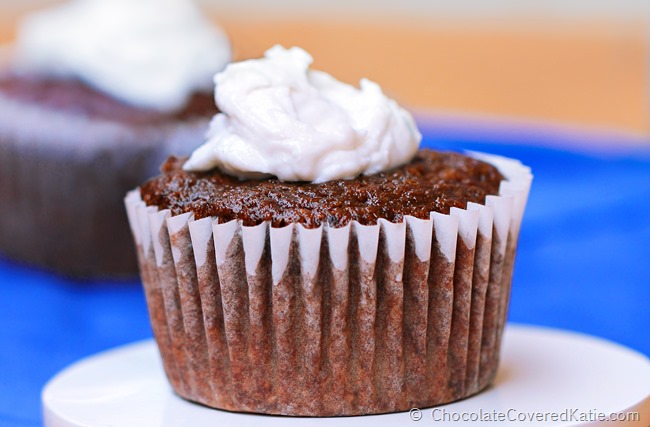 Plain chocolate cupcakes are so 2014…
Peppermint Hot Chocolate Cupcakes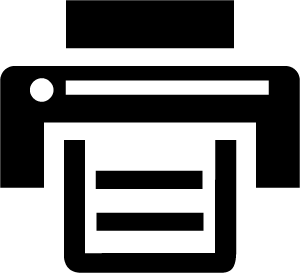 Print This Recipe
[mrp_rating_result show_count="false" show_rich_snippets="false"]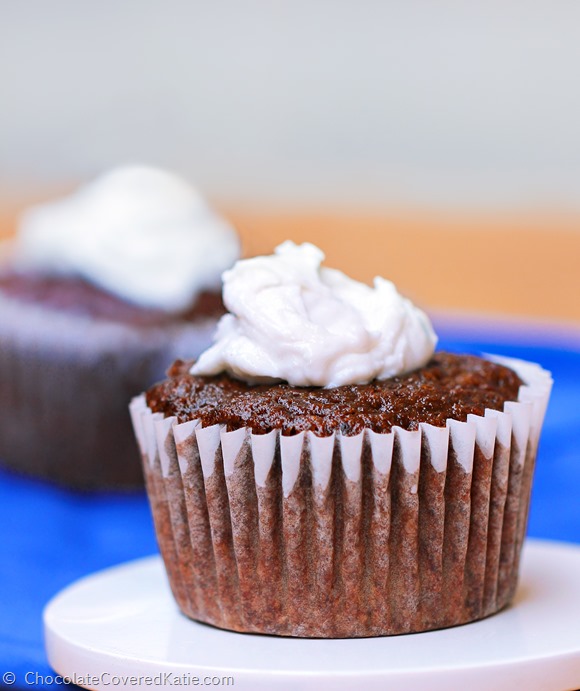 Ingredients
1 cup spelt or all-purpose flour (Bob's gf also works)
6 tbsp unsweetened (non-dutch) cocoa powder
1/2 tsp baking soda
1/2 tsp salt
1 cup granulated sugar of choice or xylitol
1/2 cup mayo-style spread, such as Vegenaise (or you can use this cupcake recipe)
1 tbsp pure vanilla extract
2/3 cup plus 2 tbsp water
just over 1/4 tsp pure peppermint extract
Instructions
Preheat oven to 350 F, and place 12 cupcake liners inside a cupcake pan. In a large bowl, combine the first five ingredients and sift very well. In a separate bowl, combine remaining four ingredients and whisk until the mayo spread is completely smooth. Pour wet into dry and stir until just combined. Immediately divide among the cupcake liners—it won't seem like a lot of filling, but these cupcakes rise a lot.  Bake 15 minutes, or until cupcakes have domed. Remove from the oven and let sit 15 minutes before removing from the pan. These taste ten times more fudgey and rich the next day, so bake the day before eating if possible. Store leftover cupcakes in the refrigerator for up to 4 days. 
*For the Fluffy Peppermint Filling:*
(For coconut-free filling, feel free to use my healthy cream cheese frosting recipe instead of the recipe below)
2 cans full-fat coconut milk (must be the canned type) or 1 can coconut cream
1/2 tsp pure peppermint extract
pinch pure stevia, OR 3 tbsp powdered sugar
Refrigerate the cans of coconut milk overnight. The coconut milk should get very thick. (Tip: Shake the cans when you're at the store. If you can hear the liquidy contents swishing around, it's probably too thin to work for this recipe. Unfortunately, some cans just don't have enough fat content and therefore never get thick.) Once thick, transfer only the cream part at the top to a bowl, discarding the watery portion or saving it for a smoothie or another recipe. Whip in your sweetener and extract with a fork or with beaters. The filling can easily be made ahead of time and refrigerated for up to four days, but it is best to only fill the cupcakes just before serving. Make an indentation into each cupcake with a spoon, add as much filling as you desire, and hide the hole with more peppermint filling.
Question of the Day:
What are your plans for New Year's Eve? Are you dressing up at all?
Link of the Day: