It's Raining Men! Hallelujah!
It's Raining Men!  Amen!
Seeing as I've already done the naked thing, why not take it all the way and make them raw too?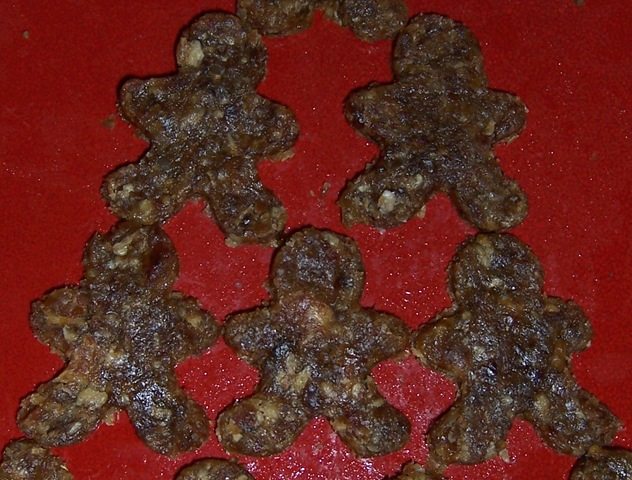 Raw Gingerbread People
Word of warning: This dough is so good that you might just want to eat it all out of the food processor/Magic Bullet and save yourself the trouble of forming handsome ginger guys.
120 grams dates (If you're unsure of the cup conversion or what type of dates to use, see Fudge Baby FAQ post)
38 grams raw almonds
1/4 tsp ground ginger
1/4 tsp cinnamon
1/8 tsp nutmeg
1/16th tsp cloves
tiny pinch salt
1/4 to 1/2 tsp vanilla extract
Instructions: Blend, baby, blend.  Then form into people.  Or Christmas trees, reindeer, angels… Heck, why not go crazy making yourself a little Gingerbread World?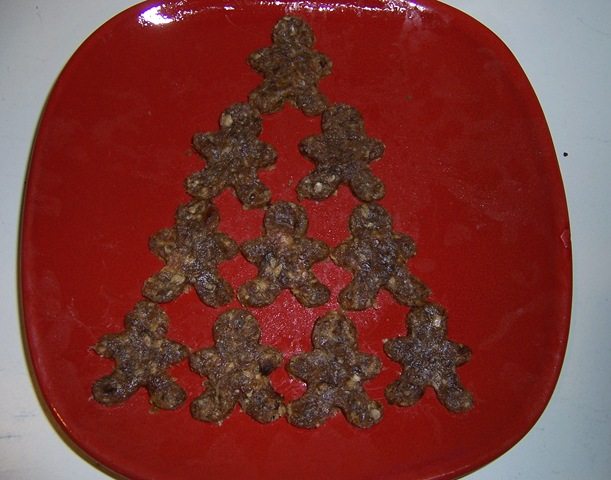 Tree of (gingerbread) Life
I must admit I had some help.  Mrs. Claus stopped by for a visit.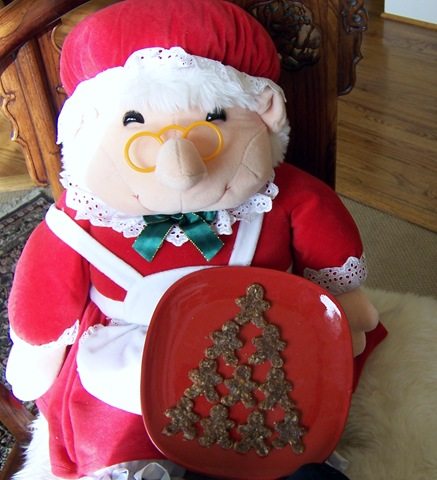 This lady knows her way around a kitchen.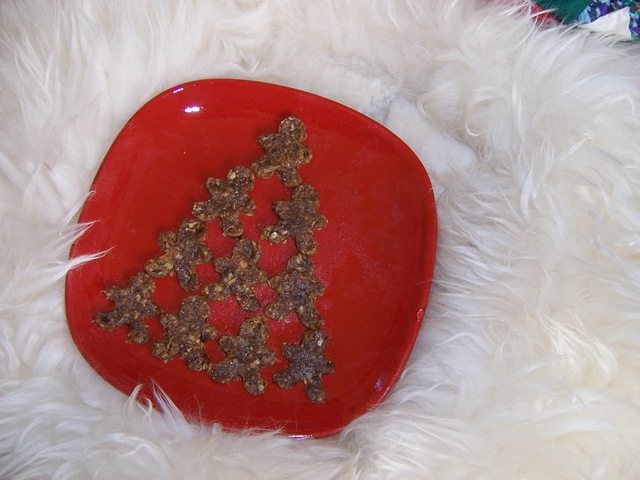 Top Five Reasons you should trade your guy in for a Gingerbread Man
1. Men don't listen.  But gingerbread men cannot move.  Therefore, you can talk their ears off.
(On second thought, gingerbread men have no ears.  So they'll never complain that you talk/yell/nag too much)
2. Men are not affectionate enough.  But gingerbread men are extremely affectionate.  If you're having a bad day, they'll let you take it out on them—Kisses, hugs, even bites. (Kinky little guys, ain't they?)
3. Men say they'll call, then they never do.  But gingerbread men can't use a phone.  So they won't offer such empty promises.
4. Men have big egos.  Each one thinks he is God's gift to the earth.  Gingerbread men all look exactly the same, so it's kinda hard to have a big ego!
And finally…
5. Men leave the toilet seat up.  But gingerbread men… well, let's just say that ears aren't the only things they lack ;).
So what are you waiting for?  Make some raw gingerbread men today, and let your guy know that he's been replaced!