Close your eyes:
Imagine you are eating a giant, gooey powdered jelly doughnut…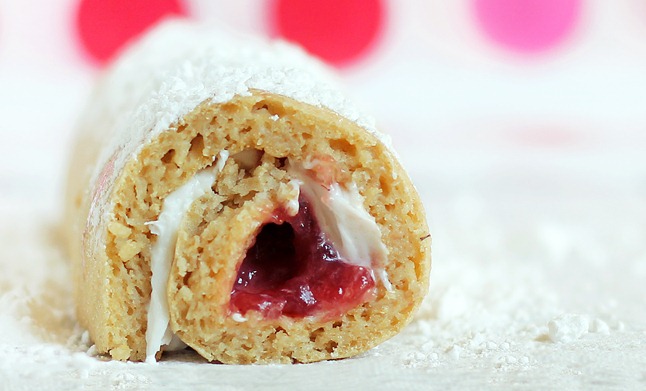 Welcome to reality.
Looks fancy… but this jelly roll is ridiculously simple to make.
It's single-serving.
Takes just 10 minutes
It can even be fat-free.
I've always been intimidated by jelly roll cakes, but this recipe is one of the easiest things I've ever made. So even if you don't think you can cook, you'll probably have no trouble making this. And it'll impress the socks off of everyone you know!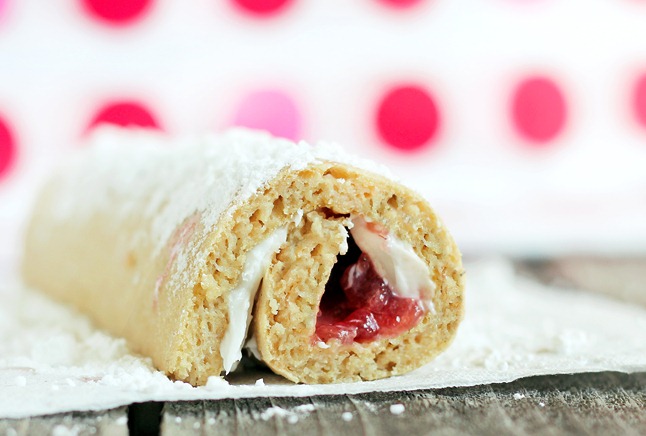 Skinny Mini Jelly Roll Cake
(Serves 1-2)
1/2 cup ww pastry flour, or white or spelt flour (70g) (For a gf version, use this: gluten-free option.)
1 tsp baking powder
1/8 tsp salt
100g water or other liquid (That's 1/3 cup plus 1 T plus 1 tsp)
2 packets stevia (or omit and use 2 tbsp liquid sweetener–such as agave or honey–and decrease water by that amount)
2 tablespoons applesauce
1/4 tsp pure vanilla extract
Combine all dry ingredients together. In a separate bowl, combine wet (including applesauce). Mix wet into dry, but don't overmix. Pour into a greased 8-in circle pan or a rectangular pan. (Be sure to grease it very well, or the cake won't come out.) Cook for 10 minutes in a NON-preheated oven at 420F. (You might need to cook it longer, depending on your oven.) Let cool ten minutes before removing cake from pan. Then cut off all four edges so it forms a rectangle (if you used the circle pan). Spread on jam, or whatever else you wish, and roll it up. It's that easy!
You can fill this single-serving cake with anything you can imagine: Peanut butter, chocolate chips, fresh berries, frosting, coconut butter, etc.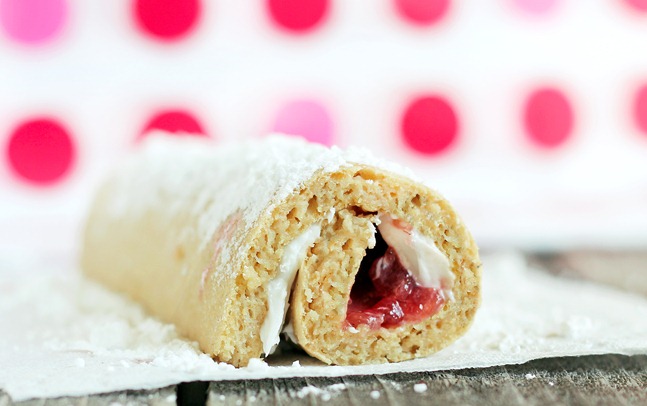 Shown above, with jam and Sugar-Free Powdered Sugar.
Question of the Day:
Do you consider yourself a good cook?
Or are you a walking disaster in the kitchen? Do you like to cook elaborate meals? Or are tv dinners and Chinese takeout your specialties?
P.S. I'm shocked so many of you voted for the non-chocolate recipe yesterday. What am I going to do with you guys?? 😉