Yesterday started out well, with a morning run in cloudy 58-degree weather (perfect running weather). However, near the end of said run, a gnat saw me and decided my right eyeball would make a nice home. Note to Mr. Gnat: my being vegan does not stop me from hating you!! The last ten minutes of my run were miserable, and people passing by must've wondered about this girl running with one hand over her eye, trying to get the dead bug out. Luckily, the day got progressively better.
For snack, I resurrected an old favorite: Soy-free Banana Yogurt, a.k.a. Banana Pudding… or even Banana Whipped Cream! (How good does banana whipped cream sound?)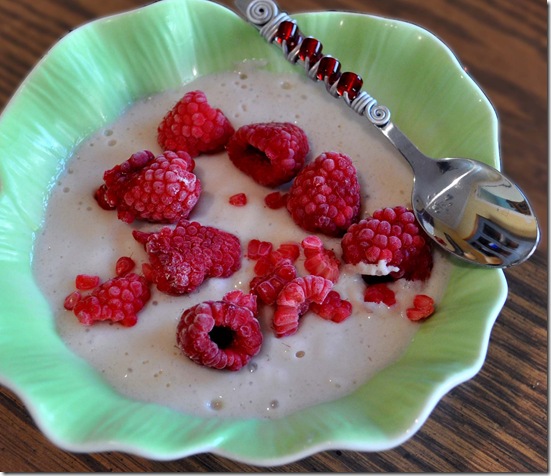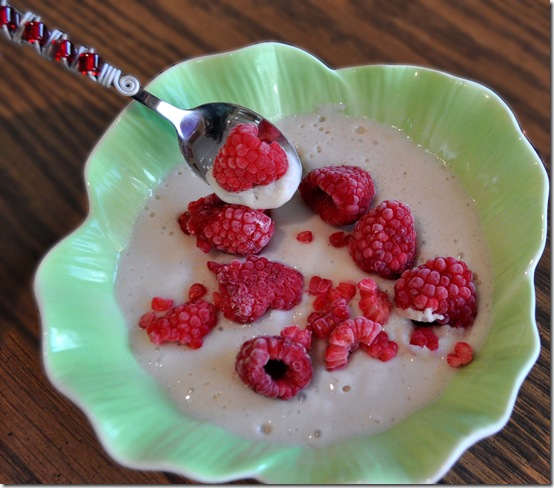 Homemade Banana Yogurt
(Or pudding, but I like to call this "yogurt" since it's healthier than traditional pudding)
3 level teaspoons agar flakes (See below for substitution note)
1 and 1/3 cup milk of choice (I use Almond Breeze almond milk)
1/4 tsp cinnamon (or more, if you're a cinnamonster like me)
a tiny dash salt (1/16th tsp)
frozen banana
sweetener of choice
Ahead of time: Measure the milk into a pot and mix in the agar flakes. Allow to sit 5 minutes, then slowly bring to a boil. As soon as it starts to boil, lower and simmer 8-10 minutes (most of the flakes will have dissolved, but not all). Turn off the heat and fridge uncovered until cool (at least 5 hours). Then scoop the base into a blender or Magic Bullet, add all other ingredients, and blend until super-smooth!
If you don't want to bother with the agar base, you could always just blend a banana into regular plain or vanilla yogurt. Instant banana yogurt!
For tips making any flavored healthy pudding, see: Easy Pudding Tutorial.