Midterms looming. Essays calling. Homework knocking… I invited a few friends over to de-stress, and together we cooked up Wally's Chili while listening to music and relaxing. After my friends went home, I turned back to my other good friends– the essays, midterms, and homework. But now with renewed energy.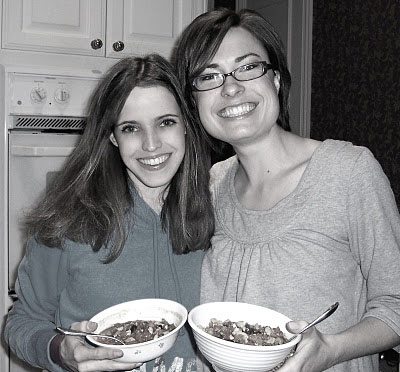 Wally's Vegetarian Chili
(For the story on this chili, click here)
1 medium onion, chopped
1 medium green pepper, chopped
2 garlic cloves, minced
2 tsp olive oil
16oz extra-firm tofu, drained and crumbled (for soy-free, just substitute another can or two of beans)
1 tsp cumin
1 tsp hot sauce, or more if desired
salt and pepper, to taste
1 19oz can red kidney beans, drained
1 19oz can pinto beans, drained
1 19oz can garbanzo beans, drained
1 28oz can diced tomatoes
2 14oz cans tomato sauce
3 medium carrots, sliced
2 1/4 tablespoons chili powder
Saute the first four ingredients over medium heat. Add the tofu, cumin, hot sauce, salt, and pepper, and saute until crisp and lightly browned (10 minutes). Add the remaining ingredients. Bring to a boil, then reduce heat and simmer 45 to 55 minutes. Really good when served with creamy polenta:
Creamy Polenta
1 cup polenta (I use whole-grain)
3 cups milk of choice
1/2 tsp salt
Optional: 1 tablespoon butter-type spread of choice
Bring milk of choice and salt to a boil. Add polenta and buttery spread (if using), and reduce heat. Cook slowly for about 5 minutes, stirring occasionally. Remove from heat, cover, and let stand for a couple of minutes. Serves 3-4.