Upon seeing the title of this post, the following may have crossed your mind:
"What on earth is a girl from Texas doing writing a post about cold-weather running?"
Admittedly, I'm not forced to deal with below-zero temperatures, ice storms, or blizzards like those of you in locations such as Canada. But Texas winters can be quite cold. A normal winter morning around here is in the 20s to 30s (Fahrenheit). And I like to run early, meaning it's even colder. So maybe it's not too much of a stretch for me to write this post.
*Ducks the (frozen) tomatoes being thrown at her from readers in Canada*
How to make Cold-Weather running fun:
Become good friends with weather.com. Don't just pay attention to the actual predicted temperature, look at the "feels like" temperature too.
If you're going to run in the morning, set out your clothes next to your bed the night before. You can even get dressed in bed, while you're still under the covers.
Pretend you're an elite athlete, running in the race of your life. Do you think they are thinking about the cold when a chance to win the Boston Marathon is on the line? Imagine the roaring crowd, cheering for you.
Know what works for YOU. Those thermal running gloves are supposedly the best for keeping one's fingers toasty. But for me, waterproof mittens work much better. My fingers aren't separated in the mittens, so they stay nice and warm.
Dress as if it's 20 degrees warmer outside than it really is. You'll warm up once you start running, and you don't want to be so bundled that you start to sweat and thus become cold and wet.
Figure out the absolute coldest temperature at which running no longer becomes fun for you. For me, that temp is "feels like 5, with 28mph or higher winds" so if it's going to be uglier than that, I plan to work out indoors, later in the day, or take a rest day. Luckily for me, it very rarely gets that cold and windy (at the same time) here.
Wear a hat, wear ear warmers, and bundle up your head. Around 40% of one's body heat escapes through one's head, so keep that baby under wraps! Seriously, I'm absolutely fine running even without a jacket in 30-degree weather as long as my head's covered.
In my Headgear Arsenal:  Depending on how cold it is, I wear a hat, a fleece headband, and the 180s-brand headphones pictured below. I may look a little odd with such a bundled head… but comfort over beauty!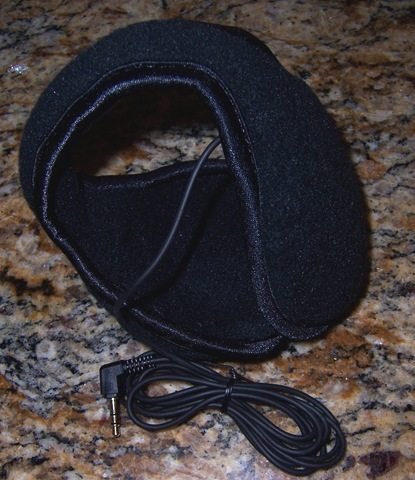 Another idea that works for me:
I keep reading that when running in cold weather, one should dress in layers so he or she can take layers during the run. Ummm what?! I am not rich enough to just discard my jacket, sweatshirt, hat, and gloves on the side of the road! (Nor do I want to carry them as I run.) But something that's worked for me is that after I run, I'll come home and make a list of what the temperature was, what the wind chill was, what I wore and how I felt. That way, before a run, if I see on weather.com that the temp is going to be, say, 40 degrees, I'll go to my little chart, look up what I wore on a 40-degree day, and dress accordingly. Now that I've been running for a few years, I don't even have to take notes any more, as I've already experienced—and written about—most of the possible weather conditions Mother Nature might throw at me. Your list can be in a notebook, posted on your blog, or whatever works best for you.  I keep mine as a Word document.  I don't bother with correct grammar, but I do make sure the list is detailed.
Here's a sample from my Word document: 50-54 and sunny or cloudy or windy (wind 8ish mph to 28mph… yes even 28mph works without gloves, etc)—actually this is perfect running weather! It's not too cold, but not too hot! Long-sleeved thin shirt, with no shirt over. No jacket, no leggings (just nike-type pants or gap black pants). No gloves (no fingerless mittens either). Use earmuff headphones. No hat nor headband.
Now, tips for early-morning running in a blizzard/ice storm/horrific weather:
Step One: Pull one hand out from beneath the blankets.
Step Two: Feel around with said hand for the alarm clock.
Step Three: Turn off the alarm clock.
Step Four: Roll over and GO BACK TO SLEEP! 😉