Can you guess my favorite food?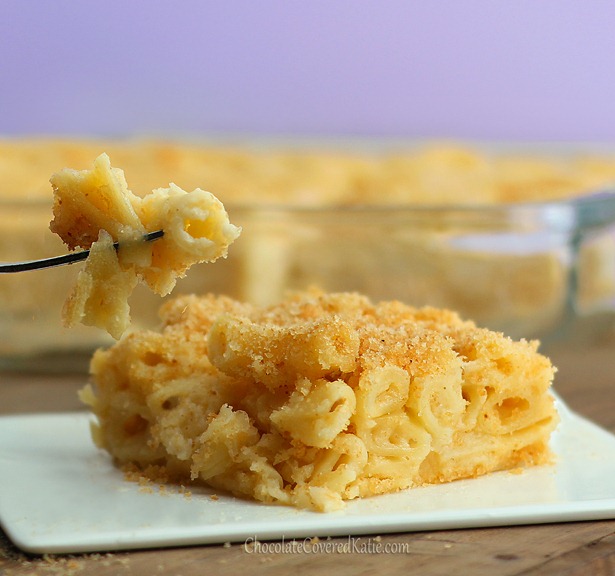 Macaroni and cheese.
Okay maybe it's my second favorite, after chocolate. But seriously, if you served me vegan macaroni and cheese every night for dinner, you'd never hear me complain. Not once. It is my #1 comfort food of choice, and many of my childhood holiday dinners went something like this:
Christmas Eve: Family eats lobster. Katie eats macaroni and cheese.
New Year's Day: Family eats pork. Katie eats macaroni and cheese.
Easter: Family eats pink ham.
Katie eats…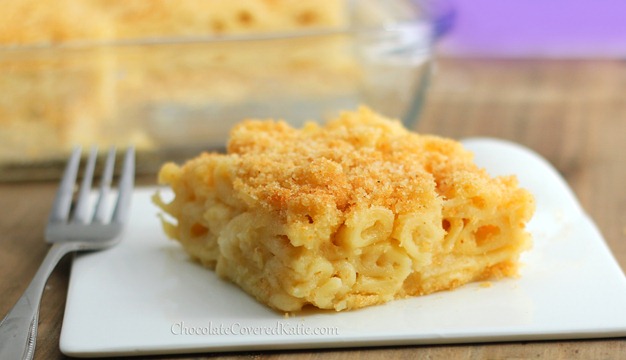 MACARONI AND CHEESE.
It was probably the single most difficult food to give up when I went vegan, and as a former cheese-lover with very high standards, I've tried some pretty lousy vegan macaroni and cheese substitutes over the years.
Such as the mock-n-cheese from The Squeeze Food Truck.
However, I've also tried some really good vegan mac and cheese recipes! For example, Soul Vegetarian Café in Washington DC makes a vegan macaroni and cheese so authentic you will swear you're eating the real thing.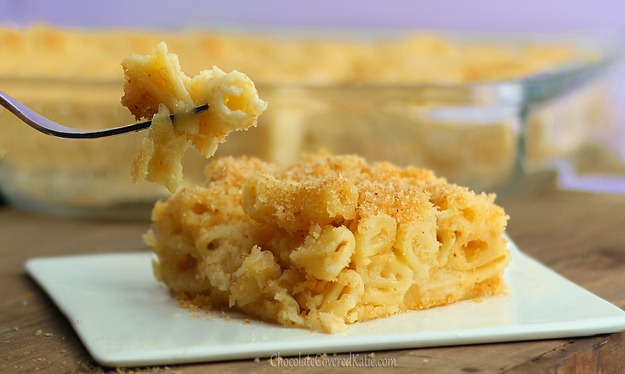 When my friend Dreena sent me a copy of her new cookbook, Let Them Eat Vegan, the healthy macaroni and cheese recipe, entitled "Mac Oh Geez," was first to catch my eye, and even though it sounded complicated, I knew I'd have to try it.
It was well worth the effort! I'm not going to say this vegan macaroni and cheese recipe tastes exactly like real mac and cheese, but it's just as good in its own right—creamy, cheesy, and comforting. I've now made the vegan mac and cheese three times and was even brave enough to serve it for Thanksgiving. (Remember this picture of my Thanksgiving dinner?)
No tofu, no cheese substitutes!
Vegan Macaroni and Cheese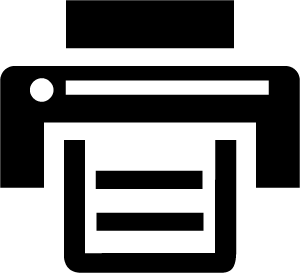 Print This Recipe
[mrp_rating_result show_count="false" show_rich_snippets="false"]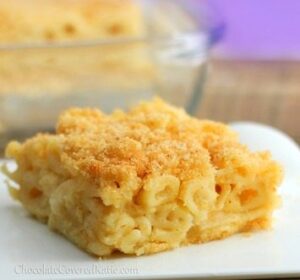 Ingredients
3 to 3 1/2 cups dry cut pasta (ex: macaroni, penne) (about 10 oz)
3/4 cup raw cashews (see "nutrition facts" link below for a nut-free version)
1/2 cup raw brazil nuts
3 tbsp freshly squeezed lemon juice
1 medium clove garlic
2 tsp arrowroot powder
1 tsp sea salt
1/2 tsp onion powder
1/4 tsp (rounded) dry mustard
1 cup water
1 1/2 cups milk of choice (preferably: unsweetened almond or soymilk)
2 tbsp extra-virgin olive oil
For breadcrumb topping:
3/4 to 1 1/4 cups dry whole-grain breadcrumbs (See "nutritional info" link below, for gluten-free option)
1/2 to 1 tbsp olive oil
Couple pinches sea salt
Instructions
Vegan Macaroni and Cheese Recipe: Preheat oven to 375 degrees. Throw pasta into a deep pot of boiling salted water. While pasta is cooking, blend all sauce ingredients (ingredients 2-11) in a blender or in a deep bowl with an immersion blender. Once pasta is almost tender, fully drain (don't rinse). Mix noodles with sauce, and immediately pour into a lightly oiled 8 x 12" baking dish. (It will look like there is a lot of runny sauce – it will thicken up, trust the pasta!) Mix breadcrumb toppings in a small bowl, then sprinkle over top of casserole. Cover with foil and bake for 17-18 minutes. Then, remove foil cover and bake another 5-7 minutes or until topping is golden brown and crisped. Don't overbake or sauce will get too thick. Remove from oven and place vegan macaroni and cheese casserole on a hot plate (rather than on top of oven, since residual heat from oven will continue to thicken the sauce). Serve! For troubleshooting, substitutions, and nutrition information, see the following link: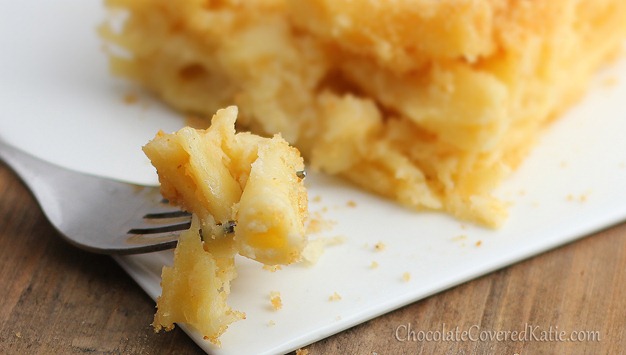 Did you have any favorite childhood comfort foods?
Without a doubt, my grandmother's macaroni and cheese casserole was my favorite thing to eat when I was younger. But I also loved mashed sweet potatoes, hot chocolate, and basically any kind of spaghetti or pasta. Still do!