Would you like a cookie?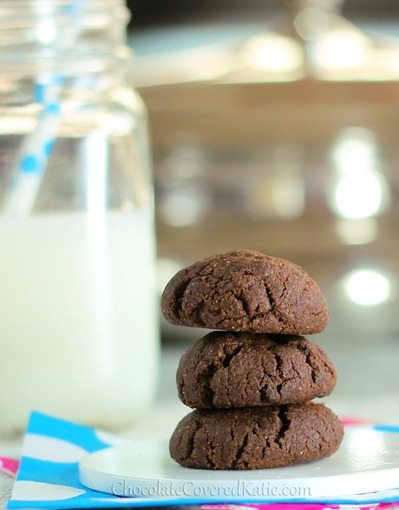 Or would you prefer a brownie?
These double chocolate chip cookies are a must-try for chocolate lovers!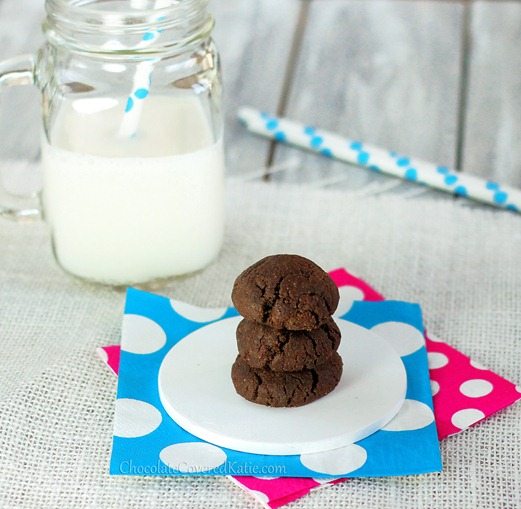 By the way:
No one should ever make you choose between brownies or cookies.
That is just cruel.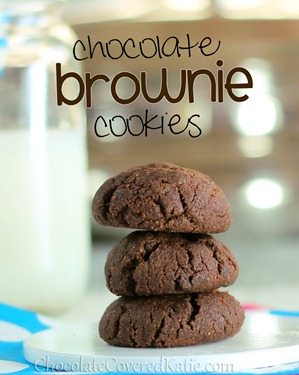 Chocolate Cookies
1/2 cup spelt flour (or ww pastry or white flour. You can use Arrowhead Mills' gf mix if you add a little extra liquid so the dough is less crumbly.) (70g)
1/4 cup cocoa powder (20g)
1/4 tsp baking powder
1/4 tsp salt (just under level)
1/4 plus 1/8 tsp baking soda
1/4 cup xylitol or sugar (45g)
1 NuNaturals stevia packet, or 1 tbsp extra sugar
1 tsp pure vanilla extract
5 tbsp vegetable or coconut oil (50g)
If needed: 1-2 tbsp milk of choice or more oil
1/3 to 1/2 cup mini chocolate chips (50-65g) (Technically, you can omit… but the recipe is so much better if you don't! Mini chips are ideal; if you must use regular-sized, I recommend chopping them up to be smaller so you get chocolate in every bite.)
optional: a few drops of pure almond extract, for a fun flavor variation
In a mixing bowl, combine all dry ingredients and stir very well. In a separate bowl, mix all liquid ingredients. Now pour wet into dry, stir to combine fully, transfer the dough to a big plastic bag, and smush into one big ball while still inside the bag. Remove from bag and make mini balls, place on a greased cookie sheet, then fridge at least 30 minutes, or freeze 15 minutes. (If you want crispy healthy cookies, you can skip this step and bake immediately.) Preheat oven to 325 F, then bake 10 minutes. They will look underdone when they come out, but that is ok. Just be sure to let them cool at least another 10 minutes before trying to pick the cookies up. (If you want flatter cookies than the ones in the photos, you can flatten them before or after they go in the oven.) Makes 14-17 cookies. For soft cookies, store in a lidded plastic container; for crispy cookies, store in a glass container.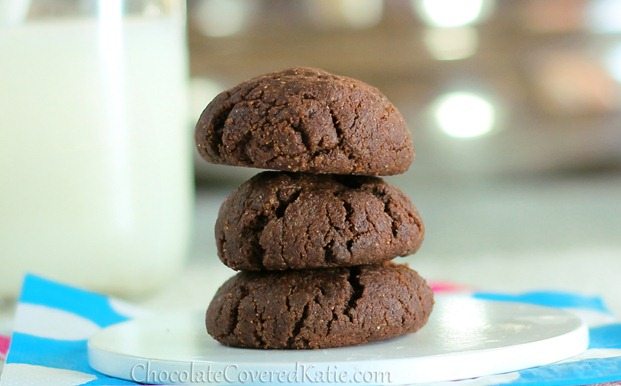 What is your favorite holiday cookie?
Mine is probably chocolate-chip. I'm boring! But I also used to really like these mini pecan tarts my grandmother made, with a buttery cream-cheese crust. At some point I want to create a healthy and vegan cookie from that recipe. Also: thanks for all the unusual cookie suggestions the other day. I'm still trying to decide which idea to play around with first. The cream puff suggestion seems to be winning at the moment, even though it's not a cookie!
Link of the Day: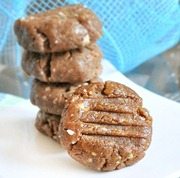 ….No-Bake Peanut Butter Cookies
One of my favorite cookie recipes ever… Happy National Cookie Day!!