Sleep? What's that?
Please forgive me if this post makes no sense. I went out dancing with a few friends last night, and we didn't get home until after two in the morning. But, of course, my body decides it's a great idea to wake up at 6. So here I am, full of energy… and I have no idea where it's coming from.
Maybe it's coming from breakfast this morning: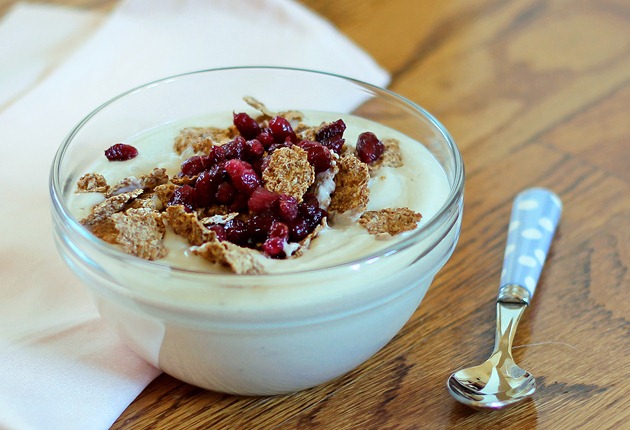 Pouring this cream over cereal is so much better than milk!
It makes the bowl incredibly thick and creamy… I could eat a million of these bowls and still love them. (Side note: I usually add way more fruit and cereal than is shown in the photo.)
Those are Whole Foods' bran flakes in the picture, but I often use uncooked quick oats instead. And I also like to add things like cacao nibs or sliced almonds. As for the cream, I posted the recipe awhile back, but I'll re-post it below to save you the trouble of clicking links:
Whipped Cream Bowl
(Serves 1-2)
This is a Soy-Free Recipe.
sweetener of choice
1/16th tsp salt
1 1/2 T water (20g)
1/2 serving agar base (see below)
3 drops coconut extract (Optional, but highly recommended)
optional: cocoa or fruit (for flavored cream)
First, make the agar base (see instructions: here). When it's cooled, put half of it in a blender (I use a Magic Bullet) with all the other ingredients, and blend away. Whip very well, so it's completely smooth. I like to put it in the freezer for a few minutes prior to eating, so it's super-cold, but it's not necessary. Optional: add fruit, cacao nibs, cocoa powder, or other add-ins.
See the original post for the Calories and Nutrition Info.
As stated above, I love to pour this cream over fruit and cereal or quick oats. You could also sprinkle granola, or even a crumbled energy bar, on top.