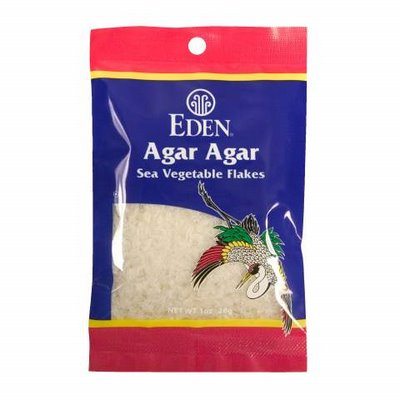 Harry Potter and Agar Agar flakes share an enviable talent in that both possess the ability to perform magic– Harry on wizards of the Dark Arts, and Agar on recipes in need of a thickener. Unfortunately, these two magic-makers share something else: they've both mastered the art of invisibility.
Many of you left comments on my last post, asking where to find agar flakes. I buy mine at Whole Foods, in the Asian-food section (the section with the Thai curry paste, the dried seaweed, soba noodles, etc.). They look like this:

If the Whole Foods near you doesn't carry them, try placing a special order at the Customer Service Desk. Alternatively, try looking in an Asian grocery store.
I wish I could send a package of agar to every single one of you who is having a difficult time tracking the little guys down. But since this wouldn't be feasible, I did some sleuthing around and discovered that you can purchase the flakes (or agar powder) online. Places to Purchase Online:
1. Buy Eden Agar Flakes online here: http://www.edenfoods.com/store/product_info.php?products_id=108940
2. Veganessentials.com has Agar powder: http://store.nexternal.com/shared/StoreFront/default.asp?CS=vegane&StoreType=BtoC&Count1=460201442&Count2=377341866&Keyword=agar&Target=products.asp
3. Amazon.com also has agar powder: http://www.amazon.com/s/ref=nb_ss_gw?url=search-alias%3Daps&field-keywords=agar+agar