A giant, gooey chocolate chip pumpkin pizookie.

Above, topped with my Homemade Healthy Vanilla Ice Cream.
So what the heck is a pizookie???
It's something between a pie and a cookie. A giant, gooey, melty and delicious deep dish chocolate chip cookie. Sounds pretty fantastic, right?!
Emily (my roommate) and I invited a bunch of friends over for a housewarming party Saturday night, and I wanted to christen the new oven in style. So I figured it was a great time to test out an idea I'd been meaning to try for a few months: pumpkin deep-dish cookie pie. With chocolate chips, of course.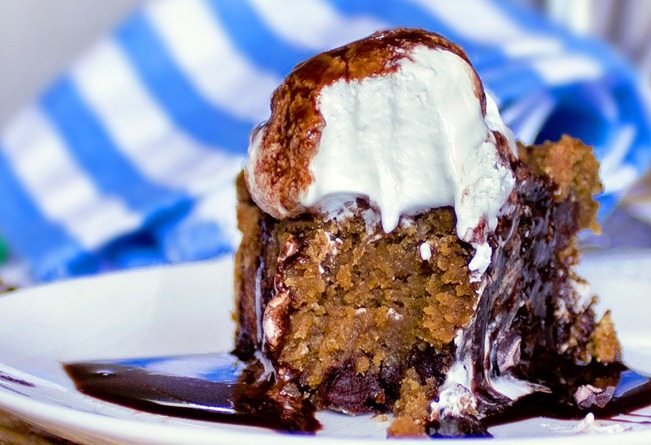 To say it was a huge success would be an understatement! More than one person at the party said it was the best pie he or she had ever eaten, and I think every single crumb was gone just ten minutes after I served the pie! Seriously, do not worry about serving the following recipe to a crowd of "non-healthy" eaters. They will devour this healthier chocolate chip pie like there is no tomorrow.
If you're still unsure, read the 1000+ positive comments on this post.
(You'll find a similar number of positive comments and rave reviews if you look at my white bean blondie and cookie dough posts. I know it seems weird, but these bean desserts are actually HUGE crowd pleasers. Honest!)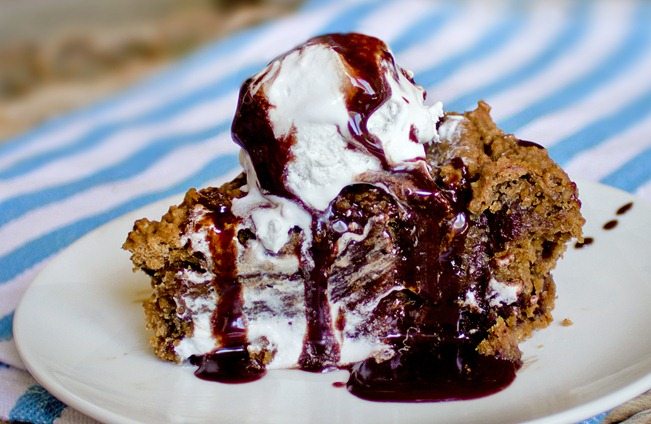 Pumpkin Chocolate Chip Pizookie
(gluten free!)
Inspired by the Deep Dish Cookie Pie.
2 cans white beans or garbanzos (drained and rinsed) (500g total, once drained)
1 cup quick oats
1/4 cup pureed pumpkin (or butternut squash or sweet potato)
2 tsp pure vanilla extract
1/2 tsp baking soda
2 tsp baking powder
1/2 tsp salt
1 and 1/2 tsp cinnamon
3 tbsp vegetable oil or coconut oil
1 and 1/2 cups brown sugar or coconut sugar (For a sugar-free version, perhaps try xylitol. Also, white sugar will work if you don't have brown. Also: I know some readers have successfully made my original pie with agave, but I haven't tried it.)
1 cup chocolate chips
Blend everything except the chips very well in a food processor (NOT a blender). Blend until it's super-smooth. Mix in chips, and pour into a pan. (I used a 10-inch springform pan, but you can use a smaller pan if you want a really deep-dish pie.) Cook at 350F for 35 minutes. Let stand at least 10 minutes before removing from the pan.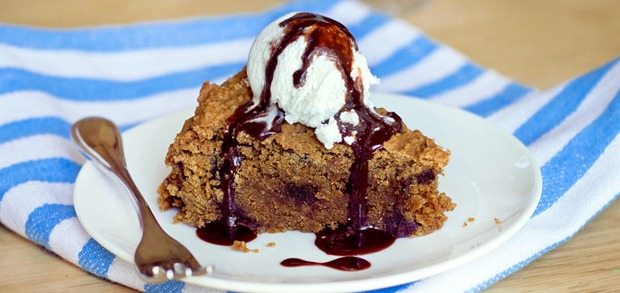 Have you ever heard of a pizookie?
Apparently, the name is a combination of "pizza" and "cookie" and was first coined by the chain restaurant, BJ's Brewhouse. Their website says BJ's offers Red Velvet pizookies and Triple Chocolate ones. Hmmmm… what flavor should I try next?
Maybe a pizookie from my Peanut Butter & Jelly Blondies.