Sweet and buttery coconut surrounds a rich chocolate center in these crazy-delicious coconut fudge bars. It's no wonder the recipe is such a huge crowd pleaser!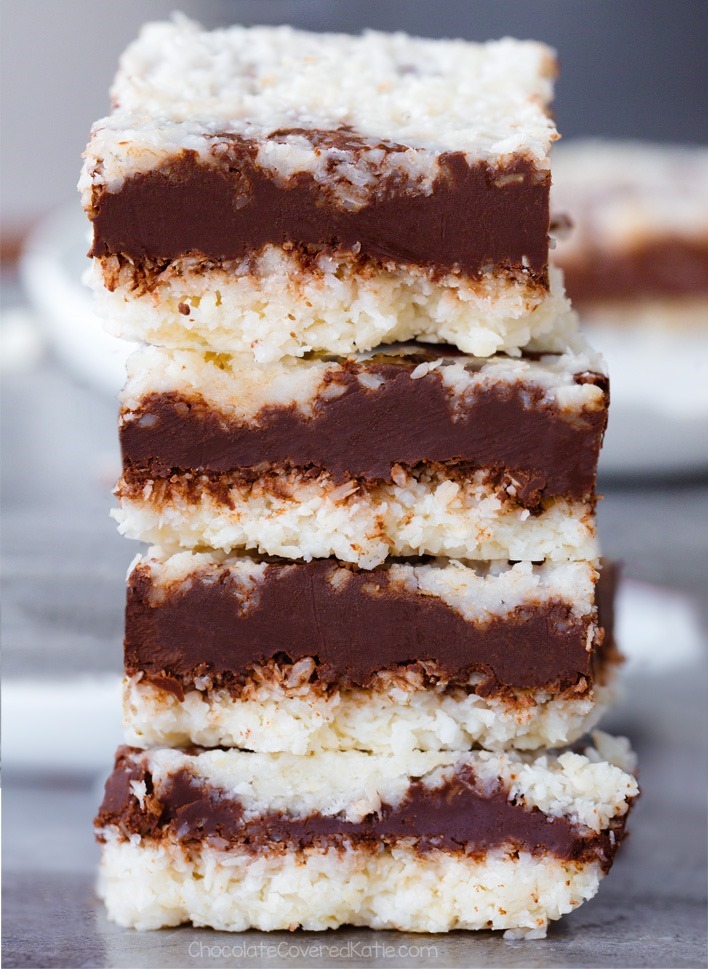 NO BAKE
VEGAN
KETO
PALEO
GLUTEN FREE
SUGAR FREE
Coconut Free Version —> Chocolate Oatmeal Fudge Bars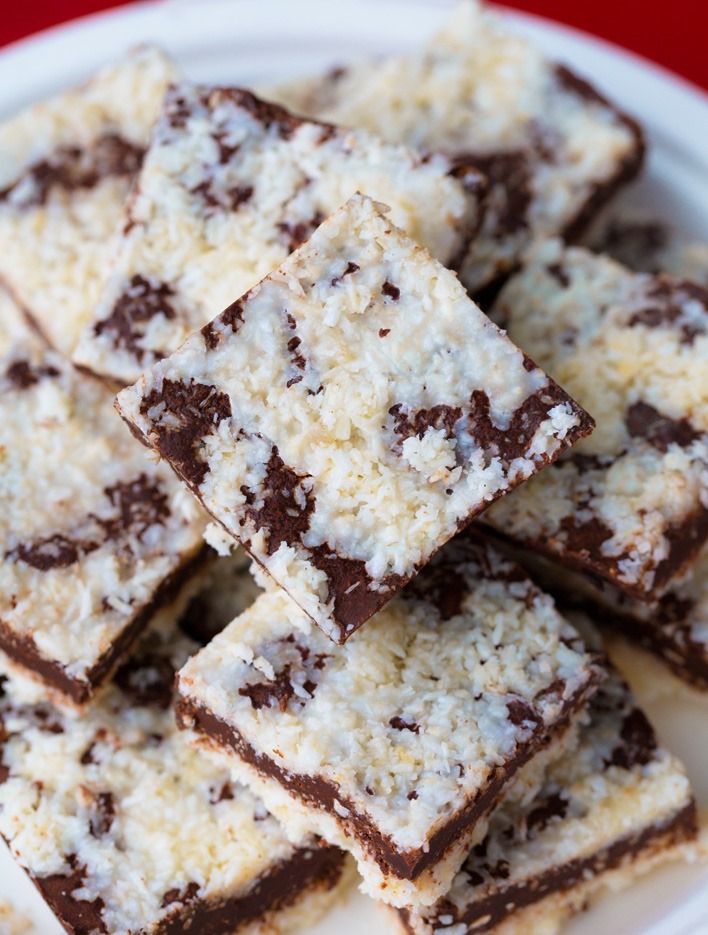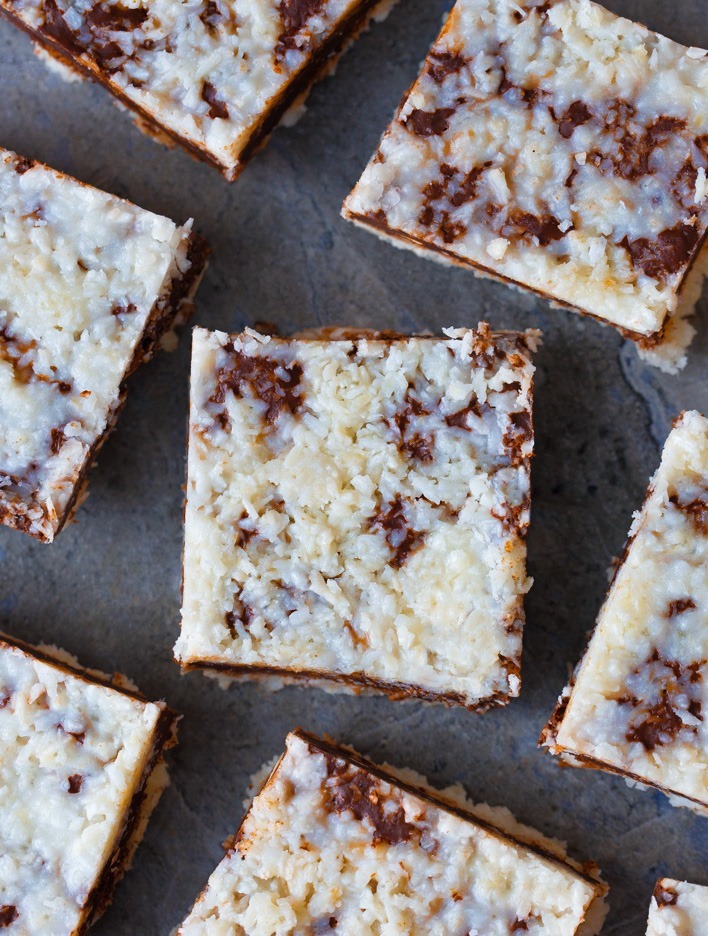 With smooth dark chocolate between layers of coconut, it's like an inside-out Mounds bar!
The coconut bars are easy to transport and don't have to be refrigerated, meaning they are a great choice to make for parties, potlucks, book clubs, or any other time you need a crowd-pleasing dessert in a hurry.
No oven required – it's way too hot outside!!!
Also Be Sure To Try: Keto Muffins – 6 Ingredients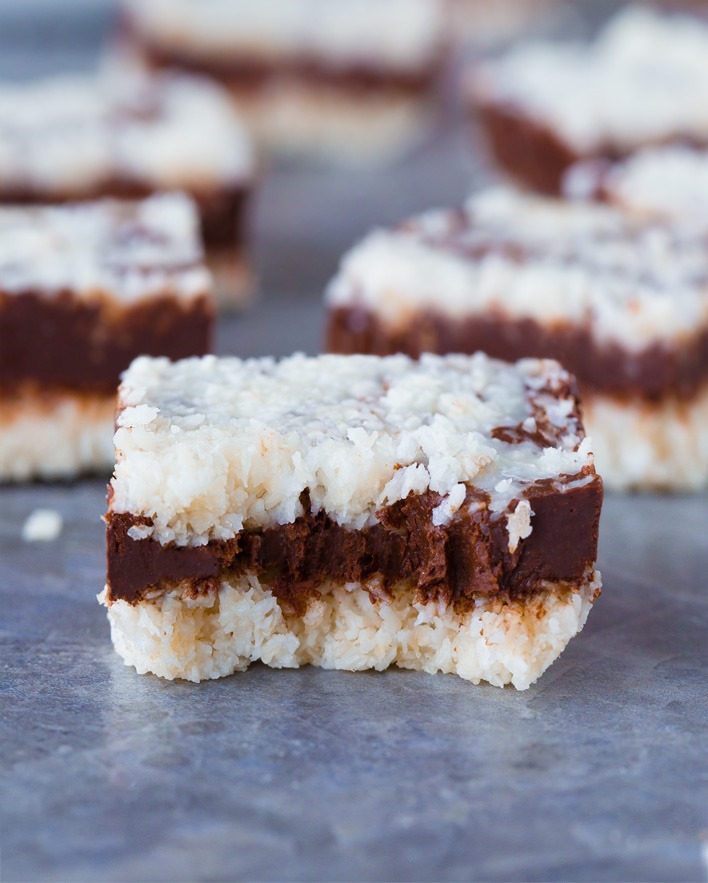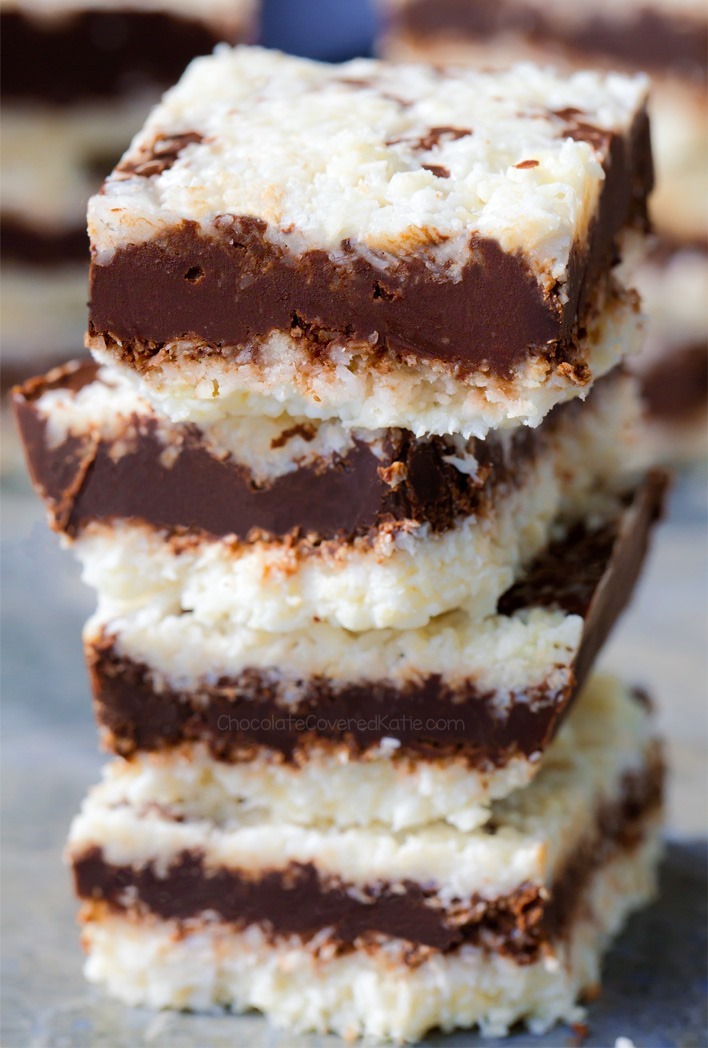 The recipe can either be made with a liquid sweetener (maple syrup, agave, etc.) or with stevia if you need a low carb keto version.
To make the bars, press 2/3 of the coconut mixture into a parchment-lined pan, spread the chocolate fudge over top, then sprinkle on the remaining coconut and refrigerate until firm.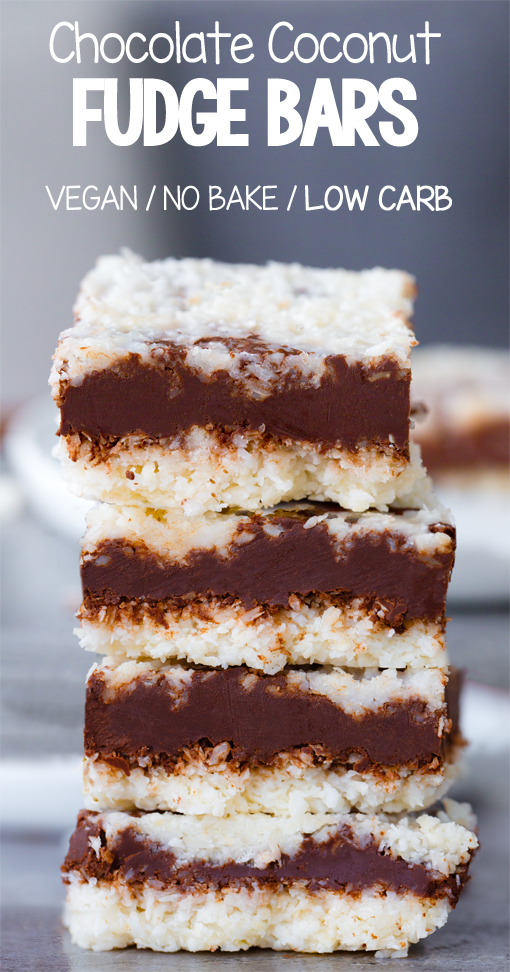 Keto Coconut Fudge Bars
Adapted from these Coconut Balls
No Bake Chocolate Coconut Fudge Bars
Print This Recipe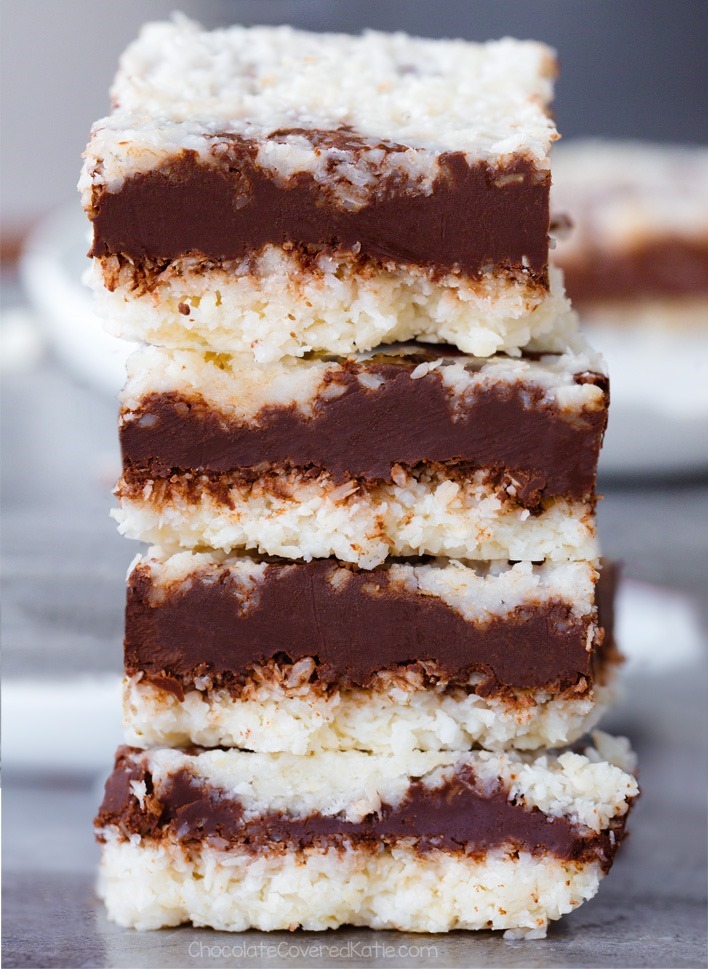 Ingredients
3 cups shredded unsweetened coconut (240g)
1/4 cup sweetener (see note below)
1/2 cup melted coconut oil or coconut butter (96g)
1/2 tsp pure vanilla extract
1/4 tsp salt
1 1/2 cup chocolate chips or sugar free chocolate chips
1/3 cup almond butter (or additional chips or coconut oil/butter)
Instructions
You can either use 1/4 cup liquid sweetener (agave, honey, pure maple syrup) OR stevia for the equivalent sweetness and add 1/4 cup additional coconut oil to make up the liquid difference.
Line an 8×8 pan with parchment going up the sides. Combine first 5 ingredients – I like to blend in a food processor, but it can be done by hand. (If skipping the food processor, you can increase coconut oil to 2/3 cup to ensure they aren't crumbly. However, the bars in the photos were mixed by hand without the extra oil and still held their shape enough to cut. So it's up to you!) Spread about 2/3 of the mixture into the pan. Press down really well. Carefully melt the chocolate, stir in almond butter if using, and spread over top of the coconut. Sprinkle remaining coconut on top, press down, and refrigerate 1 hour or until firm. On cool days or for indoor parties, the bars are fine to leave out. Store leftovers in the fridge or freezer.
Current Popular Recipes: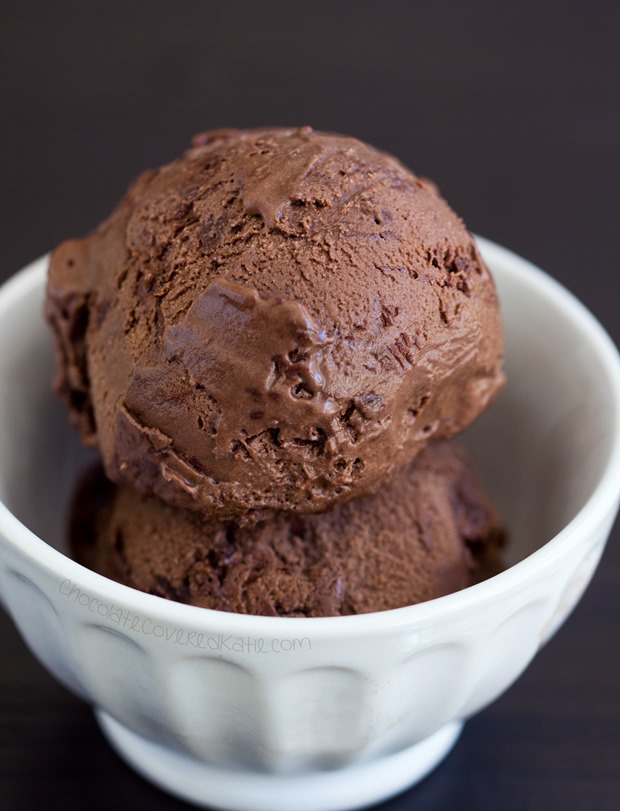 Chocolate Peanut Butter Nice Cream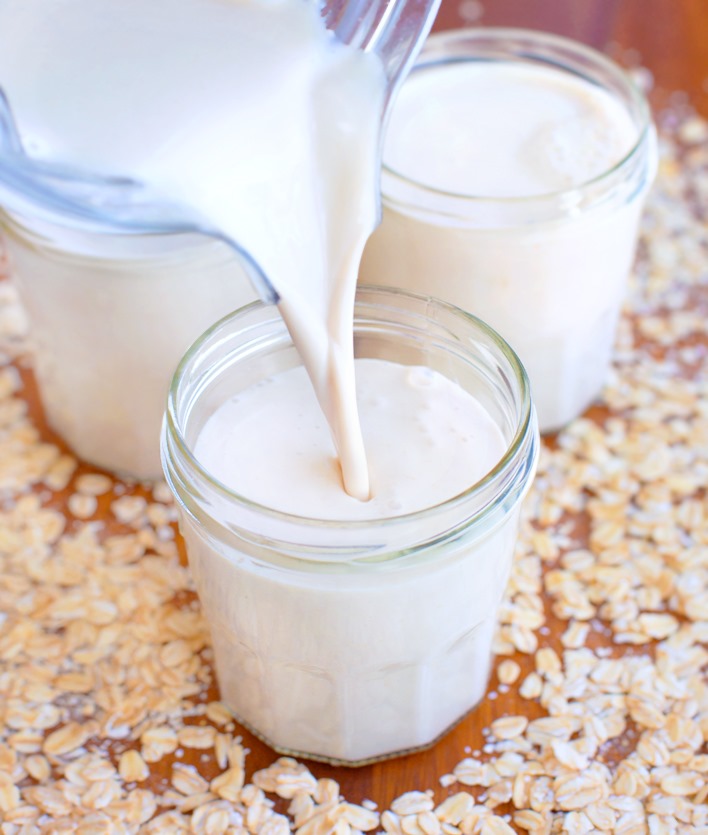 Oat Milk – Everything You Need To Know