As part of one of the meals in my Vinegar Salad Stir Fry post, I highlighted hulled barley.  Afterwards, two people asked what the difference is between hulled barley and "regular" barley (a.k.a. pearled barley).
Both forms of barley—hulled and pearled—are nutritional powerhouses, high in fiber, selenium, phosphorous, copper, and manganese. They contain all eight essential amino acids. However, with pearled barley, the nutritious outer bran layer is stripped off, leaving just the pearl inside. (Think of it being like white rice to hulled barley's brown.)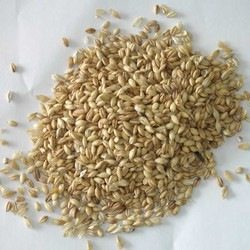 Hulled barley is less processed than its pearled cousin. In hulled barley, the outer bran layer is left intact, meaning this grain is extremely high in fiber, whole grains, B vitamins, iron, etc. It also yields a fun, chewy texture. Unlike the pearled variety, one cannot find this grain in most grocery stores. I usually get mine from the bulk aisle at Whole Foods.
Cooking hulled barley does take a bit longer than cooking the pearled variety. But it offers so much more nutritionally that the extra time is well worth it. (Plus, most of the extra time involves soaking and simmering, so if you set a timer, you don't even need to be around during the cooking process.)
How to cook hulled barley
For one serving:
Measure 40 grams of dry barley (about 1/4 cup) into a small pot with a dash of salt and enough water to cover the barley (2 cups or so).
 Let soak for at least three hours. (I usually soak mine overnight; it lessens the actual cooking time.)
Bring to a boil, then lower to a simmer for 45 minutes. (Set a timer so you don't have to watch it.)
Stir, then simmer for another 45 minutes (and maybe even another 45 minutes, depending on how soft you want your barley).
Your barley is ready to eat… but you can

take it up a notch and blend

!  (You know I opt to blend.)  I drain the barley, then throw it in the Magic Bullet blender with about 2-3T of water (or other liquid) and maybe some seasonings/add-ins.  I pulse the blender just a few times so that the resulting cereal has the creaminess of a blended grain while still maintaining a fun chewy texture.
What to do with the cooked barley
Mix (or blend) with gravy, vegan mayo, or vegan butter (and cheese?) for a yummy risotto-like dish
Cook in apple juice, and add raisins, nuts, and curry powder for a sweet Indian-type pilaf
Reap even more health benefits by eating it alongside—or topped with—

Stir Fry Salad

Use the

melted banana trick

when you blend the barley
Top with mushroom stroganoff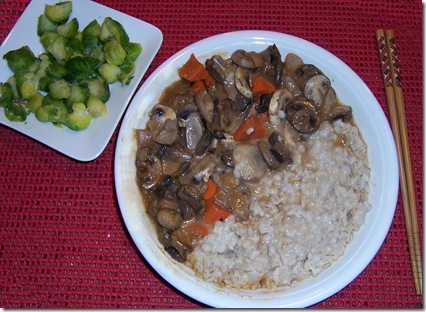 (Above, Mushroom Stroganoff, Steamfresh brussel sprouts, and some of that super-healthy barley)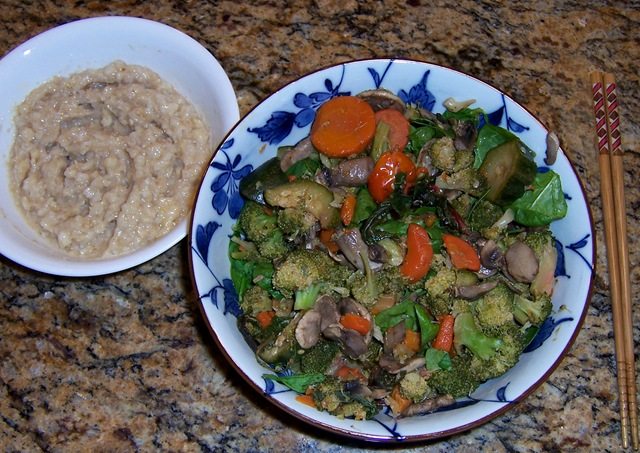 Try using hulled barley (especially blended hulled barley) in any recipe that calls for oatmeal, or top the barley with your usual oatmeal toppers.