Hugest-ever! According to dictionary.com, "hugest" is a word. Rejoice!
Yesterday, at around 3PM, I finally jumped on the protein-ice-cream bandwagon.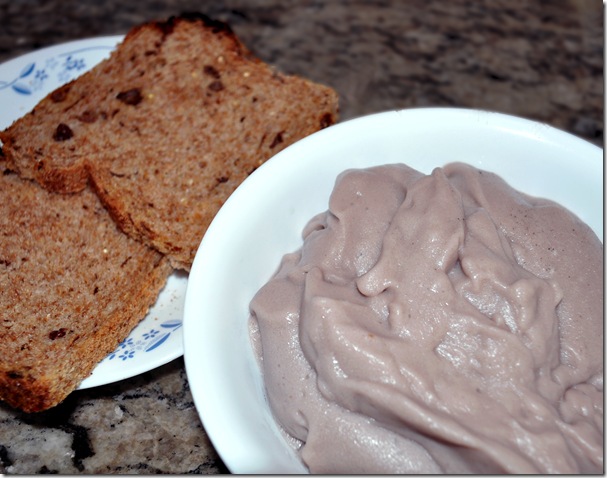 Protein-licious. Yesterday, by the time I finished eating this thing, I was freezing! So I took the second part of my meal outside—two slices of Ezekiel cinnamon-raisin bread.
French Toast Trick: I used to think I didn't like Ezekiel cinnamon-raisin bread, because it's so dry. But I discovered the secret: Moisten the bread (a lot) with water or non-dairy milk, sprinkle with extra cinnamon and a tiny bit of salt, and microwave for 30 seconds. Sounds odd, but when it comes out, the bread tastes like French Toast! For reals. French Toast for lazy girls. As for the protein ice cream, here's the recipe I used:
,
CCK Choco-holic Protein Ice Cream
22g chocolate protein powder
120g (1/2 cup) almond milk
Scant 1/4 tsp plus 1/8 tsp xantham gum
Scant 1/4 tsp plus 1/8 tsp guar gum
13 ice cubes
1/16th tsp salt
Blend. Good to freeze for 20-40 mins prior to serving, for ultimate chilliness. If you missed it, I highly recommend you check out HEAB's Protein Ice Cream Tutorial.
As I was finishing off my own protein ice cream, the doorbell rang. What was at the door? I'll give you a hint: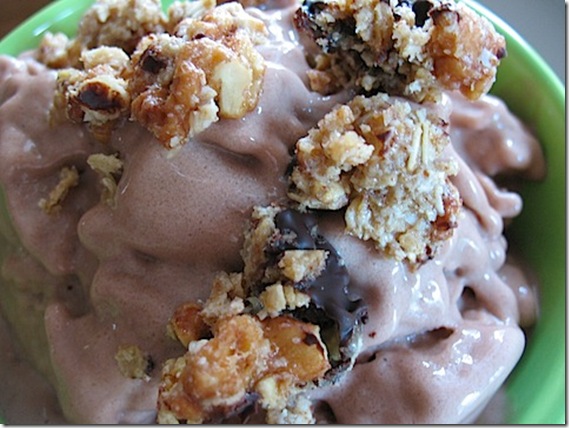 .Hint: Now I'll be able to make my own Oatie Protein Sundae!
There was something else at the door, too. I swear, the postman probably thinks I'm running some sort of Texas mafia. Yeehaw! Twas another belated birthday present: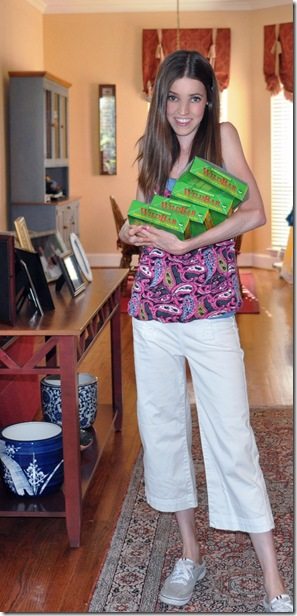 My grandma is the coolest.
Summary: Thanks to my mafia connections sweet friends and relatives, I am well-stocked in the foodie department for quite a while.