But first, I have an important question to ask:
Cake or Frosting?
Even as a little kid, I was a frosting-over-cake girl; I always vied for those frosting roses. Did any of y'all do that? (I'm not sure I even liked the taste; they were just so gosh-darn pretty!)
Anyway, in my exuberance about the Raw Chocolate-Raspberry Cake, I forgot to mention that you don't have to make it a cake. You can do this…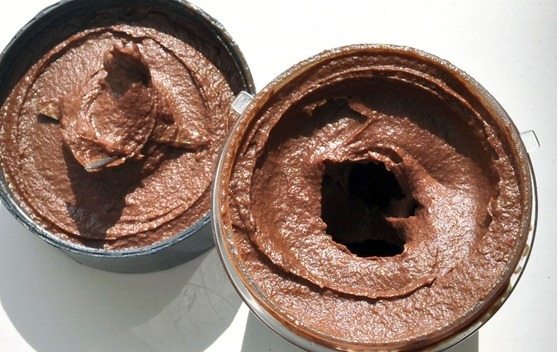 Or chocolate-raspberry fudge frosting.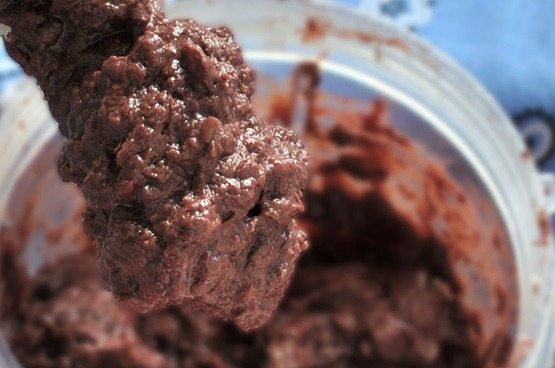 Try this on top of Banana Pancakes for One.
If you dare. You might never want to eat anything else ever again. Or skip the pancakes and opt for straight-up frosting shots. Yeah, frosting shots. And if you're looking for something with which to wash down said shots, I've gotcha covered. Or, rather, Silk's gotcha covered:
I mentioned the coconut in the New Product Alerts page awhile back, but hadn't yet tried it.
Unsweetened Almondmilk:
Silk came out with plain, vanilla, and chocolate almond milks a few months ago, but did you know that they now have an unsweetened one as well?
It's my newest-favorite thing! I've always loved Almond Breeze, but this milk is like three times creamier! Plus, it's fortified with vitamin B12. (Almond Breeze is not.) Price-wise, Silk also holds an edge ($3.50 for 8 cups as opposed to AB's $2 for 4 cups when on sale).
Coconutmilk:
I love coconut. Did you know? Yeah, um, unless you've been living under a rock, I'm sure you did. (And even those of you rock-dwellers have probably heard by now.) So I was surprised to find I didn't like the So Delicious brand's coconut milk beverage. Even the sweetened one, I found to to be watery and bland. Good news, though: Silk Coconutmilk is much thicker. Even my dairy-drinking mom likes it! I bet it'd be really good in oatmeal!
Final thoughts… and opinions welcome:
I know Silk is owned by Dean Foods, who also happens to be the biggest dairy-seller in the US. I'm not sure how I feel about this… but I think their clout and reputation in the dairy industry give them the ability to make products like soymilk more mainstream (for example: Silk commercials, advertisements in magazines, and availability at places like Starbucks and Wal-Mart). And more easily-accessible vegan products means more people will be turned on to them, which will eventually translate to fewer animal products consumed. Obviously, there are positives and negatives (and I haven't done much research on them, so if anyone wants to leave their own thoughts on the issue, I'd be happy to hear others' opinions). But I'm just excited to see non-dairy milks are becoming so popular that even the big dairy guys are taking notice!
Speaking of milk, I thought I'd give a preview of tomorrow's post: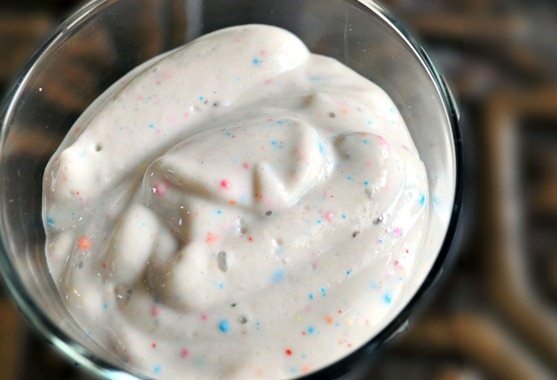 Hint: It is not a Cookie Dough Milkshake.
What's your favorite milk?
And do you ever drink it straight-up?
I hated drinking milk when I was little. My mom had to put food coloring or cocoa powder in it to entice me. But now, I really love a big glass of almond milk!