You're shocked, right? No chocolate, and no sprinkles today!
You might not know it from my recent posts, but I promise I don't sit around all day eating chocolatey desserts… Today I've decided to break the "desserts-only" streak, on which I've been for the past month or so, with a savory recipe featuring one of my fave legumes: the lentil!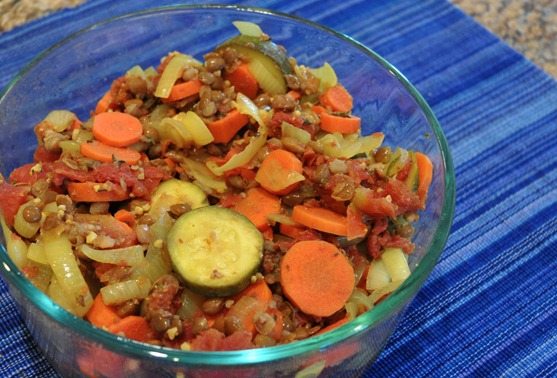 When I do make a lentil dish, I always say to myself, "I should cook with lentils more often!" Such was the case with last night's dinner.
Yumlicious Lentil Curry
(Lentils… perfect for Lent!)
2-4 teaspoons extra virgin olive oil
2 large onions, diced
4 carrots, chopped
Optional: 2 zucchini, sliced
3 minced garlic cloves (about 1 tbsp)
1 (28 ounce) can plum tomatoes
1 cup (7 ounces) lentils (See the note below this recipe, in regards to whether to use 1 cup uncooked or cooked)
2 cups vegetable stock
2 teaspoons mild curry powder
2 teaspoons fresh thyme leaves, chopped (I use 1/2 tsp dried)
1 and 1/2 teaspoons salt
optional: pepper (I only use a small dash)
1 tablespoon good-quality red wine vinegar
Heat the oil in a large saucepan. Add the onions and carrots and cook over medium low heat for 8-10 minutes, until the onions start to brown. Stir occasionally with a wooden spoon. Add the garlic and cook 1 more minute. Be careful not to burn the garlic.
Meanwhile, cut the tomatoes with a knife until they are coarsely chopped. Add the tomatoes (and the juice in the can), lentils, broth, curry powder, thyme, salt, and pepper to the pan. Raise the heat to bring to a boil, then lower heat and simmer covered for about 40 minutes, until the lentils are tender. Check occasionally to be sure the liquid is still simmering.
Remove from the heat and allow to sit covered for another 10 minutes. Add the vinegar. Season to taste and serve hot. Enjoy!
Cooking Mishap!
The original recipe, based off one from The Barefoot Contessa, is supposed to be for lentil curry. So I could not figure out why mine looked more like soup. Finally I realized: when it called for 1 cup lentils, it meant un-cooked. I'd used 1 cup canned! Oops!
All was not lost, however. I simply drained the liquid and poured it into a separate container. This gave me the curry for which I'd hoped… and now I had the most delicious, broth-y soup, besides. Two dishes from one recipe!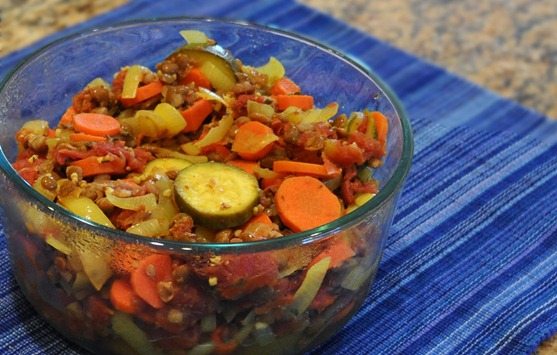 And just because it wouldn't be a CCK post without chocolate…