Today, I need to use my blog voice for a more important message than desserts or recipes.
More important than chocolate?!?
Yes, yes. Some things are. Hard to believe, but it's true.
I grew up in Japan.
The Japanese culture greatly impacted my life. My babysitter, my father's sweet secretary, the 100-year-old sensei (teacher) from whom I learned origami… these people helped shape who I am today.
As a whole, the Japanese are some of the kindest, most well-mannered people you'd ever want to meet. So their current situation is heartbreaking. I just keep thinking, "Why did it have to happen to such wonderful people?" (Not that I wouldn't think the same thing if the devastation occurred elsewhere. You don't want something like that to happen anywhere.)
Every time I watch or read about what's going on in Japan, I feel useless. I've already donated money, but I'm nowhere near as wealthy as Britney Spears (who reportedly gave millions to the country). Isn't there another way I can help? Then I realized…
Duh, Katie! Your blog!
I have a voice… but what good is having a voice if you don't use it to help? So that's exactly what I'm going to do. I'm going to use my blog to ask y'all to help me help them. I know a lot of you feel exactly as I do: "I've already given money. What else can I do?" What else can you do?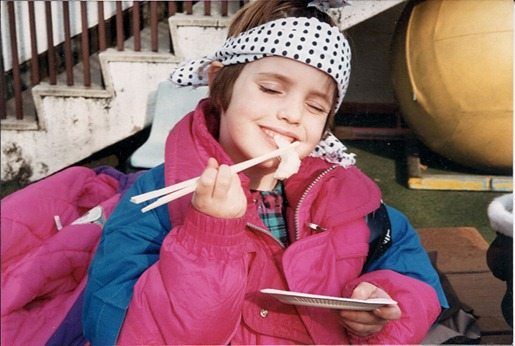 You can eat!
We are food bloggers (and readers), after all.

.
"Help Japan" Blogger Bake Sale
On Tuesday, April 5th, I'll host a blogger bake sale to benefit the Red Cross. If you've never participated in a blog bake sale before, here's a little about how it works: bloggers (or readers) offer to donate a food item (just like in a regular bake sale) and people will bid on these items. The highest bidders will make a donation to red cross (more on how to do this later), and the baker will ship the actual food to the winner.
Ways you can help:
Donate a vegan baked good
Bid on a baked good, during the virtual bake sale (April 5th)
What do you think? 
If you'd like to donate a baked good, please send me an email with the name of the food, a photo, and where you'll be willing to ship, by this Saturday (April 2nd). (Also, because this is a vegan blog, all items must be vegan. They don't need to actually be baked, though. Raw treats are welcome!)
I'll donate something too: These Fudge Babies.