I still have no idea how I was so lucky that the Vita-mix company gave me one of their amazing machines completely free of charge. Until the package actually showed up at my house I didn't fully believe it was true. Thank you, Vita-mix! Since I already owned a Vita-mix, I gave my sister the new one as a Christmas present. Does that qualify me for Sister of the Year?
Perhaps she'll finally stop bringing it up that I used to bite her…
.
Our First Meeting
Close your eyes and picture yourself in New York City. Imagine it's a sticky, sweltering day. You've been walking for hours under the hot, relentless summer sun, and your parched throat is screaming for something cool and refreshing. (Work those imaginations, people! I know it's a stretch… unless you happen to live in Florida.) Then, out of the corner of one eye, you spot it– an oasis in the desert. "Luscious Fruit Ice Cream, All-Natural and Vegan" proclaims the street sign, and your suddenly-sprightly feet can't take you fast enough.
The above is a true story that took place three summers ago. My mom and I had been walking for over two hours in the humid NYC sun, and we were beat. Then, sandwiched between a Wendy's and a CVS, we spotted Bonobo's, with its enticing street sign. Bonobo's is a raw vegetarian fast-food cafe (yes, they do exist!), specializing in food made from fresh fruits, vegetables, nuts, and seeds. On the day of our visit, we opted for their amazing all-fruit ice cream (I chose blueberry, and my mom picked strawberry). This refreshing treat was the perfect pick-me-up to remedy a day spent in the heat. After savoring my sweet indulgence, I was intrigued as to how it was made. So I ambled up to the counter and engaged the waitress in conversation. "How do you make ice cream with fruit as the only ingredient?" my curious mind asked. And thus was I introduced to the Vita-mix for the first time. Ever since that first encounter, I knew someday I had to have a Vita-mix! And when that "someday" came, I was eager to make Bonobo–ish ice cream of my own.
That's how "Faux-Yo" was created.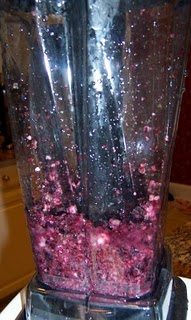 "Faux-Yo"
I'm not going to write down a "recipe" because it's so basic that pretty much anyone could come up with it (and many of you probably have!).  But the idea is: throw a bunch of frozen fruit in the Vita with a tiny bit of milk of choice (a few tablespoons oughta do the trick; often, I don't use any at all) and blend away. Berries, mangoes, bananas… anything goes! Banana all-fruit ice cream is especially amazing if you add a few chocolate chips!! And, if you really want that swirly fro-yo consistency, try squirting the ice cream out of a plastic bag with a small hole cut in the side! 🙂.
Is it a smoothie? An ice cream? A waffle-topper, oatmeal mix-in, fruit dip?
Yes, yes, yes, yes, and yes! It's the do-it-all dip! The only things it
isn't
is full of unhealthy fats and sugar.
Above, blueberry-banana (ingredients: blueberries and bananas)
Below, raspberry-peach (ingredients: raspberries and peaches)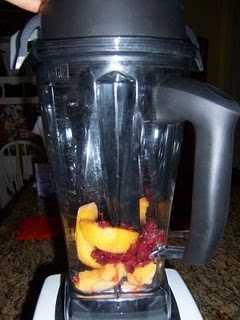 Below:
Vita-mix
–
ing
(like my new word?) in bulk. I freeze the extra cups, then thaw for about 15-20 minutes before I want to consume them (or microwave for a few seconds, if I'm in a hurry).
The
Vita-mix
is so powerful that you don't even need to add any extra liquid to the blender, so it yields a thick-n-creamy result, not one that is watered down from too much liquid or ice. All you have to do is throw in the ingredients, blend for about 10 seconds, and the almost-too-good-to-be-true blender will provide you with a delicious ice cream! Chocolate chips, raisins, banana, peanut butter, berries, veggies… all this and more can go into the
Vita-mix
. The
possibilities
are endless.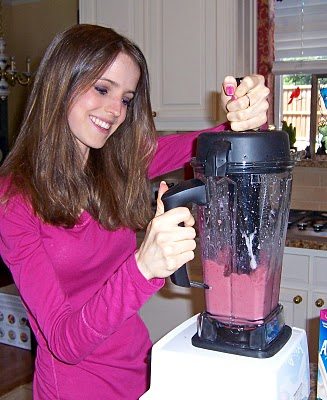 Above, I'm experimenting with strawberry-peach ice cream. I love nothing better than morphing into a Mad Scientist in the kitchen, and the
Vita-mix
provides me with ample opportunity to do so.