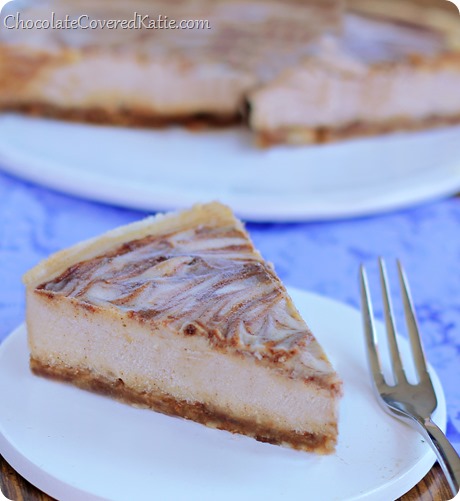 This velvety cheesecake literally MELTS in your mouth.
With such a smooth and creamy texture, it's almost impossible to believe the cheesecake recipe contains no cream, no dairy, no gluten, no soy, and no eggs.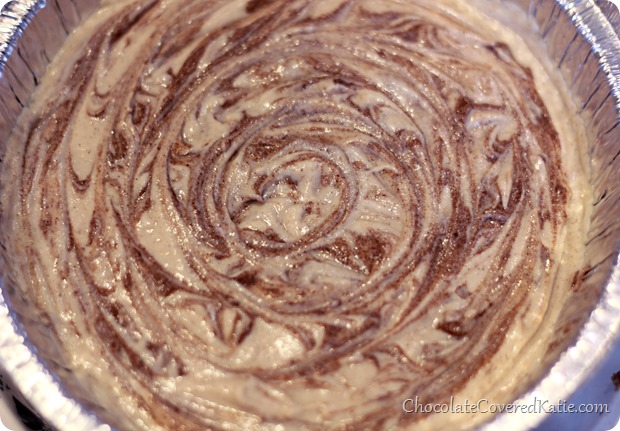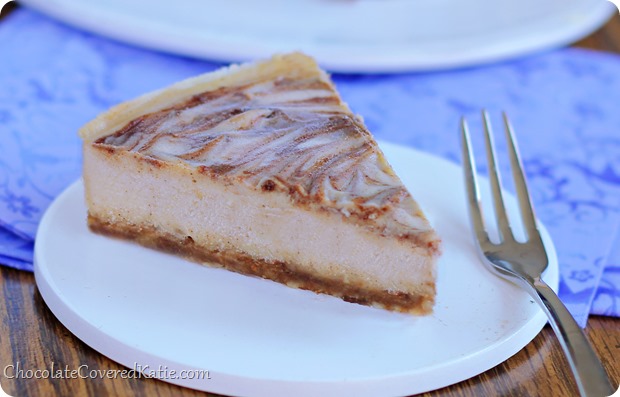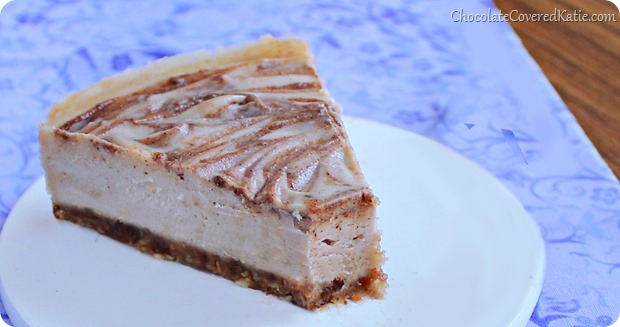 You don't even need to heat up the oven. Just blend the ingredients together, pour the batter into a pan, and chill until firm.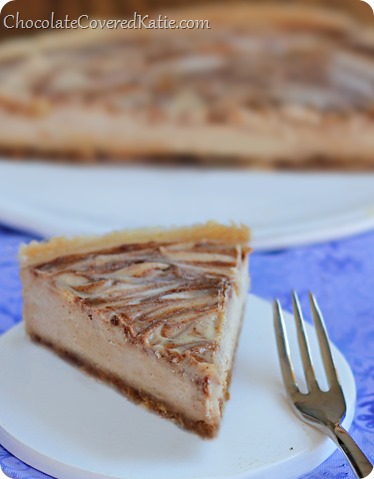 Raw Cinnamon Swirl Cheesecake
1/2 cup applesauce (120g)
1 1/2 cups raw cashews (150g)
1/2 tbsp pure vanilla extract
3 tbsp virgin coconut oil (30g)
pinch pure stevia plus 2 tbsp water (or 1/4 cup pure maple syrup and omit the water)
just under 1/2 tsp plus 1/8 tsp salt
2 tsp lemon juice
1 tsp cinnamon, divided
Place the cashews in a cereal bowl, cover with water, and soak overnight. The next day, drain and pat the cashews completely dry. Combine all cheesecake ingredients, except 1/2 tsp cinnamon, in a high-speed blender or food processor, and process on high until the mixture is completely smooth. Make the crust:
just over 1/2 cup pitted dates
1/4 tsp cinnamon
1/2 cup almonds (80g)
1/16 tsp salt
1/4 tsp pure vanilla extract
up to 1 tbsp water, if needed
Combine all crust ingredients in a high-quality food processor (not a blender), and process until fine sticky crumbles form. If mixture is too dry, add the water and process again. Press the crumbles into the bottom of an 8.5-inch round pan, then smooth all but 2 tbsp of the cheesecake filling on top. Combine the reserved 1/2 tsp cinnamon with the reserved 2 tbsp cheesecake filling. Spread this paste on top of the pie, then use a fork to swirl it around the cheesecake. Freeze until the cheesecake is firm enough to slice.
Question of the Day: 
What would be your dream cheesecake flavor?
Cookie Dough? Crème Brulee? Chocolate Banana Marble Swirl? Basic Raw Cheesecake? Please feel free to get as creative as you want with your answers!