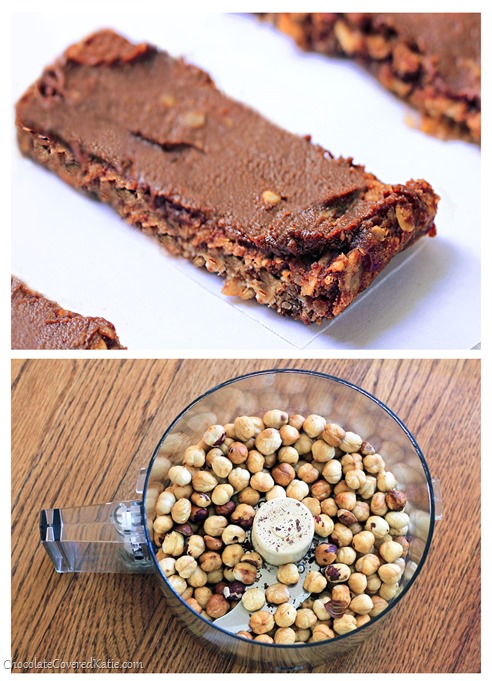 Sadly, many granola bars on the market these days are nothing more than glorified candy bars, with as much sugar as a Snickers and a long list of ingredients you can't even pronounce. But not only is it possible to make a naturally-sweetened granola bar recipe that actually IS healthy, you might end up liking them so much you'll never want to buy another granola bar ever again.
Did I mention these healthy granola bars taste like Nutella?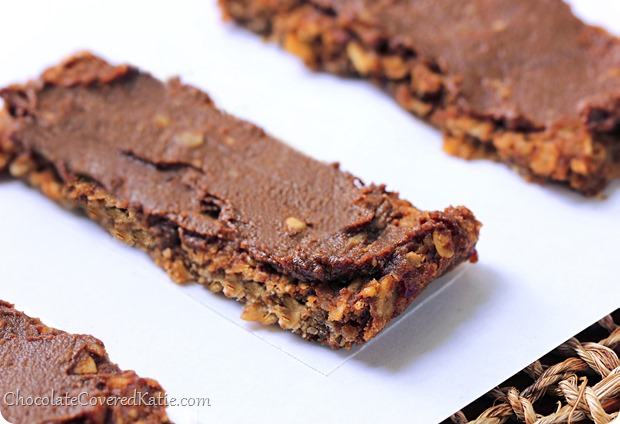 The following recipe, adapted from my popular Chocolate Chip Cherry Chewy Granola Bars, is sweetened only with fruit – no sugar is needed. Even if you do opt to use sugar in yours, the amount will be much less than is found in most store-bought bars (and no high fructose corn syrup!).
They are perfect for a lunchbox and are also great for on-the-go snacking, and you can easily freeze leftovers for up to 2 months.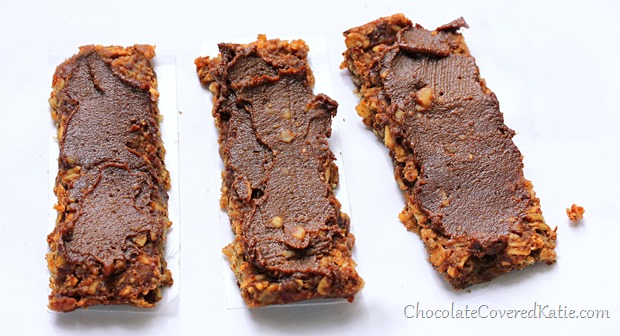 Nutella Granola Bars
(makes 8-10 bars)
1/2 cup applesauce or mashed banana (120g)
1/4 cup chocolate hazelnut spread or Homemade Healthy Nutella (60g)
1 tsp pure vanilla extract (4g)
packed 1/3 cup dried dates (55g)
1/4 cup chopped hazelnuts (35g)
1/2 cup puffed wheat or puffed rice (9g)
1/2 cup rolled oats (45g)
1/8 tsp plus 1/16 tsp salt
pinch pure stevia, or 1 1/2 tbsp sugar of choice
Preheat oven to 325 F and line an 8-in square baking pan with parchment paper. In a bowl, stir together the applesauce and chocolate hazelnut spread until smooth. Stir in the vanilla, then set the bowl aside. In a food processor, combine the dried fruit and hazelnuts until they form fine crumbles. Pour into a large mixing bowl and stir together with all remaining dry ingredients. Add the nutella mixture and stir until evenly combined, then smooth into the prepared baking pan and cover with another sheet of parchment paper. Press down VERY firmly. Bake 26 minutes, then allow to cool 10 minutes before slicing into bars. Frost with more chocolate hazelnut spread if desired.
Click to view: Granola Bars Calories & Nutrition Facts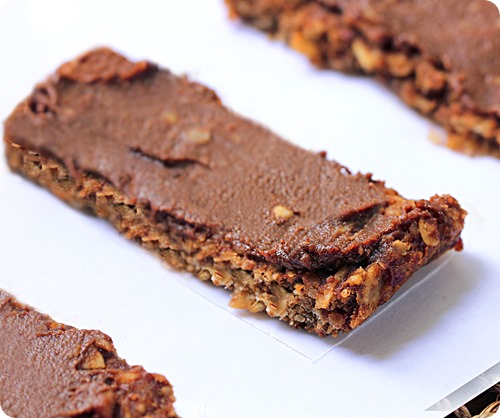 Question of the Day:
Do you have a favorite homemade or store-bought granola bar?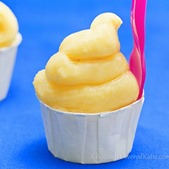 Link of the Day: Dole Whip Recipe – Bring Disney to your kitchen!