I used to think I disliked cherries, because I hated cherry-flavored candies, vitamins, drinks, and especially cherry cough drops. But I don't think I'd ever tasted an actual cherry until I was a teenager. Weird, right?
After that first taste, I was in love!
Now, in the summertime, I'll almost always have fresh cherries in my kitchen. Such was the case yesterday, when a neighbor came to me with a special request…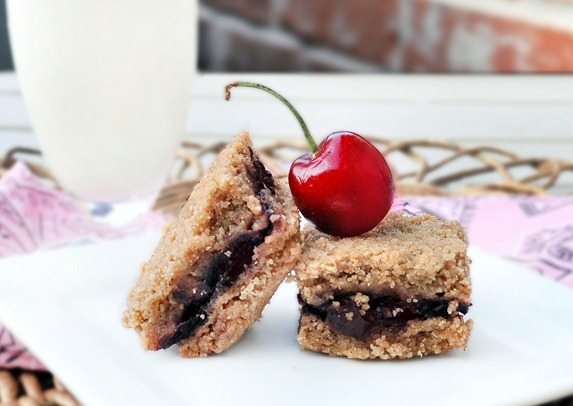 She is a huge fan of my Buttery Berry Crumble Bars.
And she asked if she could hire me to make her a batch. Someone requesting a vegan baked good?? Obviously I told her I'd be happy to make them for free!  To deviate a little different from last time, I decided to make the bars with fresh cherries: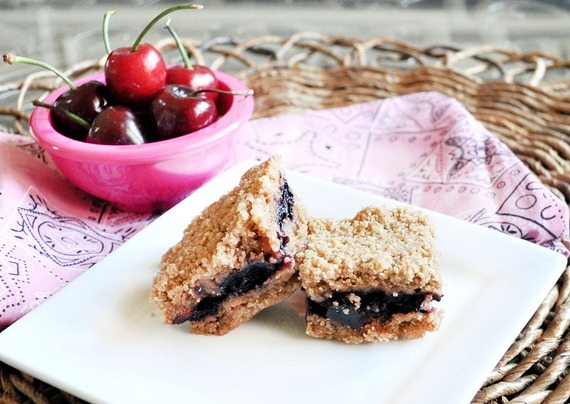 Cherry Crumble Bars
(Makes 10-14 bars)
1.5 cup whole-wheat pastry flour (or white flour, or Bob's gluten-free)
1/2 tsp baking powder
1/4 tsp salt
1/2 cup brown sugar or coconut brown sugar (or xylitol, for a sugar-free option)
pinch stevia OR add another tbsp brown sugar
1 1/4 tsp cinnamon
1/4 cup plus 3 tbsp cold butter sub (Or click for: Fat-Free Option.)
2 tbsp milk of choice
2 cups fresh or frozen cherries, chopped (8oz)
2 tsp cornstarch
3 tbsp pure maple syrup, agave, or honey
1 tsp pure vanilla extract
optional: a handful of chocolate chips
Cherry Bars Recipe: Stir together the first eight ingredients, making sure to break the butter up really well so that little crumbs form. Scoop 2/3 of the dough into a 4×7, oiled glass dish (or any small pan), and press down firmly. In a separate bowl, stir together the other ingredients. Layer them into the pan, then top with the rest of the dough from the first pan and press down a bit. Bake for 45 minutes at 350 F, then cool at least 30 minutes before cutting into bars. Store uncovered, unless you want a soft crust (in which case, you should cover completely with saran wrap).
View Cherry Crumble Bars Nutrition Facts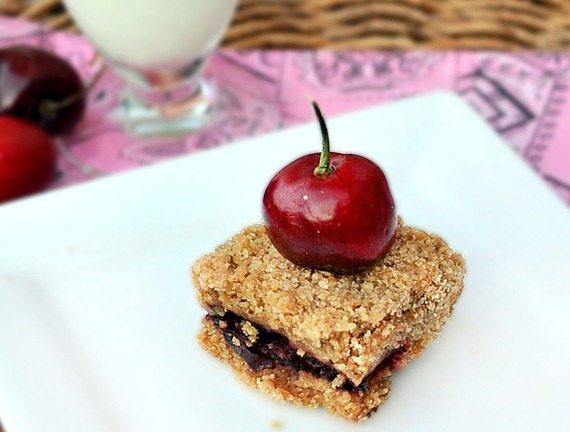 LINK OF THE DAY: