Side note: There were so many questions about a coconut butter sub in the Banana Pudding recipe from the other day that I figured it'd be best to answer the question here: I've only used coconut butter in the recipe, but the first thing I'd probably try as a substitute would be raw cashew butter or macadamia butter. Peanut butter or almond butter might also be nice; however the flavor would be more of a pb-banana pudding than just plain banana. Hope that helps!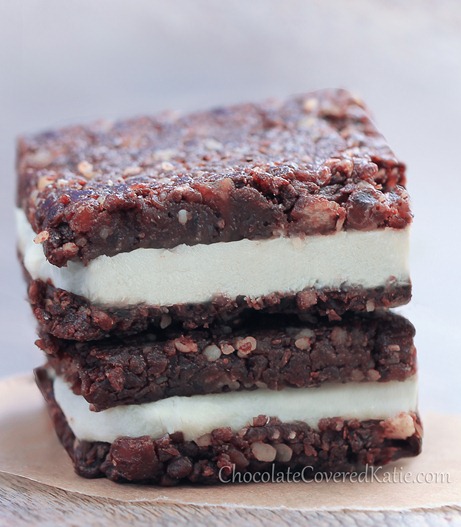 What's better than a no-bake healthy dessert recipe? How about an entire book filled with nothing but no-bake healthy dessert recipes? The newest cookbook from Amber Shea Crawley, pastry chef extraordinaire, is a delightfully-delicious collection of 100 healthy dessert recipes free of dairy, eggs, gluten, soy, refined sugars, and refined flours, with full nutritional profiles and lots of yummy photos.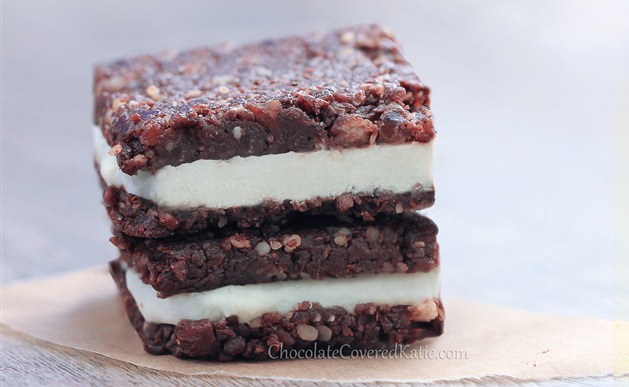 From healthy carrot cake to caramel apple pie to no-bake German chocolate cake, Practically Raw Desserts leaves no sweet craving uncovered. Today, Amber is sharing her recipe for Raw Tuxedo Chocolate Cheesecake Brownies, which taste as decadent as the name implies. If you like this recipe, be sure to check out Amber's cookbook for many more!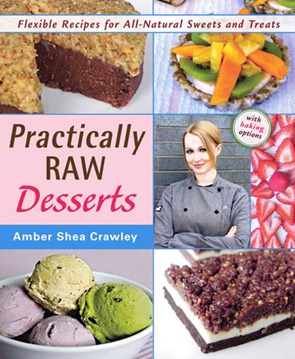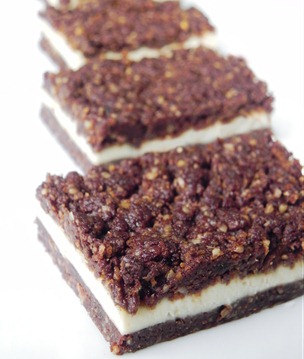 Tuxedo Chocolate Cheesecake Brownies
(Reprinted with permission from Practically Raw Desserts)
For the brownie layers:
1 cup pecans
1 cup walnuts
1/3 cup cocoa or cacao powder
1/8 teaspoon sea salt
3/4 cup pitted dates
For the cheesecake layer:
1 cup cashews, soaked 2 to 4 hours and drained
1/4 cup water or milk of choice
2 tablespoons melted coconut oil
2 tablespoons lemon juice
1/2 teaspoon pure vanilla extract
1/8 teaspoon sea salt
30 drops liquid stevia (or 3 packets stevia or 2 tablespoons sugar of choice)
Brownie Layer: In a high-quality food processor, combine the pecans, walnuts, cacao powder, and salt, and pulse until finely ground (be careful not to overprocess). Add dates, 2 to 3 at a time, pulsing between additions until each date is well-incorporated and the mixture is sticky. Taste for sweetness, and add another date or some stevia if desired. Press half of the mixture (about 1 heaping cup) firmly and evenly into an 8-inch square baking pan lined with plastic wrap or parchment paper for easy removal. Place the pan in the freezer to chill. Set the other half of the mixture aside while you make the cheesecake layer.
Cheesecake Layer: In a high-speed blender, combine the cashews, water, coconut oil, lemon juice, vanilla, salt, and stevia and blend until smooth (you can add more water, a teaspoon at a time, as needed to help the mixture blend). Taste for sweetness and add more sweetener if desired.
Remove the pan from the freezer, and transfer the cheesecake mixture onto the brownie layer, spreading evenly with a spoon or spatula. Place the pan back in the freezer for 1 to 2 hours to let the cheesecake firm up. Once frozen, remove the pan again, and evenly scatter the remaining brownie mixture on top. Gently, but firmly, press the brownie bits into the cheesecake layer (you might still see the cheesecake underneath; that's ok). Place the pan in the refrigerator for at least 2 hours before cutting into squares. Store in an airtight container, refrigerated, for up to a week (or freeze for up to a month). These chocolate cheesecake brownies are best served cold. Yield: 16 bars.
See nutrition link for substitutions and lower-fat options: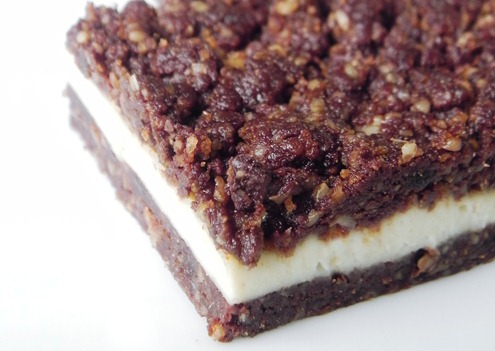 Question of the Day:
Do you have any favorite no-bake desserts?
Link of the Day: Homemade Protein Bars