This ultra gooey chocolate chip Kentucky pie is everything you could ever want in a pie.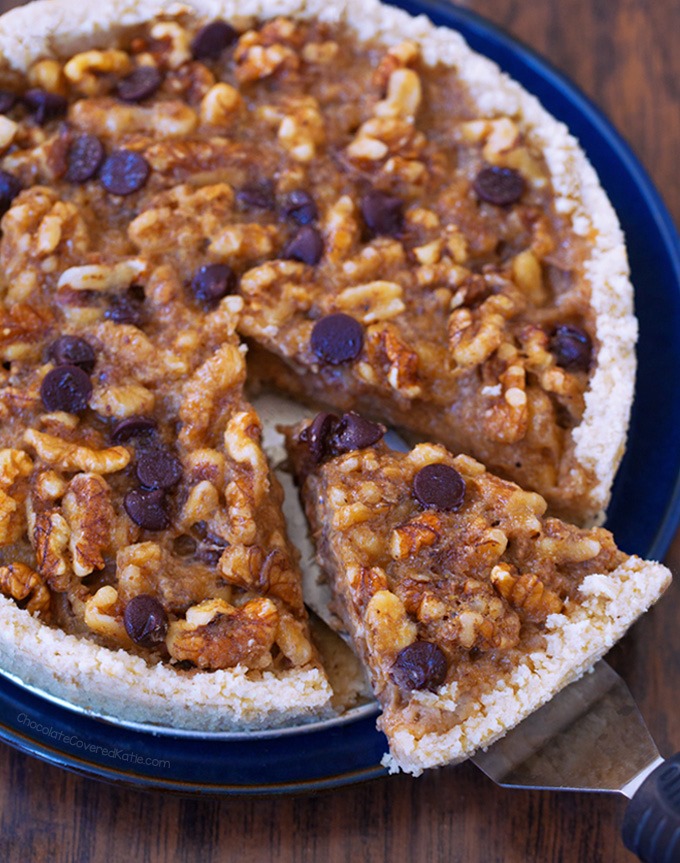 Traditional Kentucky Derby Pie has a buttery crust and a sweet, gooey filling that's similar to pecan pie, just with walnuts and chocolate chips instead of pecans.
The original pie was invented in the 1950s at the the Melrose Inn of Prospect, Kentucky and is usually associated with the Kentucky Derby. Today's chocolate walnut pie recipe is my own healthier and vegan take on the classic, and since Derby Pie is a registered trademark, I chose to call this one simply Kentucky Pie.  If you like pecan pie, chances are you will love this gooey chocolate walnut version as well!
And if you want a pecan pie instead, be sure to check out this Vegan Pecan Pie – With No Corn Syrup.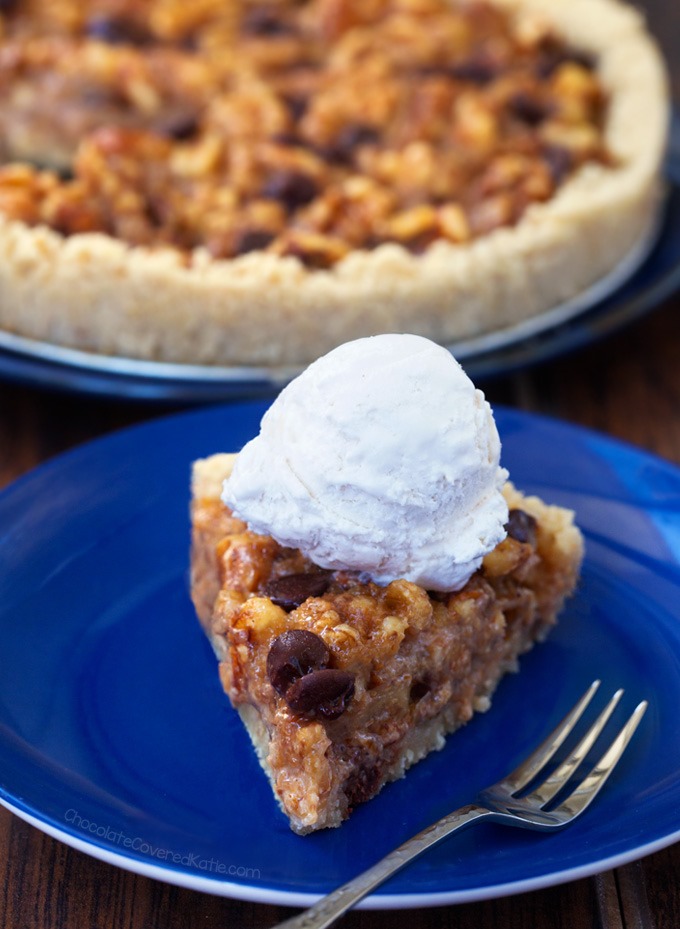 The annual Kentucky Derby is coming up this Saturday (May 5th), and while I'm not a fan of the actual race, I absolutely am a fan of the food… or more specifically the pie.
As the saying goes, I'm only here for the food.
I could take or leave the Mint Juleps. For the ultimate dessert experience, I recommend topping this pie with homemade Coconut Ice Cream, as shown in the picture above. And while technically it's completely fine to leave out the chocolate chips, you probably already know—without me saying anything—what I think about that option. Chocolate chips > not chocolate chips.
The pie can be vegan, refined-sugar-free, and it can also be gluten-free, paleo, and keto as long as you use a suitable sweetener and crust, such as my Gluten Free Pie Crust Recipe.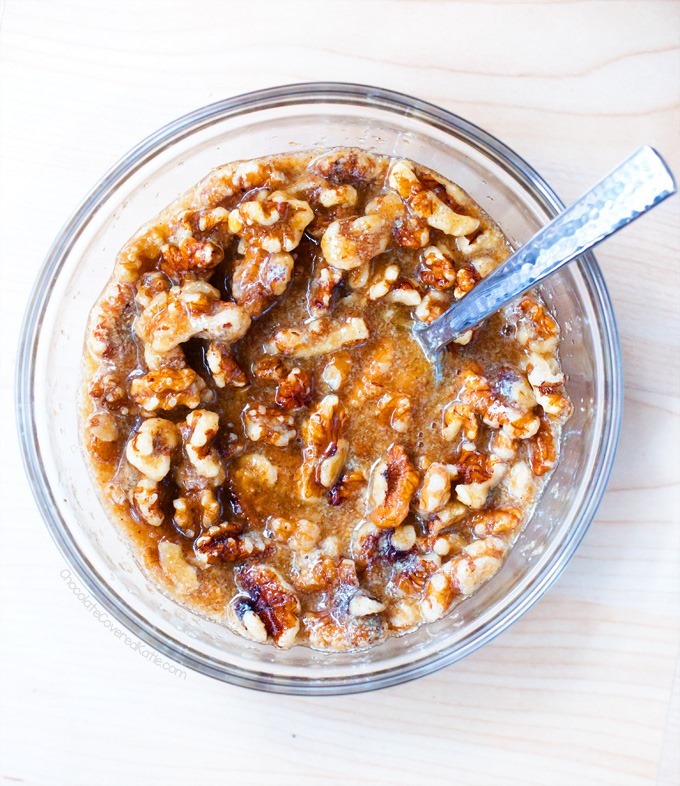 Above, the walnut filling, which I kind of wanted to just eat with a spoon and call it a day.
And below, the full pie, minus the slice I was about to demolish after the photoshoot. The ice cream definitely melted before I was done taking pictures, but that somehow made the entire thing taste even better!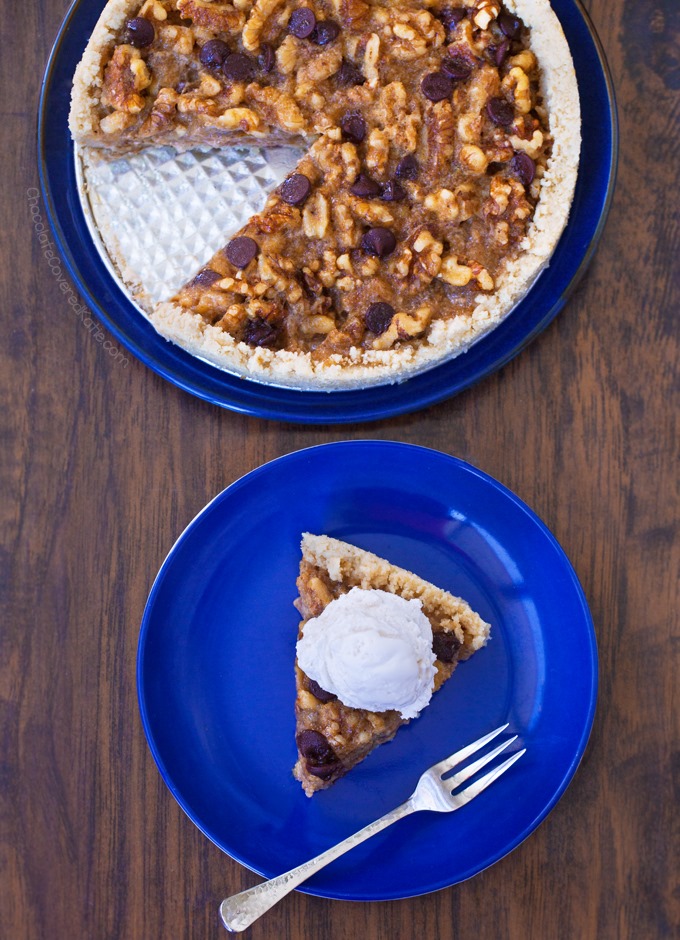 Just like with the aforementioned pecan version, I've replaced the high fructose corn syrup with much healthier molasses, a sweetener that is actually healthy. Blackstrap molasses has over 20% of the RDA for both calcium and iron in just one tablespoon!
If you can't find blackstrap molasses or aren't a fan of the strong flavor, regular molasses or pretty much any liquid sweetener will also work here. And although I've not tried it yet, I don't see why substituting another nut like macadamias wouldn't work in place of the walnuts if you wish. Years ago, PF Chang's offered a macadamia pie that was absolutely fantastic (it was discontinued awhile back), and this recipe kind of reminds me of that pie.


Chocolate Chip Kentucky Pie
Chocolate Chip Kentucky Pie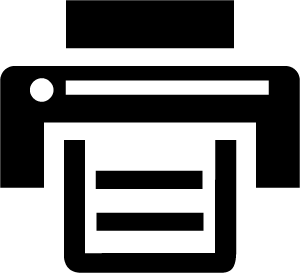 Print This Recipe
[mrp_rating_result show_count="false" show_rich_snippets="false"]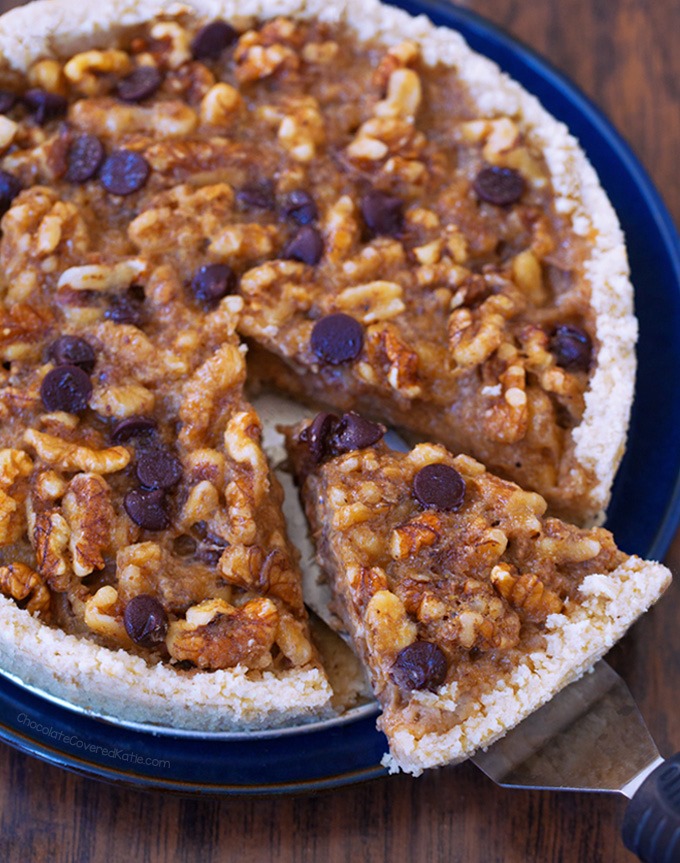 Ingredients
heaping 1 cup chopped walnuts
2 tbsp molasses, or sweetener of choice
3/4 cup pure maple syrup, honey, or agave (or keto friendly sub)
2 tbsp nut butter of choice, or buttery spread
1/3 cup water
1/4 cup ground flax
1 1/2 tsp pure vanilla extract
1/2 tsp salt
1/2 cup mini or regular chocolate chips
optional sliced walnuts for the top
Instructions
*Feel free to use any homemade or store-bought 9-inch crust (or the grain-free option linked earlier in this post). I used the following: 1 3/4 cup whole wheat or white flour, 1/2 tsp salt, 1/3 cup veg or melted coconut oil, and 1/3 cup to 1/2 cup cold water, as needed. Stir everything together to form a dough. If too dry, add more water or oil. If too sticky, add more flour. Press into a greased 9-inch pie or springform pan. You can pre-bake it for 10 minutes at 400 F, but it still works even if you don't.
For the Kentucky pie: Whisk all ingredients (except optional garnish), and refrigerate at least 30 minutes, during which time it will thicken, thanks to the flax. (If your flaxmeal is good, the mixture will be noticeably thicker when you take it out.) Preheat oven to 350 F. Pour filling into a crust. Arrange the optional extra walnuts over top if desired. Bake on the center rack 35 minutes, then do not even open the oven door but let sit in the now-turned-off oven an additional 10 minutes.
Trending Right Now: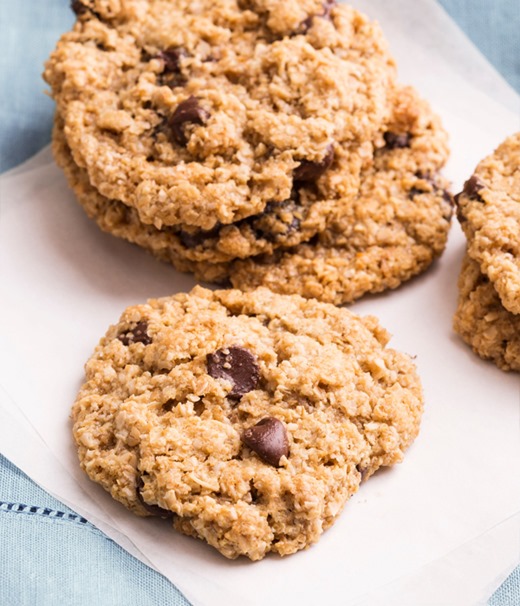 Flourless Chocolate Chip Cookies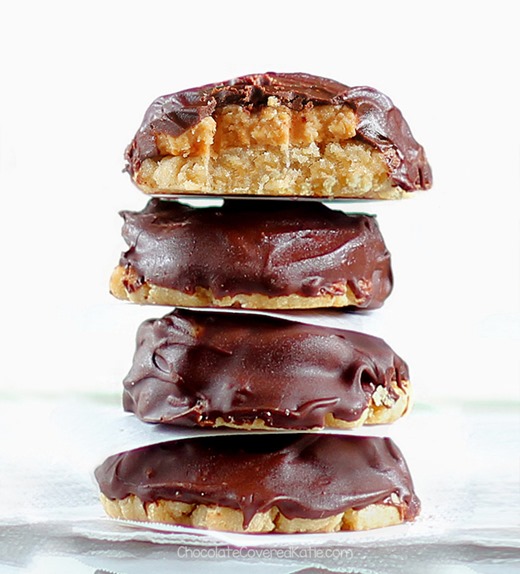 Healthy Girl Scout Cookie Tagalongs