I am starting the holiday baking season in epic fashion – with these ultra gooey chocolate chip marshmallow cookies!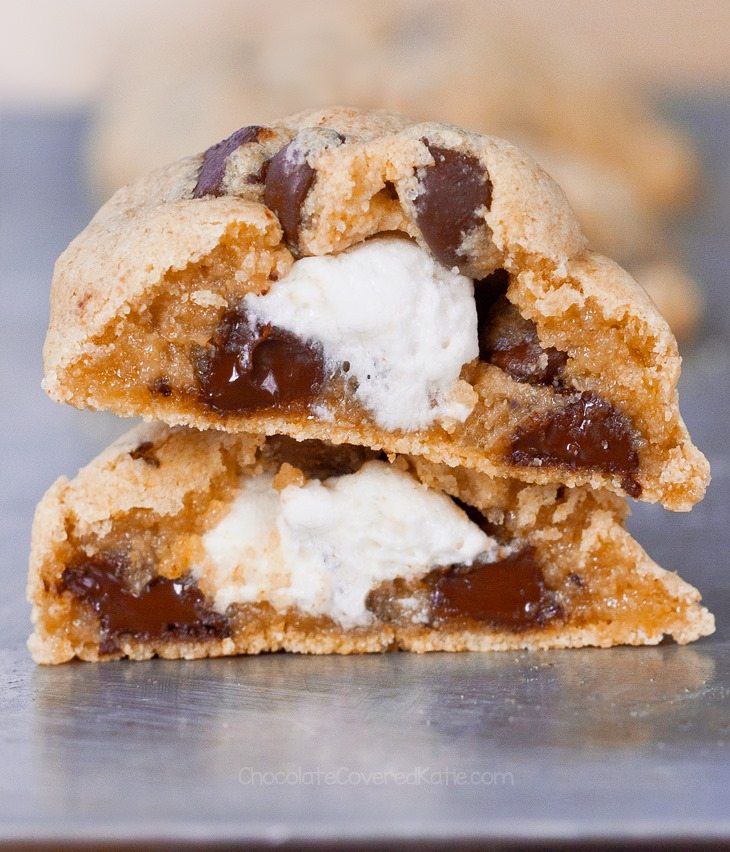 The radio has been playing Christmas music already for weeks, and holiday displays magically appeared in shopping malls pretty much the day after Halloween, but it still never feels like Christmas to me until after Thanksgiving.
Technically, I believe the Christmas season shouldn't start until December… but when it comes to Christmas cookies, I am impatient and always start a little early.
Because, cookies.
*For a keto version, make these Keto Cookies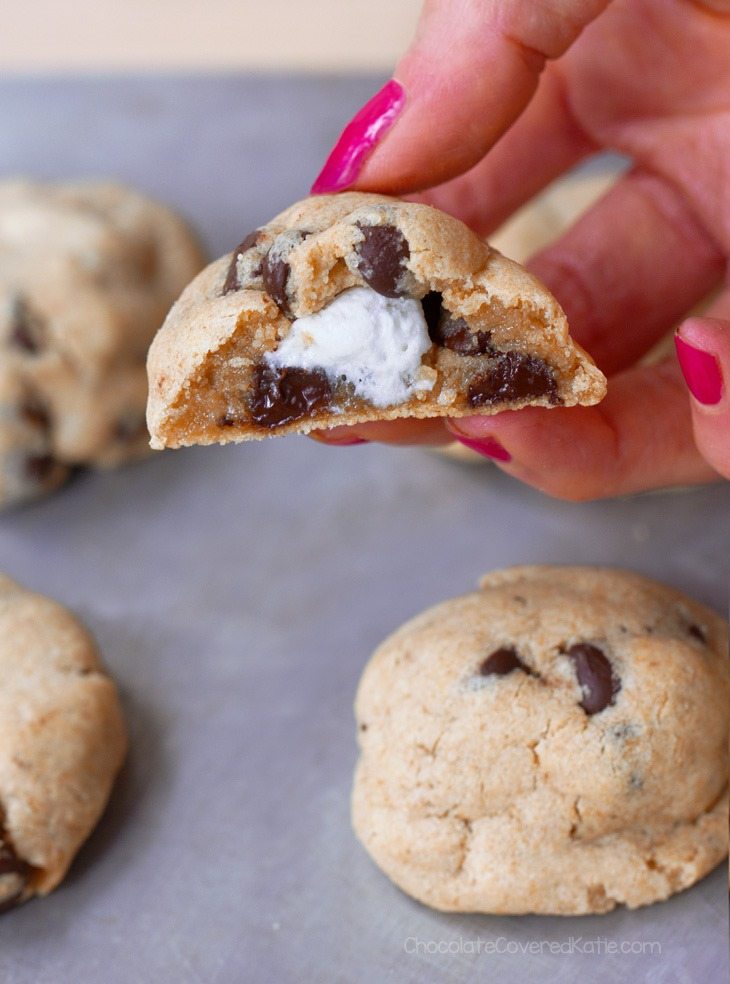 These are homemade chocolate chip cookies with a twist:
Stuff mini marshmallows inside each cookie—I recommend vegan marshmallows because they stay fluffy when baked—and suddenly you have transformed the ordinary into the extraordinary.
To an unsuspecting guest, they look like your average chocolate chip cookies…
So imagine their surprise when they take a bite and discover a surprise marshmallow creme filling hidden inside!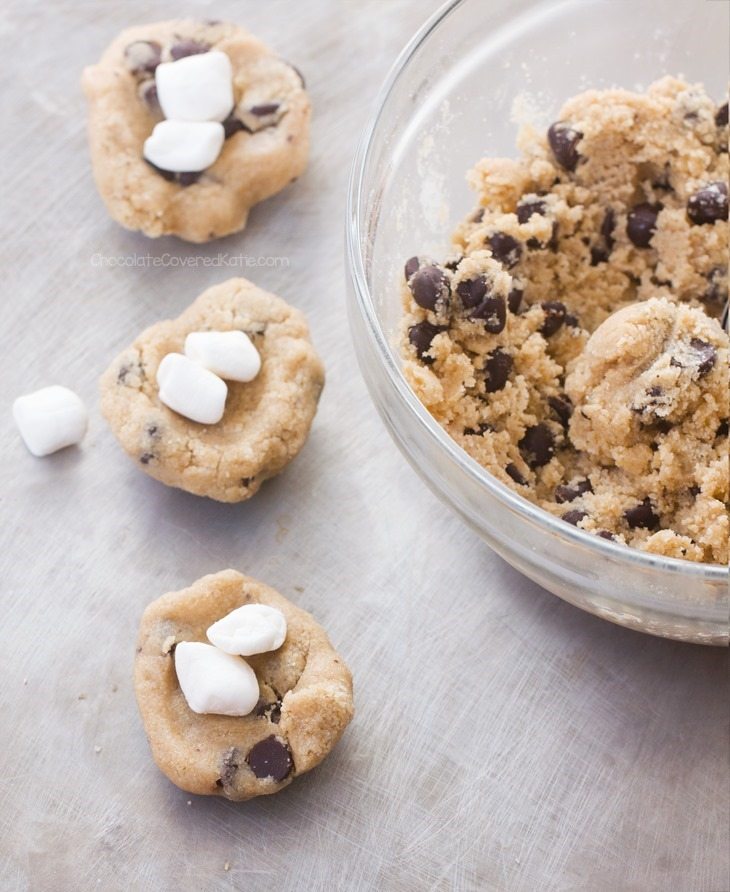 Step One: Make up a batch of cookie dough, then roll into balls and press two mini marshmallows inside of each ball.
I used vegan mini marshmallows here, which retained their shape beautifully while baking and yielded a visible marshmallow creme center.
Step Two: Refrigerate the cookie dough balls if you want soft chocolate chip cookies, or bake right away if you don't.
The marshmallow cookies will look underdone when you take them out of the oven, so let them cool for 10 minutes, during which time they will firm up.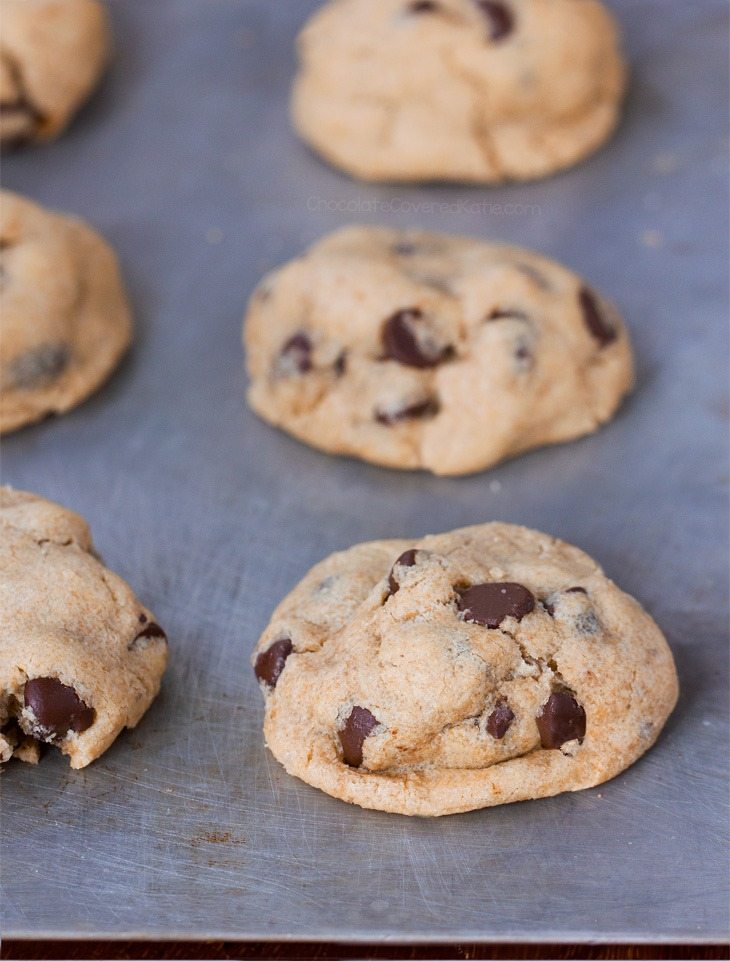 Step Three: Bite into a cookie to reveal the hidden marshmallow creme center.
Store leftovers in a covered container. And if you want to make up a bigger batch of dough, you can make up the dough ahead of time and store extra cookie dough balls in the freezer to thaw and bake any time a hot-from-the-oven chocolate chip cookie craving hits.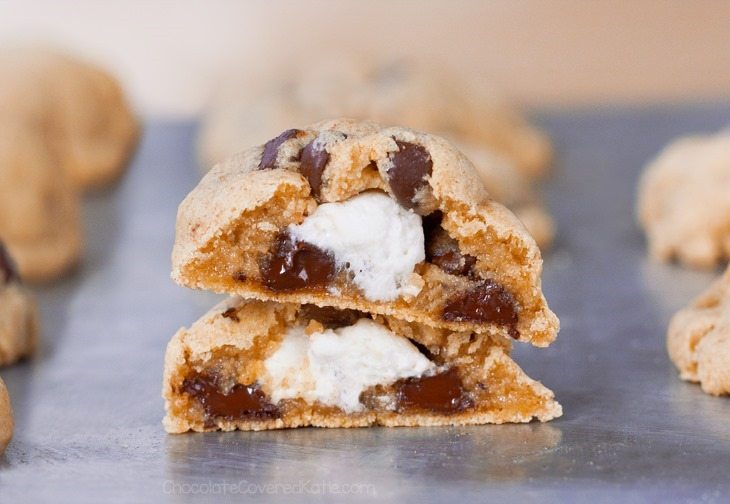 Check out the following link for more holiday baking inspiration:
Healthy Cookie Recipes – Over 50 Healthy Cookies


The recipe was adapted from these Vegan Chocolate Chip Cookies.
Chocolate Chip Marshmallow Cookies
These homemade chocolate chip marshmallow cookies are a holiday favorite recipe.
Ingredients
1

cup

spelt,

oat, or white flour, loosely packed

1/2

tsp

baking soda

1/4

tsp

salt

1/2

cup

sugar

(unrefined or xylitol if desired)

2

tbsp

milk of choice

2

tbsp

oil

1/4

tsp

pure vanilla extract
Instructions
Combine all dry ingredients (except marshmallows) in a medium mixing bowl, then stir in wet to form a dough – it will be dry at first, so keep stirring until a cookie-dough texture is achieved. (Only if needed, add 1 tbsp extra milk of choice – I didn't need it.) Roll into balls, then smush two mini marshmallows into each cookie and re-roll into a ball. (If dough is too soft to roll, you can refrigerate before rolling.) For soft cookies, refrigerate or freeze until cookie dough balls are chilled. Preheat oven to 325 F. Place cookie balls on a greased baking tray and bake 11 minutes on the center rack. They'll look underdone when you take them out. Let them cool 10 minutes, during which time they will firm up. You can also choose to make extra cookie dough balls and freeze them to bake at a later date.

View Nutrition Facts
More Holiday Cookie Recipes: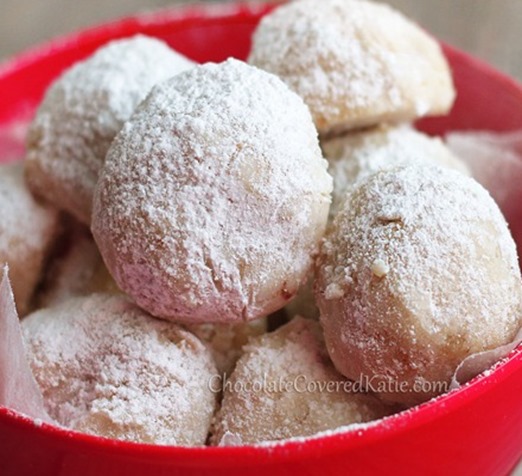 Snowball Cookies – 60 calories each