Man cannot live on chocolate alone.
But woman can.
And Katie totally can.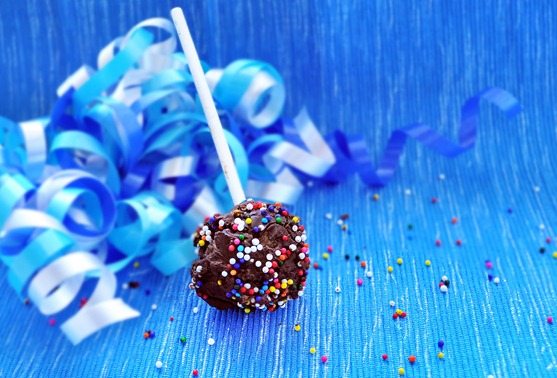 Everything's better covered in chocolate. Cookie Ball Pops are no exception.
Well, maybe broccoli is an exception.
But this post isn't about broccoli; thank goodness.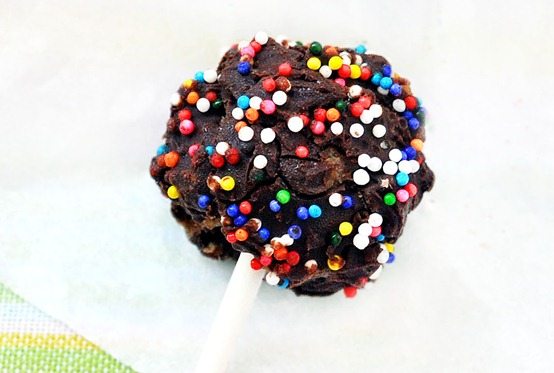 It's about chocolate-covered Cookie Ball Pops.
These pops look super-elegant, like they came from a gourmet candy store. Therefore, they are a perfect party gift because—in reality—they're so easy to make! A few days ago, I brought a batch to a friend's graduation party, and people went crazy. It was as if I'd brought something, well… not-so-legal. (I swear, I didn't put any rum in the cookie ball pops!)
Chocolate Cookie Ball Pops
First melt chocolate chips or a bar.
You can use any chocolate. I used PMS Chocolate.
Take the cookie ball pops out of the freezer and dip them in the melted chocolate. Then place them on parchment paper and rush those balls back to the freezer so they can get… yikes, I am not going to finish that sentence! 😕
Oh yeah, and you can throw in some sprinkles too.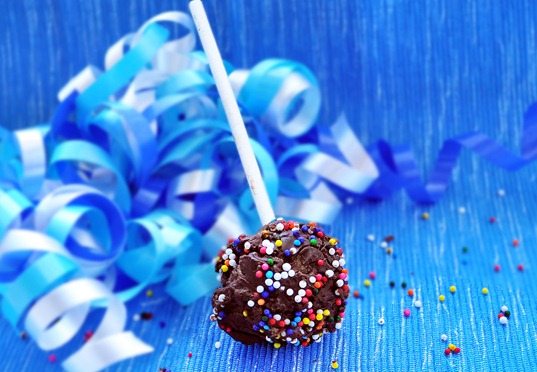 Moving on…
Two months ago, I discovered the wonders of Foodgawker.
At first, it was a frustrating world; they rejected all my photos! But rejection is ultimately a good thing in that it forces you to WORK HARDER. It also makes the moments all the more sweet when you finally achieve acceptance.
That's not to say I don't have a lot to learn about photography. I only this year realized it's one of my passions. So obviously I still know very little about the genre. I'd love to take a class—if ever I get a free moment in my life! For now, I'm just having fun exploring different camera settings and making up my own (perhaps unorthodox) form in terms of "styling." I never knew that food photography was such an art! It's funny; I now  find myself not even noticing the actual food in photos. I'm too busy taking in the backdrop, the props, the color scheme, and any number of other artsy aspects of the pictures.
Anyway, there's now a banner on right side of my blog, if you're interested in checking it out. I jump up and down like a crazy girl whenever I receive the "your photo has been accepted" email from the lovely folks at foodgawker. It's such a thrill to see my little photos alongside some incredible others—many taken by professional photographers. I owe foodgawker so much for inciting, in me, a passion I never knew existed until two months ago!
Do you like taking photos?
And do you like looking back at old photos?
Until recently, I never cared about the quality of my photos. But I've always loved taking pictures, just because they offer lasting memories and it's so much fun to look back.