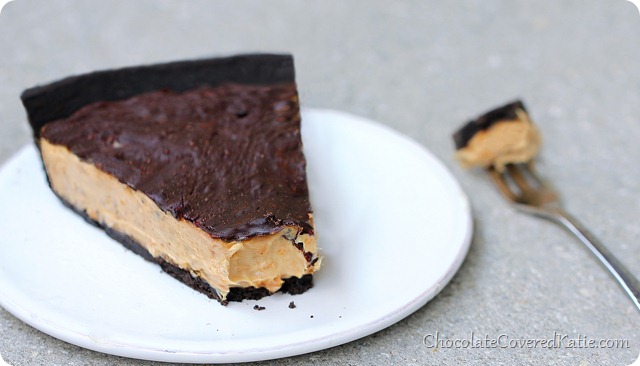 Imagine a pie that tastes like the filling of a Reeses Peanut Butter Cup and you'll come pretty close to this no-bake chocolate peanut butter pie.
Dark chocolate, creamy peanut butter, and a secret healthy ingredient none of your guests will ever notice. Although there's another recipe for no-bake peanut butter pie already on the blog, this time I wanted to create a pie even banana-haters can enjoy. You will find no banana, no flour, and no soy in today's recipe.
But you will most definitely find chocolate.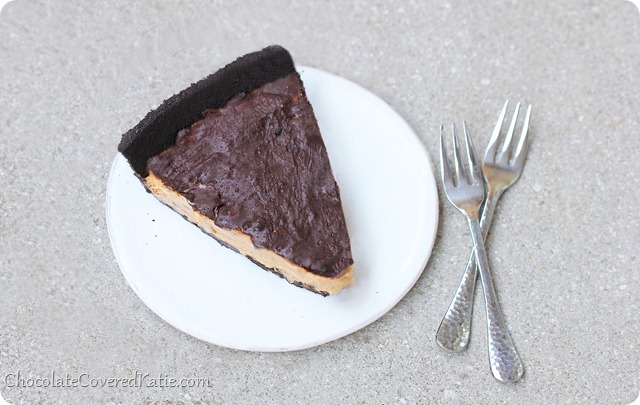 And peanut butter.
If you like Reeses, this peanut butter pie is a must-try!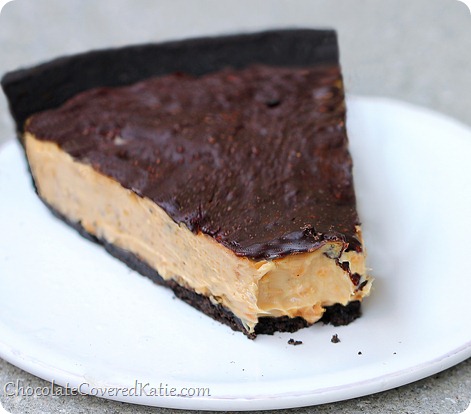 Chocolate Peanut Butter Cup Pie
1 1/2 cups peanut butter, or allergy-friendly alternative (345g)
2 cups thick plain or vanilla yogurt (I used 3 containers SoDelicious coconutmilk yogurt) (480g)
pure stevia to taste, or 1/3 cup powdered sugar
1/8 tsp salt
2 tsp pure vanilla extract
Prepared pie crust or Healthy Chocolate Pie Crust
2 tbsp cocoa powder (10g)
2 tbsp pure maple syrup, agave, or honey (strict vegans don't use honey) (30g)
2 tbsp melted virgin coconut oil (Alternatively, you can simply top the pie with melted chocolate chips.)(20g)
Blend first 5 ingredients until smooth. Pour into your prepared pie crust and chill one hour (or more). In a small dish, stir together the remaining ingredients until a smooth sauce is formed. Spread over the chilled pie and refrigerate until chocolate hardens.
Link Of The Day: