Without a doubt, the best part of publishing a personal post like my Why I Gave Up Running post is reading all of the amazing responses people share.
Seriously, thank you all so much.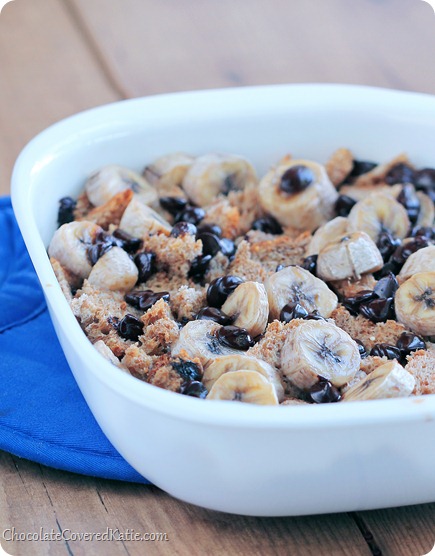 I'll try to make the blog a little more personal in the future, although it's difficult because most of the personal stuff in my life involves other people. To respect the privacy of my real-world friends, I have a rule to not write about them or post their photos, which is why most of the pictures you see on this blog are of just me.
For today, you get another recipe… with chocolate. Hopefully you won't mind. 😉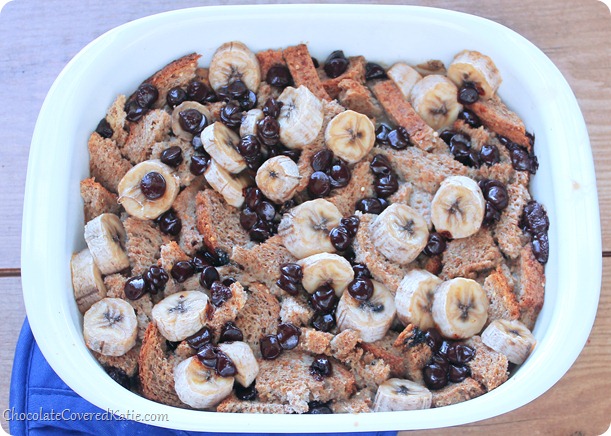 I'm honored to feature a recipe today from Tosca Reno, a New York Times best-selling author and one of the most well-respected and influential figures in the world of healthy food. This bread pudding recipe comes from her Eat Clean Diet Vegetarian Cookbook, which contains 150 meat-free recipes free of processed ingredients, refined sugars, and anything artificial (note to vegetarians: there is a chapter on fish).
The book, which comes with complete nutritional information for every recipe, is divided into ten chapters from breakfast to dessert. It also covers topics such as how to be a healthy vegetarian, eating vegetarian on a budget, and making fast-food and holiday recipes. Upon receiving the cookbook in the mail, I right away bookmarked at least fifteen things I wanted to make. With bananas, cinnamon, and chocolate chips, this healthy bread pudding was obviously on top of the list!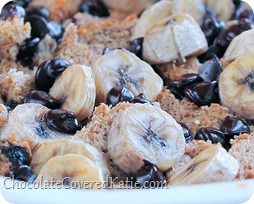 Chocolate Chip Banana Bread Pudding
(Adapted from Eat Clean Diet Vegetarian Cookbook, reprinted with permission)
2 1/2 cups (640ml) milk of choice
3 tbsp (45ml) arrowroot or cornstarch
1/4 cup (60ml) sucanat or sugar of choice
1/3 cup (80ml) pure maple syrup
1 tbsp pure vanilla extract
1/4 tsp cinnamon
1/4 tsp nutmeg
1/4 tsp salt
5 cups day-old bread, torn into 1-to-2-inch pieces, lightly packed
2 extra-ripe bananas, peeled and sliced
1/2 to 1 cup (120-240ml) chocolate chips
Preheat oven to 350F (177C). Grease a 1.5 to 2-quart ceramic dish and set aside. Thoroughly whisk together all but last three ingredients in a large bowl. Add remaining ingredients, and stir to combine, mashing the bananas a little and allowing the bread to absorb most of the liquid. Scrape into the prepared dish, and press down to smooth the top. Let sit 15 minutes so bread absorbs more liquid, then bake uncovered until lightly brown and firm (about 30 minutes). Serve warm. For questions about this recipe or substitutions, please feel free to ask this recipe's creator, Tosca Reno!
View Bread Pudding Nutrition Facts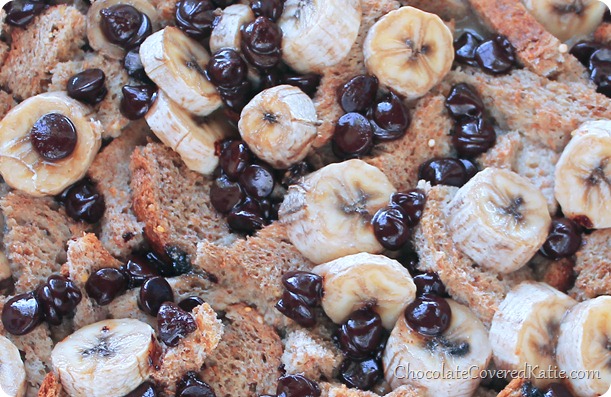 Quick Giveaway!
For the chance to win your own copy of Tosca Reno's Eat Clean Diet Vegetarian Cookbook, simply leave a comment answering the following question: What is your favorite meatless meal?