Coconut cookie dough oatmeal – baked in the oven until it is warm and gooey.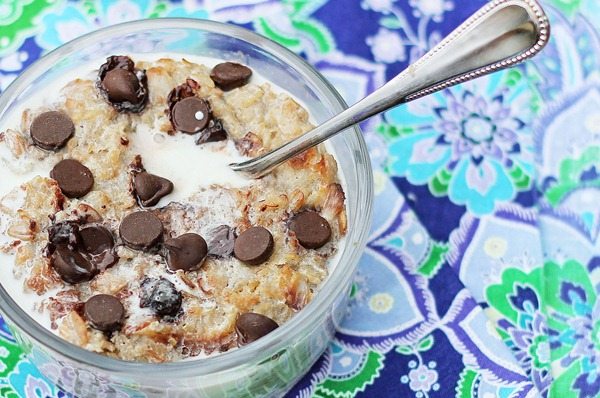 With melted chocolate swirled into every bite.
This is a breakfast that will definitely make you want to get out of bed in the morning.
And you can even make it the night before or make extras and freeze leftovers for a rainy day when you don't want to cook in the morning.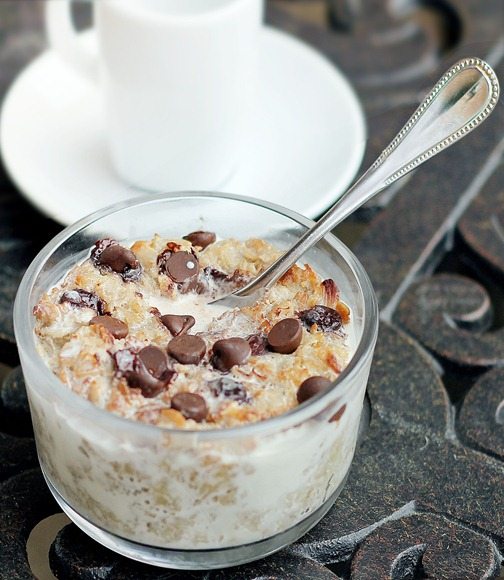 This is a huge reader favorite recipe – it has all the deliciousness of eating a Mounds bar for breakfast!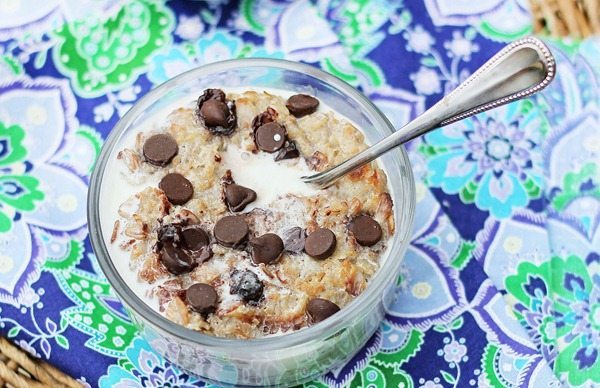 The coconut cookie dough baked oatmeal can also make a great grab-and-go breakfast.
Take it in the car or pack it into a lunchbox for a portable "fast food" treat that is actually good for you!
If you make this, be sure to tag @chocolatecoveredkatie on instagram so I can see your creations!!!
Coconut Cookie Dough Baked Oatmeal
(serves 1)
1/2 cup rolled oats
1/8 tsp salt
stevia or sugar of choice
1/4 cup applesauce or banana
optional 4 drops coconut extract
1/4 tsp pure vanilla extract
1/4 cup milk of choice or canned coconut milk
1-2 tbsp pre-melted coconut butter (Coconut-Free Version)
optional handful chocolate chips, plus extras for the top
Baked Cookie Dough Oatmeal: Preheat oven to 380 degrees. Combine dry ingredients, then mix in wet. Pour into a small baking pan, loaf pan, or 1-cup ramekin (or, for mini boatmeal cakes, two 1/2-cup ramekins). Cook for 20 minutes or more, until it's firm. Finally, set your oven to "high broil" for 5 more minutes – or simply just bake longer, but broiling gives it a nice crust. Don't forget to spray your ramekins first if you want your cakes to pop out.
Link Of The Day: