Per Chocolate Peanut Butter Egg:
Calories: 55
Fat: 4 g
Carbs: 4 g
Cholesterol: 0 mg
Fiber: .5 g
Protein: 2 g
Sugar: 0 g
(Real Reeses eggs have 90 calories and 8 grams of sugar per egg. Other nutritional information is similar to the above stats. Oh, except that–unlike Reeses–my chocolate eggs are also dairy-free and vegan! Also, you won't use all the chocolate, but I've taken that into account in the nutritional info. And I'm sure you'll be able to figure out a use for the extra chocolate!)
Step-by-Step Photos: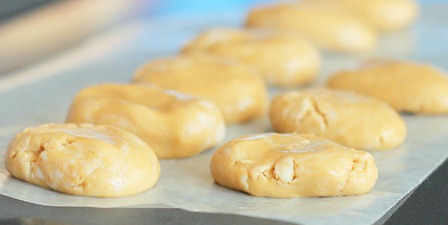 I know it sounds like a difficult process–forming, freezing, dipping in chocolate–but these eggs really are pretty simple to assemble. Remember, it's me; I do not like complicated recipes!
Step 1: Mix the first three ingredients together in a bowl until it becomes a crumbly dough. (Note: if your nut butter is from the fridge, let it sit awhile—or microwave a few seconds—so it's easier to mix.) Add the extra 2 tbsp. sugar/sf sugar if it's too gooey.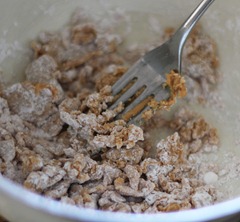 (above, mixing the dough)
Step 2: Taste the dough and add a little more salt if desired. Then form into a ball (I used a plastic bag, for less mess.)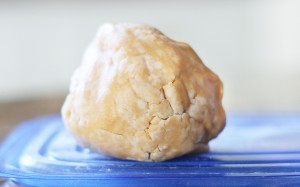 Step 3: Form dough into flat little ovals (or egg shapes, but real Reeses eggs are flat).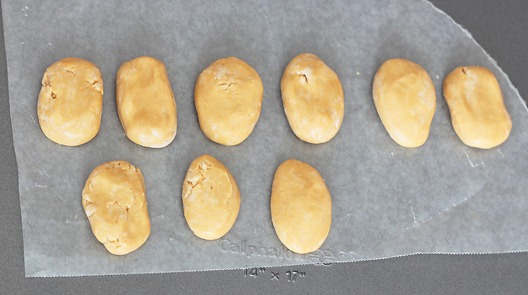 (above, formed into ovals)
Step 4: Freeze the dough for an hour or so, until it's hard.
Step 5: Meanwhile, mix the cocoa and coconut oil (melt the oil if it's not already melted) in a shallow dish. Add the agave/maple or stevia drops. If you use the stevia option, also add a scant 2 tbsp. water or extra oil. Mix until it looks like chocolate sauce, and then take one "egg" out of the freezer at a time (so the rest stay cold) and cover in chocolate.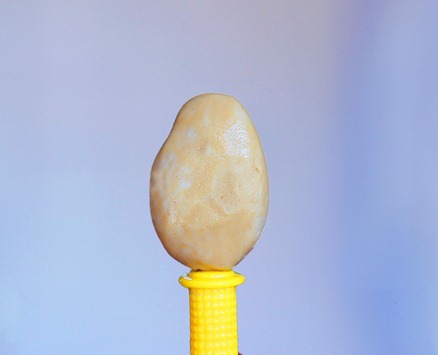 (I used a corn-cob skewer. No idea why I even have those, but they worked really well! A fork would also be fine.) Immediately return covered egg to the freezer and let harden.
Best to store these in the freezer as well. You can thaw a little before eating, or eat when frozen–either way, they're awesome!