This no chicken noodle soup has magical healing powers.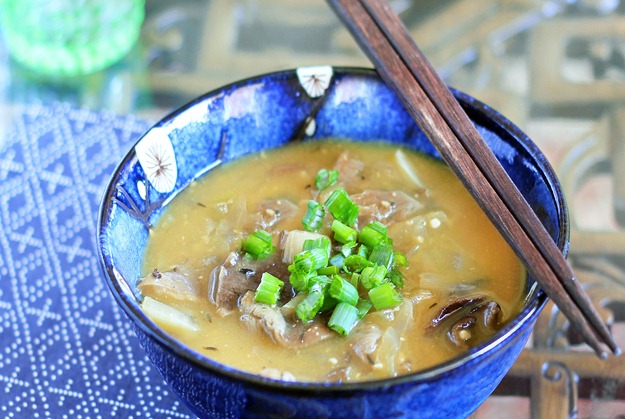 Magic Soup?
One spoonful and you will feel a thousand times better.
One spoonful and you can predict the future.
One spoonful and you can fly.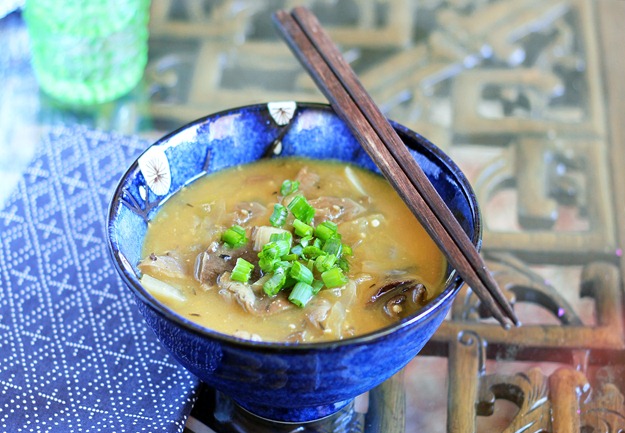 Except not really the last two.
Oh well.
I made up the following recipe to use a ton of mushrooms (an impulse buy from the Asian market, whose mushrooms are much less expensive than Whole Foods'). It's not cold outside, and we're not sick; but we loved this hot, comforting soup all the same.
It reminded me of an episode of Friends (everything reminds me of an episode of Friends) where one of the characters–a vegetarian–makes noodle water because she can't have chicken soup. Not that I've ever had noodle water (eww?), but I'm pretty sure this no chicken mushroom soup is much better!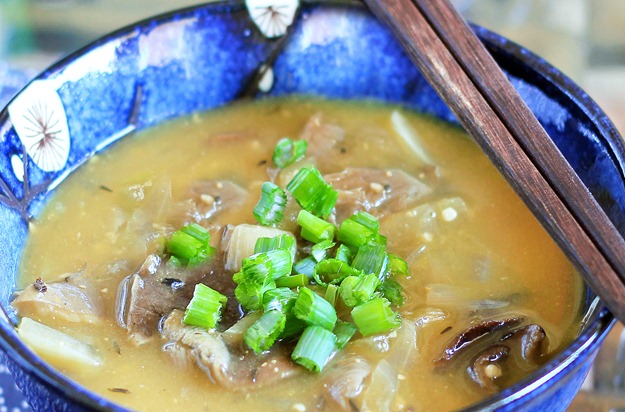 No Chicken Noodle Soup 
(Get well soon soup!)
14 oz sliced mushrooms (I used a combination of oyster and shiitake)
4 oz sliced portobello mushrooms (or sliced button mushrooms)
1/2 cup chopped onion
1 and 1/2 tablespoons garlic, minced
1-3 tsp olive oil or vegetable oil
45 oz broth of choice (I used Imagine No-Chickn)
1 teaspoon dried thyme
3 and 1/2 tablespoons red or white miso – use chickpea miso for soy-free soup
optional: rice, a protein source, noodles (I added soba noodles, because I adore them)
optional: scallions for garnish
Heat a sauté pot, then add oil, mushrooms, and garlic. Cook 8-10 minutes. Add broth and thyme, and bring to a boil. Cover and lower to a simmer for 20-30 minutes. Take off heat and add miso. (Miso is added at the end because boiling it destroys the health benefits.) Stir to dissolve. If desired, add cooked rice or noodles, and/or a protein source. Makes 4 large servings or 6-7 starter servings.
View Mushroom Soup Nutrition Facts
You know what else has healing powers?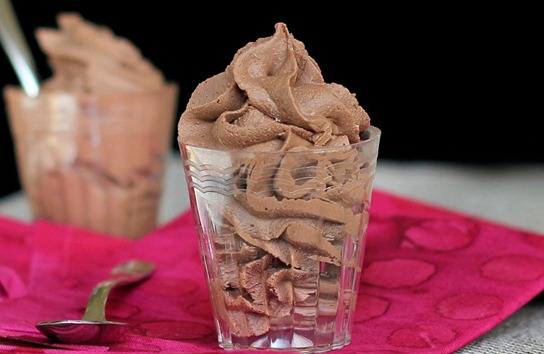 This stuff: Chocolate Frosting Shots
I had to fit chocolate into the post somehow! 😉
What foods do you like to eat when you don't feel well?
I haven't actually gotten sick in years, but I used to get Strep throat often. So my favorite things to eat were cold, soothing foods like ice cream or sorbet. Definitely not chicken noodle soup, although I did like chicken noodle soup when I wasn't sick. Actually, I think I just liked the noodles. Mmmm noodles…
P.S. Don't you wish you could fly??