Melty, cheesy, savory homemade quinoa pizza bites – this recipe is such a popular appetizer or savory snack!

You are guaranteed to be the hit of any party to which you bring these addictively delicious quinoa pizza bites.
Although… if you want to make extra sure people will never forget you, you can always bring a batch of my No-Bake Peanut Butter Brownie Bars as well.
But for now, let's go back to the melty, cheesy, and pizza-y quinoa bites.
Pizza-y?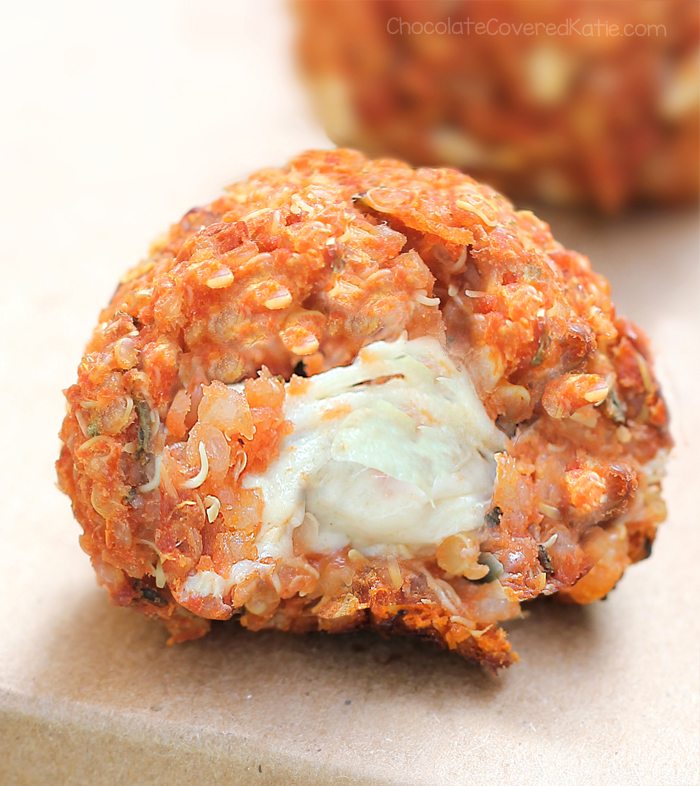 These Quinoa Pizza Bites Can Be:
Portable
Easy-to-make
Vegan
Gluten-free
Sugar-free
And surprisingly pizza-y. If it's not a real word, it should be.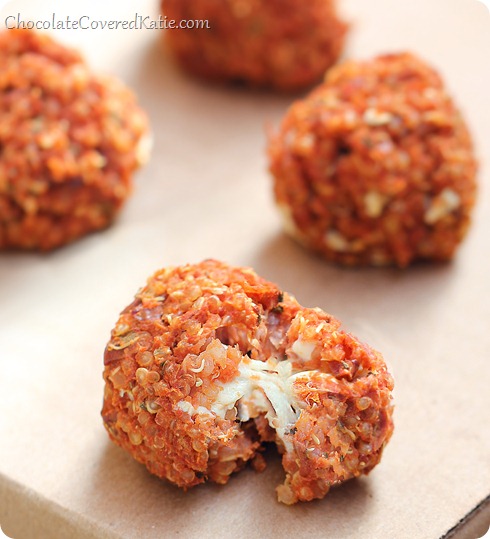 The idea for these pizza balls was sent to me by a reader. Inspired by her recipe, I then went ahead and changed it up completely… I can't seem to follow a recipe!
The resulting quinoa pizza bites were fabulously pizza-y.
Webster's, take note.
*Side note: If you like this recipe, be sure to also try the new Pizza Quinoa Burgers!


Quinoa Pizza Bites
Melty, cheesy, savory homemade quinoa pizza bites are a popular appetizer or healthy snack recipe.
Ingredients
1

cup

cooked quinoa

(here's How to cook quinoa)

1

cup

canned

or cooked pinto beans

1/2

cup

tomato paste

2

tsp

dried basil

1/2

tsp

onion powder

1/2

tsp

garlic

1/2

tsp

salt

1

tsp

sweetener of choice

optional shredded mozzarella cheese

(vegan brands work too!)
Instructions
Preheat oven to 350 F and grease a baking sheet well, then set aside. In a medium bowl, mash the beans completely. Stir in all remaining ingredients. Taste, then add a little more sweetener only if needed. (Mine didn't need it.) Roll into balls, then break off a piece of the cheese—if using—and push it into the middle before sealing the ball back up. Place the balls onto the baking tray and cook 30 minutes. For a crispy outer shell, feel free to broil a minute at the end.

View Nutrition Facts
Are you doing anything for Super Bowl?
Do you have any recipes picked out to make? I'm currently trying to decide between a chocolate chip peanut butter cheese ball and chocolate chip cookie dough brownies. Or maybe I'll just make both!
More Healthy Meatless Recipes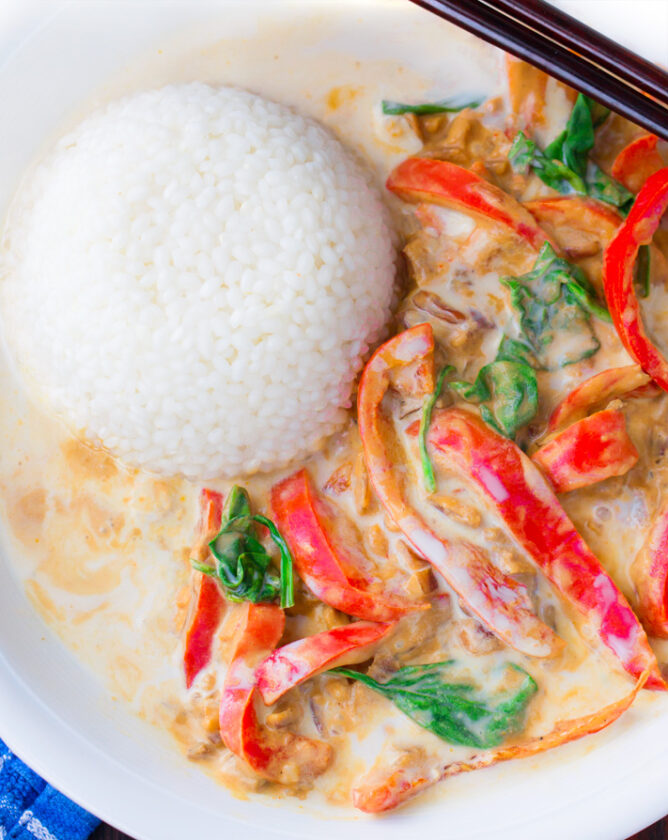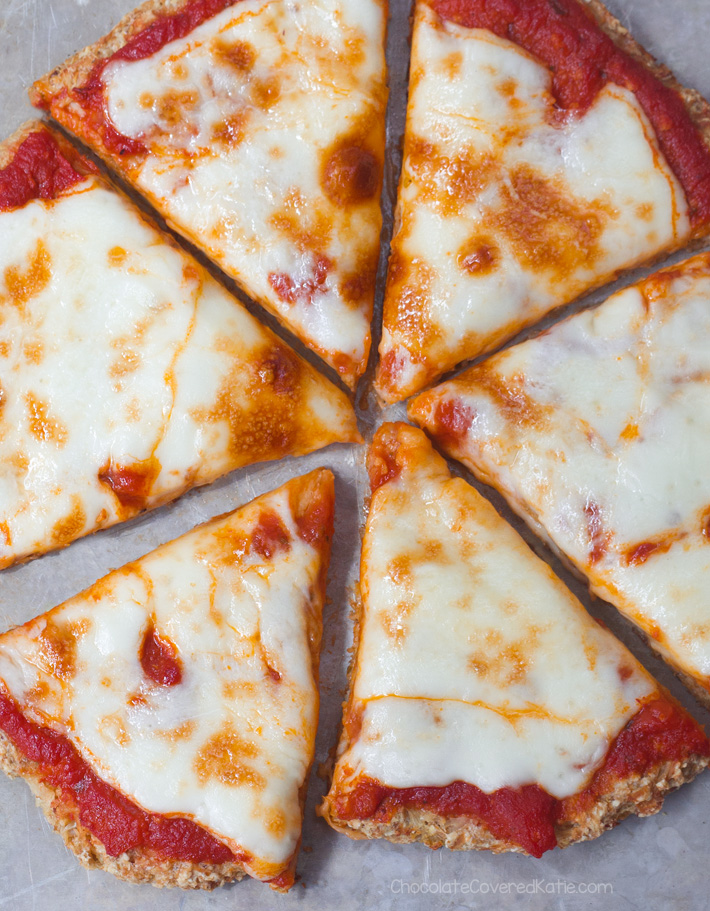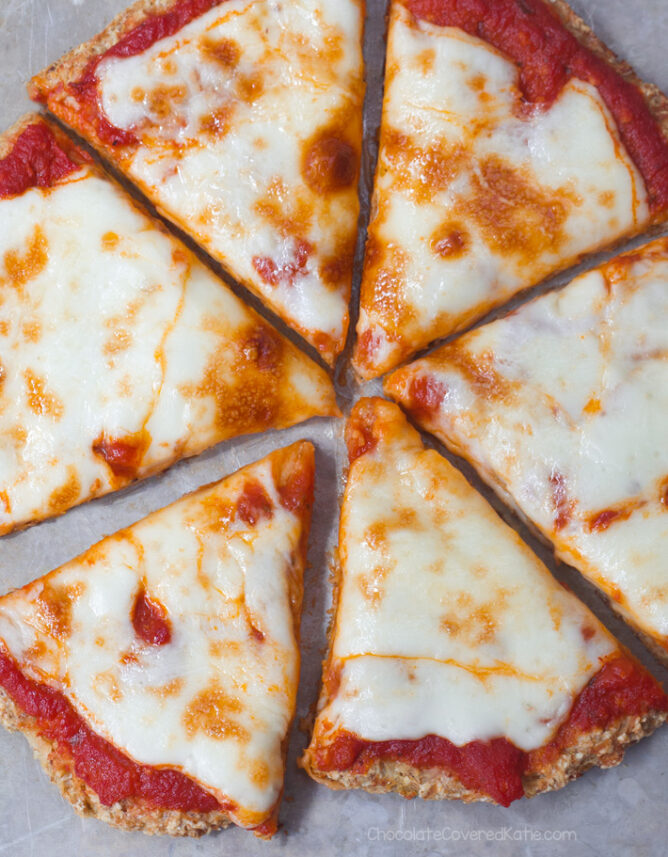 Or this Cauliflower Pizza Crust