There have been quite a few requests for a basic vanilla gluten free cupcakes recipe.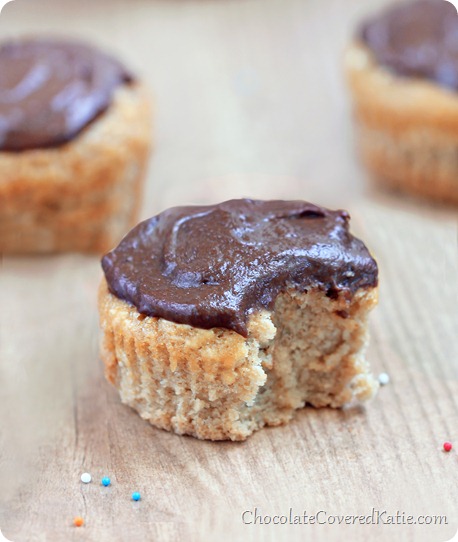 To be honest, I went through many failed gluten free cupcake attempts before arriving at the recipe posted below. One experiment was too dry; another too crumbly; still another tasted like plaster of Paris poured into cupcake liners and baked.
(In case you were wondering, that experiment went straight into the trash.)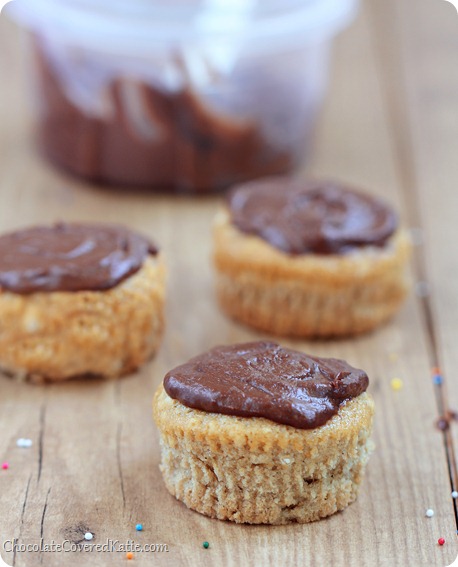 I'm glad I didn't give up on the gluten free cupcakes recipe (although I did seriously think about it after the unfortunate plaster debacle…). These basic vanilla gluten free cupcakes turn out soft, perfectly domed, and delicious every single time.
Above, the gluten free cupcakes are iced with my Healthy Nutella Recipe.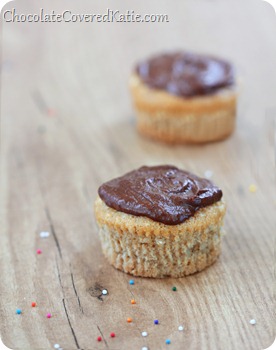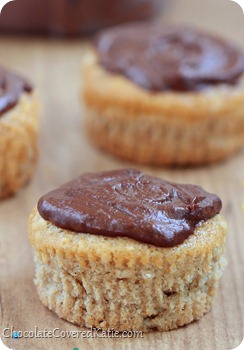 Gluten Free Cupcakes
Yield:
6-7 gluten-free cupcakes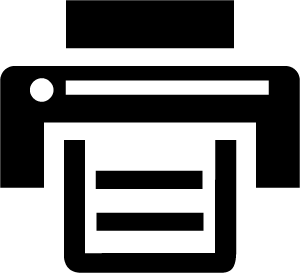 Print This Recipe
[mrp_rating_result show_count="false" show_rich_snippets="false"]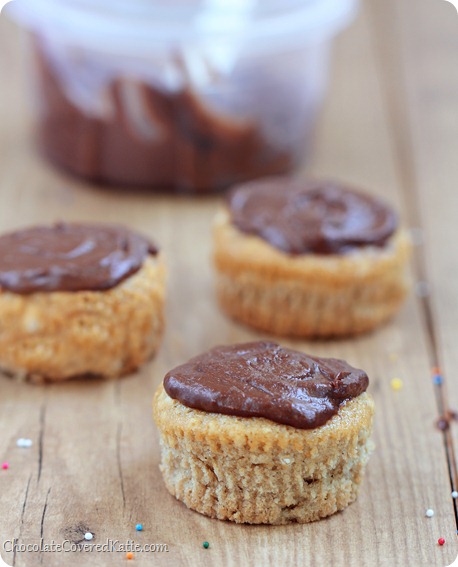 Ingredients
Gluten Free Cupcakes
1/2 cup plus 3 tbsp Bob's gluten free flour (regular white flour or spelt will work for a non-gf version) (90g)
1/4 tsp xantham gum
1/4 tsp baking soda
1/4 tsp salt
1/2 cup xylitol or sugar of choice (90g)
1/4 cup mayonnaise spread (such as Earth Balance, Vegenaise, or even homemade cashew mayo) (58g)
1 1/2 tsp pure vanilla extract
1/3 cup plus 1 tbsp water (95g)
Instructions
Gluten Free Cupcakes Recipe: Preheat oven to 350F. Place 6-7 liners inside a cupcake pan. In a large bowl, combine first five ingredients and stir well. In a separate bowl, combine remaining ingredients and whisk together until the mayo spread is completely smooth. Pour wet ingredients into dry and stir until just evenly combined.  Divide among the liners (these cupcakes rise a lot), and bake 22 minutes or until cupcakes have domed and a toothpick comes out clean. Remove from the oven and let sit 15 minutes before removing from the pan. Refrigerate for optimum freshness. (The recipe for the healthy chocolate frosting shown in the photos is linked under the second picture in this post.)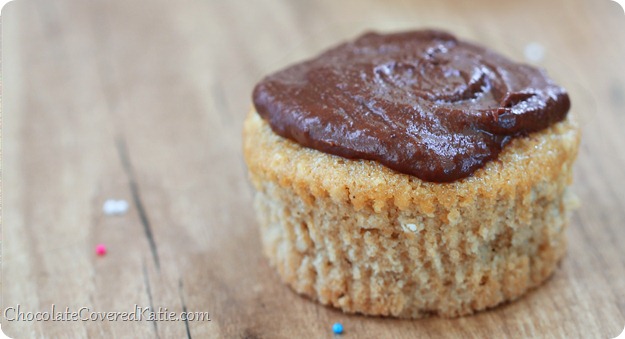 Question of the Day:
Have you had any recent recipe failures?
With my job requiring multiple recipe experiments each day, I have recipe failures all the time! Some recent ones would include chocolate cheesecake cupcakes that blew up in the oven (not exactly a joy to clean up), super gummy quinoa cookies, and an extremely unfortunate attempt at a Butterfinger pie. (Butterfinger pie sounds really good, right? It wasn't!)
Ooh, or remember the exploding cake in my post on Food Photography Gone Wrong?