I was asked by a reader:
Hey Katie,
It would be great if you could do a post on eating healthy on vacation, especially how you deal with when you first arrive and haven't had time to go grocery shopping yet. I always struggle with that! And working out too. Love your blog by the way!
I'm really lucky because the beach house where we're staying is equipped with a full kitchen (oven, microwave, fridge and freezer). And—as I mentioned in my previous post—my parents drove down a week before me, taking dangerous "Katie things" I couldn't bring on an airplane. They also bought a few staples, during the week, to save me from having to go grocery shopping first thing.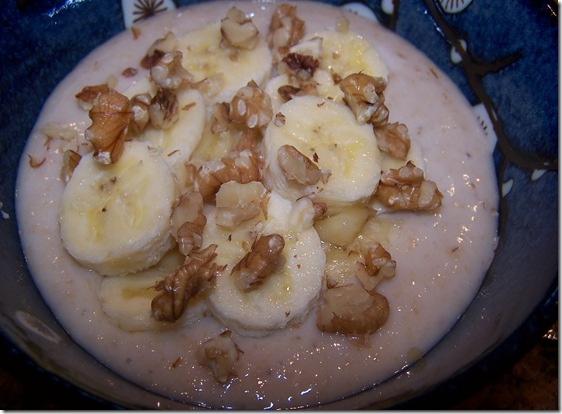 Breakfast was an old favorite: Blended Oatmeal Pudding.
I cooked the oatmeal in Texas and took it on the airplane in a small Magic Bullet cup. Thankfully, no one tried to stop me.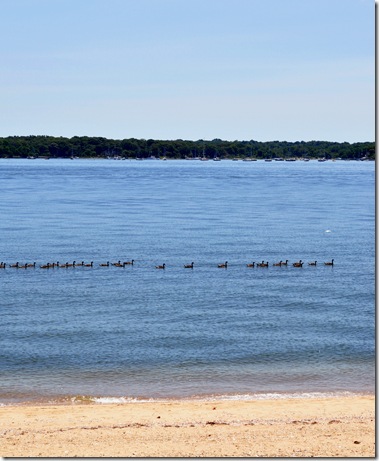 The above was my breakfast backdrop.
For lunch, on the first day, I utilized some of the items my parents bought. My meal was close to the ugly meal from yesterday's post—with the monster salad, Artisana coconut butter, and Chee-fu. The only difference was that I had a bowl of corn instead of the zucchini fries. And now that I have had time to go grocery shopping, I'm eating very similarly to the way I always eat.
There's just one exception: Since I'm on vacation, I want to enjoy the scenery, the town, the beach, etc. I don't want to be stuck in the kitchen all day. So I'm keeping things simple—less cooking, more "thrown together" meals, with lotsa salads and fresh fruits and veggies (taking advantage of those side-of-the-road farmers' markets we don't have in Texas). Plus, being out shopping or hanging in the town requires portable snacks, so I'll often exchange my beloved blended pudding or Vita-Mix ice cream snacks for Jocalat bars, fudge baby bars, raw nuts, or especially fresh farmer's-market fruits. Yesterday afternoon, for example, I feasted on this: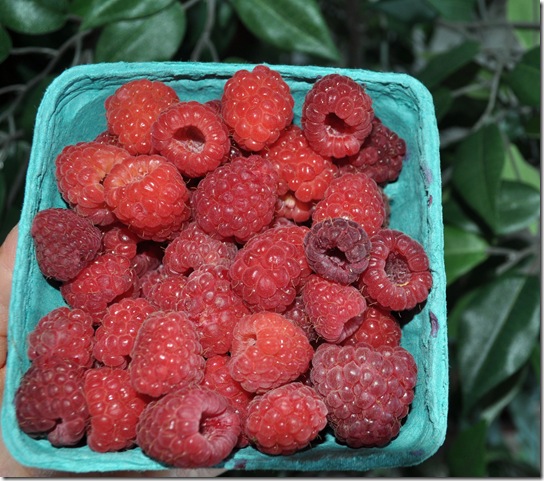 Juiciest box of raspberries ever. In the words of Usher: OMG! These berries hail from the cutest little farmer's-market stand. Honestly, I want to box up the entire stand and transport it with me back to Texas. Why don't we have places like this? Almost everything is organic, everything is local, and the stand boasts the ripest and juiciest fruit/veg. Berries, peppers, asparagus, salad greens, apples, peaches, tomatoes…
Question of the Day:
How do you eat healthily on vacation? And in the summertime, do you tend to stick to the same type of routine, or do you completely deviate from how you live during the rest of the year?
Personally, I love the freedom of not having to be at a specific place at a specific time (unlike in college– *blah*). However, as far as eating is concerned, I still pretty much eat around the same times because that's when my body is conditioned to feel hungry. Same thing with sleeping: For the most part, I still fall asleep around 11ish and wake up naturally around 6:30 or so. If I mess with my sleep routine too much, my body feels it the next day. (All rules go out the window on dancing nights, though. Sometimes, feeling icky later is soooo worth it!) But the rest of my family—and some of my friends—follow a completely different lifestyle during the summer months, eating dinner at 10PM, sleeping til noon, and having pizza for breakfast.
Thanks, Gisela, for the question. I'll try to get to the second part of your question (about working out) later this week.