For the entire recipe: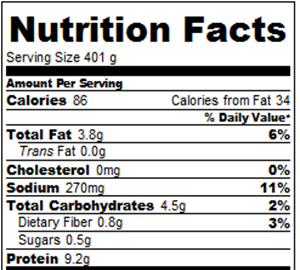 WW Points (new system): 2 points
Numbers are based on a drink made with Silk almondmilk (which would also make this shake very high in calcium). Info may vary, depending on your milk of choice.
Substitution Notes:
For the tofu, you have a few options:
The first option is to replace the cup of tofu with 1 cup of Thai coconut meat.
Option two is to soak 1/2 cup cashews overnight, discard the soaking liquid, and use the soaked cashews in place of the tofu.
Option three: use your favorite ice cream (such as Coconut Bliss or Nada Moo). It will be like an eggnog milkshake!
Troubleshooting:
I recommend MoriNu silken firm tofu (or another shelf-stable brand) for this recipe, as it has a different texture, and many readers say it doesn't have the strong aftertaste of refrigerated tofu. You are free to experiment with a refrigerated brand, but I haven't tried that for this recipe.
If you're using the stevia, I recommend NuNaturals as the best, as all the other stevia brands I've tried leave an aftertaste. 1 packets NuNaturals stevia is equal to 1/2 tsp of their powder or 1/32 tsp uncut pure extract (the one without maltodextrin).
Click to Go back to the recipe.