I love little health-food stores.
You can find things you've never seen before at the big ole Whole Foods. Case in point: spaghetti made entirely from black beans! Strange pastas just seem to find me; I've even seen chocolate pasta before. And you might recall my "mushroom spaghetti" post.
Seeing how much I love pasta, it was a given that I snatched up the following black bean spaghetti as soon as it caught my eye at a little health-food store in Rhinebeck, New York: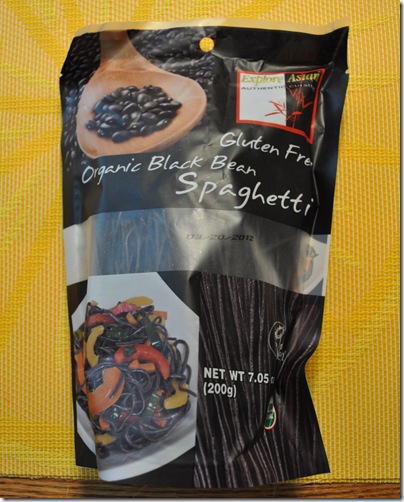 The black bean pasta is too cool! Ingredients? Black beans and water. I kid you not, that is it. Protein per serving? 20.5 grams. As someone who tends to favor carbs over protein-rich foods (Mock meat-lover? Notsomuch), I really appreciate that last statistic.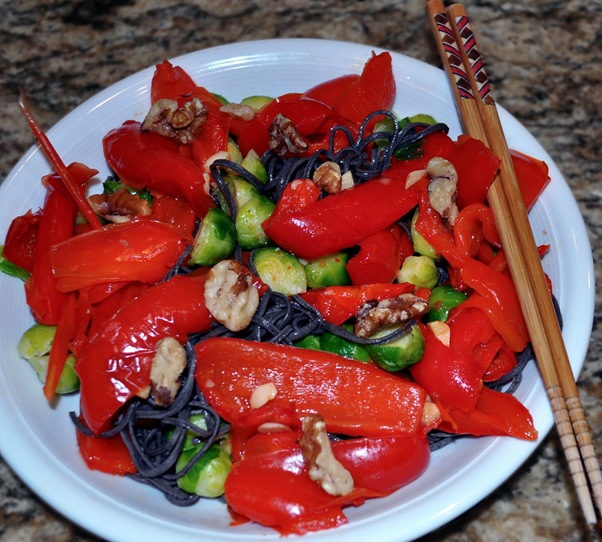 But of course, all of this is a moot point if the pasta doesn't taste good.
Guess what… it does!  Don't be discouraged if, upon opening the package, you find a seaweed-type smell. I promise you that—once cooked—these noodles taste nothing like seaweed. They are NOT those smelly shirataki noodles. What, then, do they taste like? The black bean spaghetti has a hearty, yet mild and inoffensive, taste. The texture mimics that of a rubber band, and the noodles are much more filling than regular pasta. (Perhaps this is partially due to their high protein count.) (Above, my dinner from last night: black bean spaghetti, sautéed garlic-y peppers, steamed b sprouts, and walnuts)
The makings of a meal: Layer 1: Yummy rubber bands black bean pasta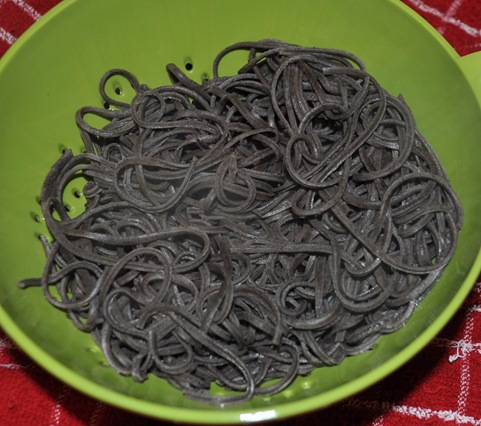 Layer 2: add the brussels guys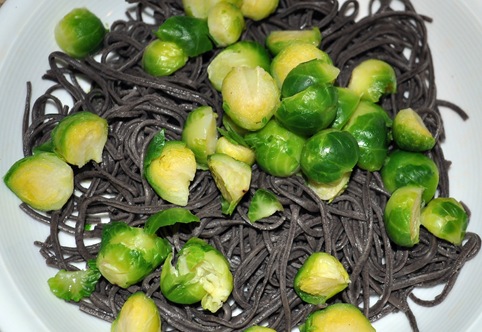 And finally, Layer 3: Add the sautéed peppers and walnuts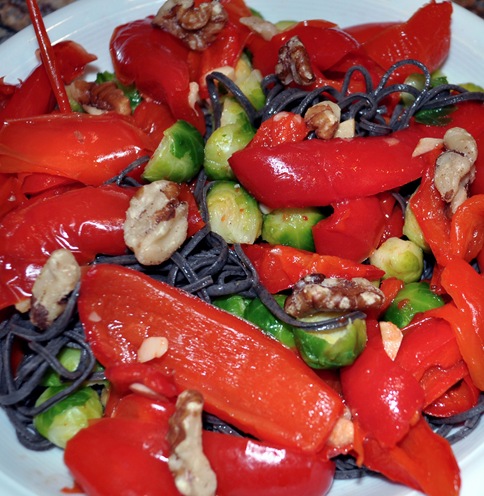 It was delish! But if a dish has garlic, it's pretty much guaranteed I'll be a fan.