Chocolate Pudding Pie – with a light and flaky pie crust.
It will be love at first bite.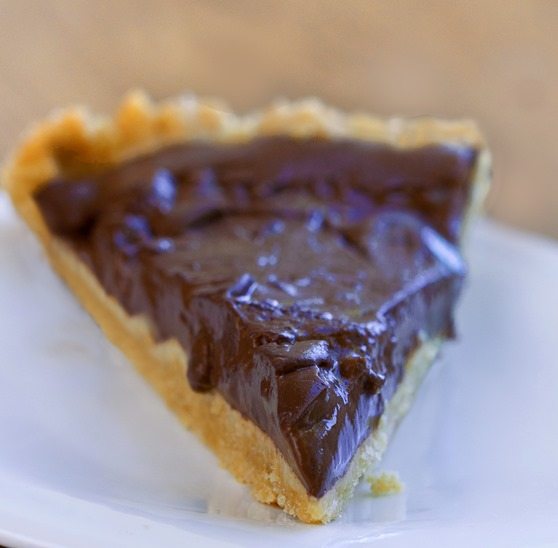 ♥ And second bite… and third bite… and fourth bite…
Suddenly the entire pie is gone, and there's no one to blame but you. And by you, I mean me. Many of my recipes are created with specific friends or family members in mind, while I make up others because I think they'll be fun to photograph or post on the blog. But this chocolate pudding pie recipe was created for no other reason than Katie being hungry.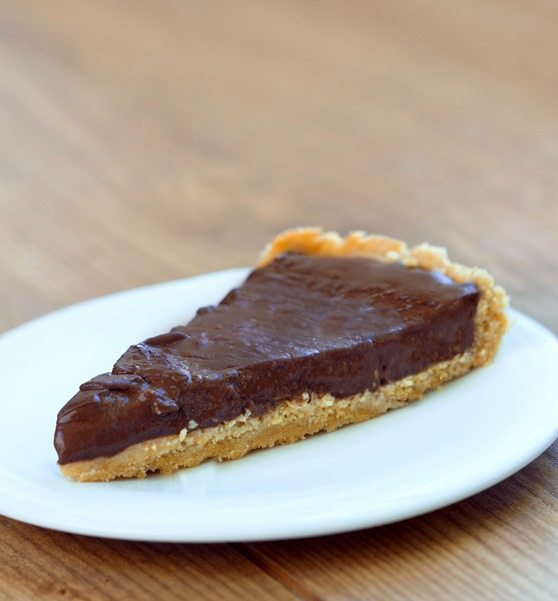 Hungry, and craving chocolate.
Consider this chocolate pudding pie the tofu-free alternative to my Ultimate Chocolate Fudge Pie (still one of the blog's most popular recipes with readers). It's a perfect recipe for all kinds of allergies or special diets—you can adapt the recipe to be soy-free, gluten-free, sugar-free, nut-free, coconut-free, dairy-free, wheat-free, and egg-free.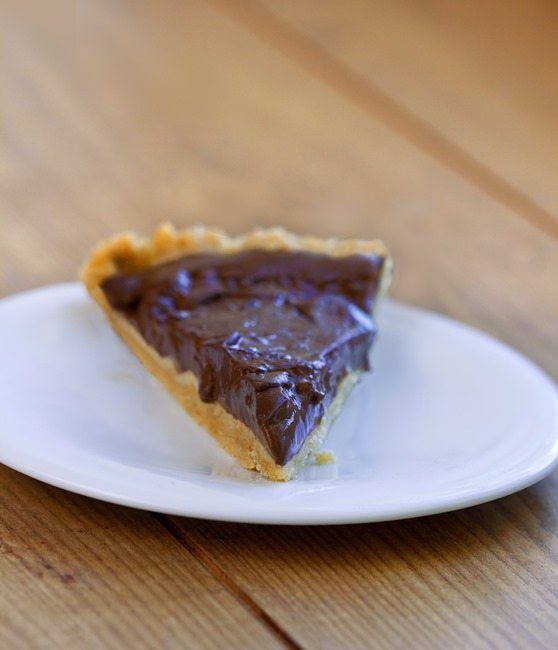 Just… not chocolate-free!
No, never.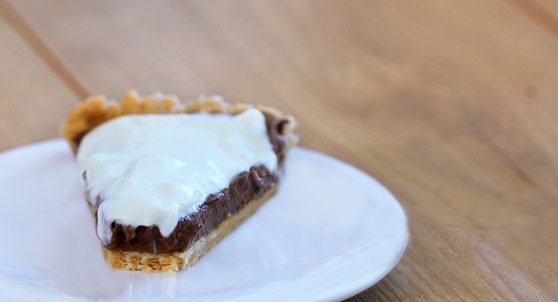 Homemade Chocolate Pudding Pie
Adapted from Healthy Chocolate Pudding
Homemade Chocolate Pudding Pie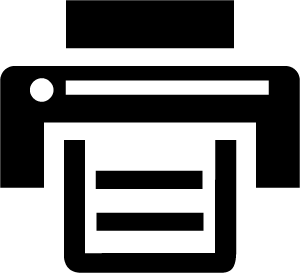 Print This Recipe
[mrp_rating_result show_count="false" show_rich_snippets="false"]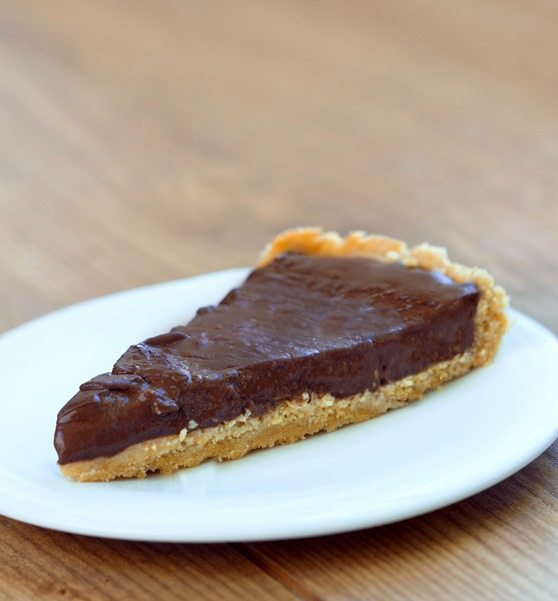 Ingredients
2 cups milk of choice OR canned coconut milk
heaping 1/8 tsp salt
1/4 cup Dutch cocoa powder
pinch uncut stevia OR 1/3 cup sugar, pure maple syrup, or honey
1/2 cup milk of choice + 3 tbsp cornstarch (such as Rapunzel non-GMO) – Readers have also had success with arrowroot
4 oz chocolate chips or broken-up bar, optional
3/4 tsp pure vanilla extract
Instructions
Crust Recipe:
1 1/2 cups ww pastry or all-purpose flour (A reader reported success with almond flour, but I have not tried it. Many readers have said gf all-purpose flour will work.)
1 tsp salt
1/3 cup granulated sugar of choice or xylitol
1/2 cup vegetable oil (80g)
2-4 tbsp water (I used 3)
Crust recipe: Preheat oven to 200 F. Grease a 9-inch pie pan. In a large mixing bowl, combine all dry ingredients. Add the oil and stir. Add water until it just sticks together but is not gummy. Press dough evenly into the pan. Place crust in the oven, and immediately increase the temperature to 350 F. (This crust will rise, so either use pie weights during baking or just press the pie crust down after it bakes.) Bake 15 minutes, then let cool.
Filling: Heat the 2 cups milk of choice in a saucepan with the salt, cocoa powder, and the sweetener. Meanwhile, whisk your cornstarch and the 1/2 cup milk in a small dish until fully dissolved. When the 2 cups milk are warm, add the cornstarch mixture. Bring to a boil. Once boiling, stir constantly for 2 minutes. Lower to a simmer for an additional minute, then turn the heat off. Once heat is off, stir in the vanilla extract and broken-up chocolate until the chocolate melts. Pour pudding into the pie crust, then transfer to the fridge to thicken and set at least 8 hours. It gets thicker the longer it sits, and by the next day it should be slice-able. *Note: I've only tried this recipe with Dutch cocoa powder so can't vouch for the taste if regular unsweetened cocoa powder is used in its place. But you are always free to experiment. If you want a deeper pie than the one in the photos, I would try scaling all of the ingredients up and adding a little extra cornstarch. Be sure to report back if you experiment!
More Pie Recipes: