An irresistibly light and moist zucchini cake – with a full cup of zucchini packed into the recipe!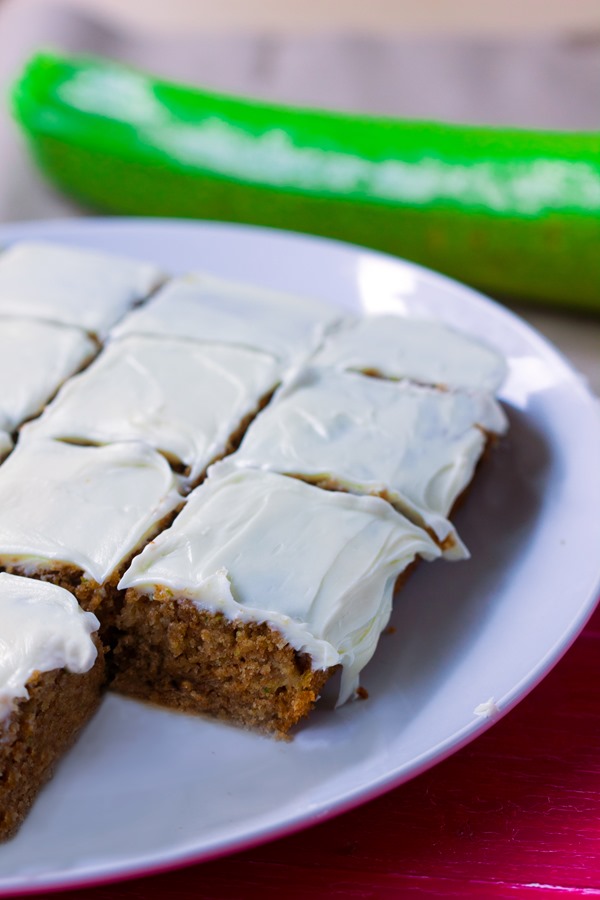 Hello, zucchini season!!!
Lately, the zucchini just looks so good when I'm grocery shopping that somehow it always makes its way into my cart. And then when I get it home, I have to figure out what to do with it all! This past week, I've made sautéed zucchini, grilled zucchini, zucchini fritters, zucchini burgers, zucchini bread, and my all-time favorite Chocolate Zucchini Brownies (highly recommended if you haven't tried them yet!).
Yet somehow, I still had zucchini left after all of that.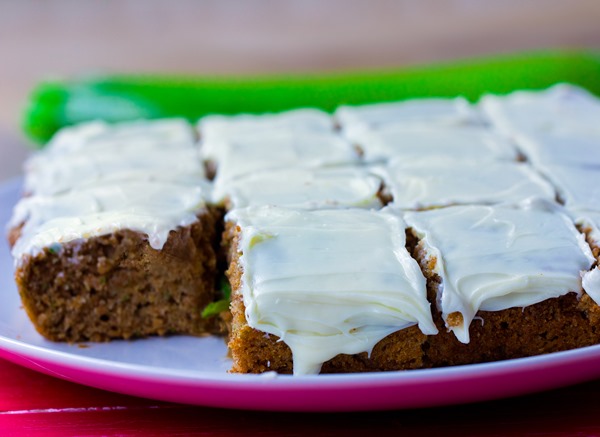 Frosted with the same homemade cream cheese frosting recipe I used on my Pumpkin Cupcakes Recipe, this light zucchini cake is the perfect summer treat.
You can add raisins, walnuts, and/or shredded coconut if you wish; but it's also quite delicious without any optional ingredients.
This zucchini cake recipe is one of my go-to recipes for any summer party, since everyone seems to go crazy for zucchini in the summertime. You can easily leave it out a few hours without refrigeration, making the recipe an ideal choice whenever you're asked to bring dessert. For easier transportation, I like to quickly frost and slice the cake after arriving at my destination.
Feel free to eat this cake plain or use your favorite frosting recipe, or even top it with coconut butter.
(Here's How To Make Coconut Butter)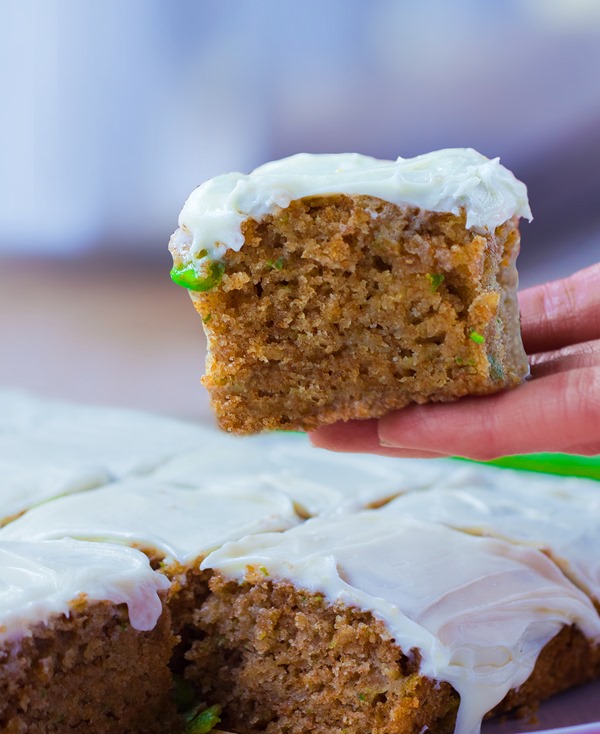 I used the basic frosting recipe below. For vegan frosting, just use vegan brands of cream cheese and butter ,available in many regular grocery stores.
Zucchini Cake Frosting
8 oz cream cheese
4 oz salted butter
2 cups powdered sugar (or sugar free powdered sugar)
1 tsp pure vanilla extract
optional sprinkle of cinnamon or a few drops maple extract
Let cream cheese and butter come to room temperature. Beat all ingredients with either an electric mixer or stand mixer (or by hand, which won't be as whipped and fluffy but still works). If too thick, very slowly add a little milk of choice; if too thin, add additional powdered sugar. Spread on the cupcakes with either a knife or piped through an icing bag (I used a 1M icing tip). Cover and refrigerate leftover frosting for up to a week. The recipe makes about 2 cups of frosting.


Zucchini Cake
Adapted from Chocolate Chip Zucchini Muffins
Zucchini Cake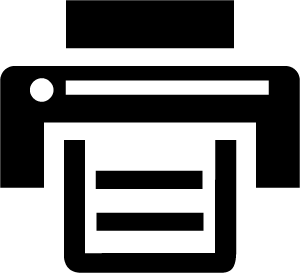 Print This Recipe
[mrp_rating_result show_count="false" show_rich_snippets="false"]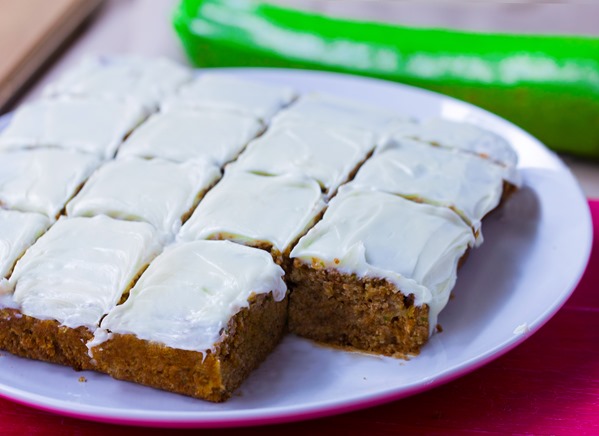 Ingredients
1 cup finely grated zucchini, loosely packed (200g)
1/2 cup applesauce
1/3 cup oil (Replace with more applesauce only if you don't mind a fat-free texture)
1 1/2 tsp white or cider vinegar
1 1/2 tsp pure vanilla extract
1 1/2 cups spelt, white, oat, or gf ap flour
1/2 tsp baking soda
3/4 tsp salt
1/2 tsp cinnamon
1/2 cup sugar of choice or xylitol
optional 1/3 cup mini chocolate chips or raisins
optional handful crushed walnuts and/or shredded coconut
Instructions
Preheat your oven to 350 F and line an 8-inch square pan with parchment paper. In a mixing bowl, whisk together the first 5 ingredients and let sit at least 10 minutes (or you can refrigerate overnight). In a separate bowl, stir together all remaining ingredients. Pour wet into dry, and stir until just combined. Don't overmix. Pour into the 8-inch pan and smooth down evenly. Bake 30 minutes or until a toothpick inserted into the center of the cake comes out clean. The cake tastes sweeter and has a better texture the day after it is made, and leftovers can be stored in the fridge for 3-4 days or sliced and frozen. I frosted the cake with 1/2 cup of the frosting recipe included earlier in this post.
Popular Recipes Right Now: